Emerald Valley in Huangshan
Chinese name: 翡翠谷
Location: Tangkou Town, Huangshan City, Anhui Province
Opening time: 7:30~17:00
Best time for visit: summer
Recommended time for a visit: a day

Introduction to Emerald Valley
Emerald Valley, also nicknamed "Lovers' Valley ", is located in Tangkou Town of Huangshan City, close to the Yellow Mountain Scenic Area. The valley is the longest canyon at the foot of the Yellow Mountain, stretching about 20 kilometers, with more than 100 colored pools of different shapes and sizes in it. These colored pools vary with the surrounding scenery, angles of sunlight, and the brightness of the sun's rays. They are colorful and so beautiful, like pieces of jades scattering in the valley, hence the name Emerald Valley. For the amazing scenery of the valley, some of the shots in the Oscar-winning film Crouching Tiger, Hidden Dragon were taken here.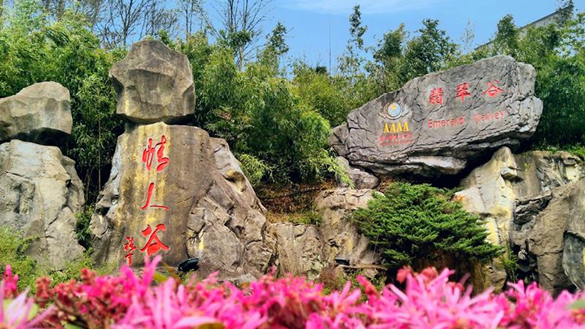 Why it is nicknamed Lovers' Valley
In 1988, 36 young men and women from Shanghai came to visit the valley. At that time, it had not yet been developed to scenic spot, and the road was very bumpy. They encouraged and helped each other to overcome many difficulties to escape. After they returned to Shanghai, 20 of them became lifelong companions, some of whom even met the first time in the valley, it thus got the romantic name "Lovers' Valley."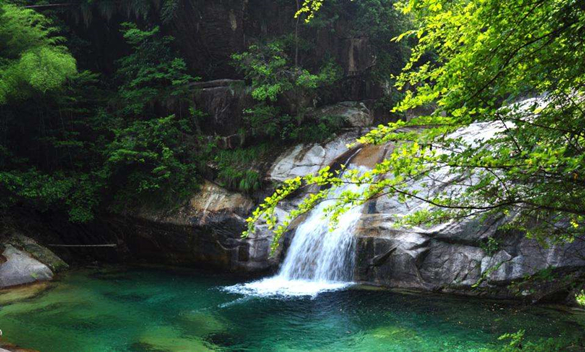 What to see in the Emerald Valley
Colored Pools
The Mirror Pool is like a round mirror, and the textures of the rocks around the pool like ribbons floating in the pool. The Green Pearl Pool is shaped like a bead, and there are many beautiful gravels at the bottom of the pool, sun shines from clear water and creates colorful interlacing…Pools like these are everywhere in the Emerald Valley.
Stone Carvings
There are many stone carvings of famous celebrities in the scenic spot, and among these the most famous are two. One is a word monument carved with one hundred of "爱(means love)" written by famous masters of the past, and the other is a large stone of 4.6 meters long and 4.5 meters wide carved with a "愛", which is said to be the handwriting of famous litterateur Su Shi.