Rawak Temple Ruins

More Photos

Chinese name: 热瓦克佛寺遗址
Location: Luopu County, Hotan City, Xinjiang Uygur Autonomous Region
Best time for visit: summer and autumn
Introduction to Rawak Temple Ruins
The Rawak Temple Ruins is located in a desert east to Hotan City of Xinjiang. Covering a total area of 2,370 square meters, it is a pagoda-centered Buddhist construction ruins, and composed of a square pagoda surrounded by courtyard and other temples outside. In 2001 the Rawak Temple Ruins was listed as a national key cultural relic protection unit by China State Council.
In the center of the courtyard was a pagoda, which was made of adobes and dug up in multiple places. The base of the pagoda is square, about 6 to 7 meters high. The body of it is in pot style, with a residual height of 3 meters. It is a typical Indian style Stupa. According to archaeological studies, the pagoda faced south and there were two gate-shaped gaps in the middle and west corners of the south end of the courtyard. The walls were 45 meters long on each side. Inside and outside the yard of the pagoda were scattered with some red and black palladium as well as a small number of color-axis pottery pieces. Remains of clay Buddha statues, human bones and five-beaded copper coins also scattered around. There are signs of buildings nearby, but they are not extensive.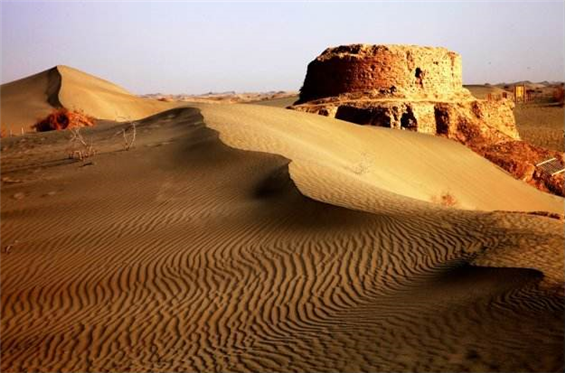 There was a small temple outside the east wall of the yard, some walls of the temple remained, and the inner wall was coated with plaster. The inner side of the temple's east wall had a vaulted niche, which was engraved with domed lines reduced by layer, and the lines were neat and fluent. It is said that there was a standing Buddha in the niche. However, the small temple was thoroughly destroyed. There are remnants of clay Buddha statues on the inner and outer walls of the four-sided courtyard, and most of them are on the west and east walls. Some of the statues were buried in the sand dunes, some were exposed, and some were destroyed. Every 0.6 meters there was a Buddha statue, with a height of some 3 meters. The statues have distinct Gandhara styles.
Regarding the historical evolution and the age of prosperity of the Rawak, there is no record in history. According to the unearthed cultural relics and Buddha statues, the mural style, and the pagoda-based architectural pattern, it was inferred that the Rawak Temple architectural complex was built in the Southern & Northern Dynasties and the Tang Dynasty.
Quick Questions
Our team is waiting for you questions. Please feel free to ask us any questions you might have about our China package tours, Chinese culture, or the sites available. We will gladly help you with any special needs you might have and all questions, like our trip designing is completely free of charge.