Meili Kawat Ruins of Hotan

As another important Meili Kawat village on the Silk Road, Meili Kawat Village is located in the west of Yurungkash village, 25 kilometers southeast of Hotan city. Meili Kawat Ruins was listed as the regional key heritage conservation unit in 1962. The Meili Kawat Ancient City was built 1500-1600 years ago with length of 10 kilometers and width of two kilometers. In the west of the ruins, there are standing rolling sand hills; in the south of it, Kunlun Mountain is high in the clouds; in the east, Yurungkash River twists and turns; and countries and green trees are surrounding the ruins in the north.

When talking about Meili Kawat Ancient City, some experts believe it was the site of the capital of Khotan Kingdom, and some conclude it was the Qumodi Temple recorded by Faxian (a renowned monk in Chinese history, the first master who went on a pilgrimage for Buddhist scriptures abroad and an outstanding traveler and translator). The ancient city was said to be built in West Han Dynasty and declined in Late Tang Dynasty. Khotan Kingdom was in the west regions of China and learned silkworm breeding at the earliest so its handcraft industry was quite developed. In music, drama, painting and Buddhism field, Khotan also made great achievement.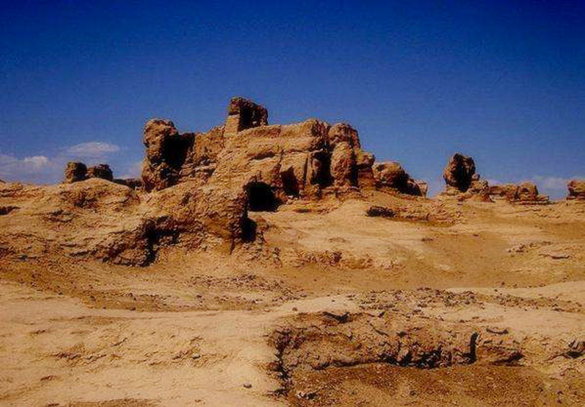 The existing ruins here include considerable number of pottery kilns and corner stones. The scattering red, green and grey tiles on the ground are in the shape of jar, bowl, etc. stone bases distribute intensively in about one kilometers south of the ruins, where ancient palace, government office, or residential areas of nobles appeared lied in the past. Near it, there is a square terrace, which is three meters in height and hundred meters in length, seeming like an ancient large-scale building. Delicate clay Buddha head ornamented by gold leaf was discovered in the south of the Meili Kawat Ruins.

There are ancient tombs, ancient building groups, and three mysterious caves at the back of the west sand hill. And large number of cultural relics including bronze Buddha statues, jade articles, clay figure of Buddha, wall coverings, relic tags of mural paintings, potteries and large amount of ancient money. The excavated ancient money includes Wuzhu money of Han Dynasty, Jianlun money of Wei and Jin Dynasties and Kaiyuantongbao money of Tang Dynasty.