Gegentala Grassland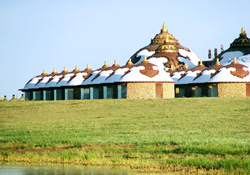 More Photos

Chinese name: 格根塔拉草原(Gegentala Cao Yuan)
Location: Situated in the territory of Siziwang Banner, 140 km far from Hohhot City, Inner Mongolia Autonomous Region.
Opening time: 08:00 - 18:00
Entrance fee: CNY 60
How to get there:
Visitors can take buses or taxies from Hohhot City to the grassland (it takes about 2 hours from the city to the grassland).
Best time for visit: from July to September
Travel tips:
1 Two times a day, the local Mongolians will offer the tourists the excellent performance of horse riding and wrestling. Don't miss it.
2 The herding of Mongolia Nation is leading by the water, so the water is a symbol of purity. You can not wash you hands or bathe in rivers.
Brief Introduction to Gegentala Grasslan
Gegentala Grassland is one of 4A-level scenic spots in China which is situated in the territory of Siziwang Banner, 140 km far from Hohhot City. There is a tarred road stretches to the grassland directly from Hohhot which offers a very convenient way for visitors to go there. In August when flowers are in full bloom and sheep and horses are in their best condition, a tourism festival called Nadam Fair is held (Nadam means "entertainment and amusement" in Mongolian.). Meanwhile, this period of Nadam Fair also is the most favorable season for travelling.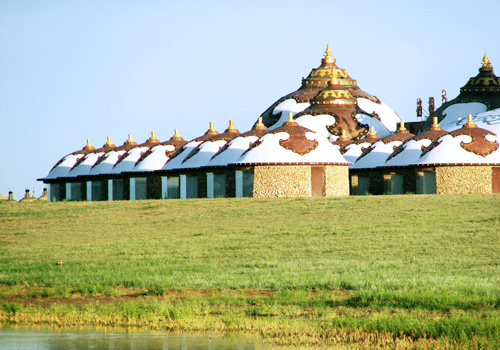 Gegentala Grassland is built in 1979 and it has changed to be a private enterprise in 1996. After a larger-scale expansion and renovation, Gegentala Grassland has become the famous tourist attractions containing eating, living, visiting, shopping and entertainment. The vast prairie landscape, unique local culture and traditional Mongolian lifestyle have made Gegentala Grassland become one of the most popular and famous scenic spot in Inner Mongolia Autonomous Region. Gegentala Grassland is a beautiful nature grassland with typical grassland scenery and unique Mongolia feature. Stepping into the scenic spot, what you see is thriving grass, flocks of sheep, herds of horses, soaring hawks and traditional and modern yurts, as well as the herdsman's yelling and the larks' clear singing, which looks like a dynamic painting endowed by the nature.
Yurts(勒勒车)
Yurt is an important means of transportation in Mongolia region. There are three kinds of yurts at Gegentala Grassland - normal traditional yurts, deluxe yurts and war chariot yurts.
Normal traditional yurts: This kind of yurt is simple, more in traditional Mongolian style. The yurts are wooden-framed tents covered with felt which is made from compressed sheep wool, and thickly lined with padded blankets, sheep-skin rugs, handmade quilts and embroidered pillows. This design is to be packed up quickly and carried by camel with the nomadic tribesmen when something is happened. Now, it supply the living place to the visitors. It doesn't offer bathroon and toilet facitlities. But many people still prefer this kind of yurt as a kind of grassland experience.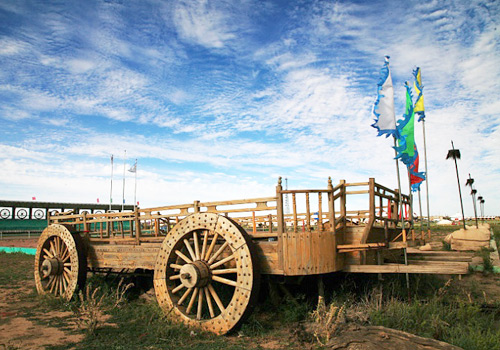 Deluxe Yurts: Deluxe yurts have almost the same fuctions and facilities as hotels. They look like yurt outside. But inside the yurts, they are just like the standard rooms of hotels - washing room, air-conditioned, bath room, refrigerate, tea tabble, desk and so on.
War chariot yurts: Genghis Khan conducted an aggressive foreign policy by having the Mongolia invasions of East and Central Asia. In his life, the Mongolia Empire finally occupied most of Asia. War chariot yurts were one of his powerful weapons to overpass his counterparts. They were fast and mobile.
Folk activities
A traditional festival for the Mongolian called Nadam Fair is held at Gegentala Grassland from July to Augest. During the period, travelers can experience the local activities such as climbing the Aobao(a pile of stones, earth or grass used by Mongolians as a road sign or boundary sign), visiting the Mongolian families, riding a horse, shooting an arrow, and wrestling, or enjoy the grassland scenery by sitting on in a van carried by camels. At night, travelers can appreciate the Mongolian songs and dances in the yurts or on the grassland. Some freehanded herdsmen often play Mongolia stringed instrument and sing their traditional folk songs on the grassland, which is also worth enjoying. Visitors also have the chance to taste kumiss, roasted whole sheep and shouba rou (boiled mutton eaten with hands).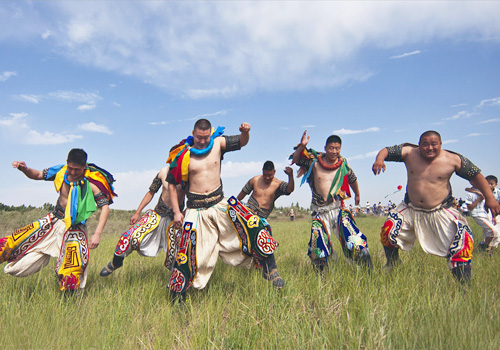 If you go to Gegentala Grassland at a good time, you may also take part in the Aobao sacrificing, which is a traditional custom originating from Genghis khan. The Aobaos are heaps of stone which originally served as the signs to guide people across the large grasslands. As time goes on, The Aobaos have become the meeting places for people, especially for young lovers. The Aobaos are very important for the nation of Mongolia and a grand solemn sacrificing activity is held there every spring, praying for good weather, abundant water and grass. The herdsmen near by will attend this activity and corn, meat, fruit and alcohol are taken by them to worship the gods of the sky, the gods of the earth and tribal ancestors. The famous Aobao near Gegentala Grassland is the biggest one in this area, where the magnificent Aobao sacrificing is held on May 13th of the lunar calendar every year. You shouldn't miss it. In addition, there is a temple near Gegentala Grassland which is built in the time of Emperor Guangxu (1644 - 1911). A grand temple fair is held regularly there every year and some little temple fair are held there once every month.
Gegentala Grassland has received more than 40,000 foreign visitors and more than 200,000 domestic visitors since its opening in 1979. If you go there, you can wear Mongolian gown and boots, riding a horse to wander on the vast grassland. At night, you can sit around bonfires, appreciating the melodious toasting songs and the traditional Mongolian dances, as well as drinking the fresh Kumiss and eating grilled meat and roasted mutton. The yards is the living place, where you can watch the shining stars in the sky, fully touching the mystery of the nature and experiencing the spacial lifestyle of the nomadic people. It is worthy for you to experience by yourselves.
Quick Questions
Our team is waiting for your questions. Please feel free to ask us any questions you might have about our China package tours, Chinese culture, or the sites available. We will gladly help you with any special needs you might have and all questions, like our trip designing is completely free of charge.