Hangzhou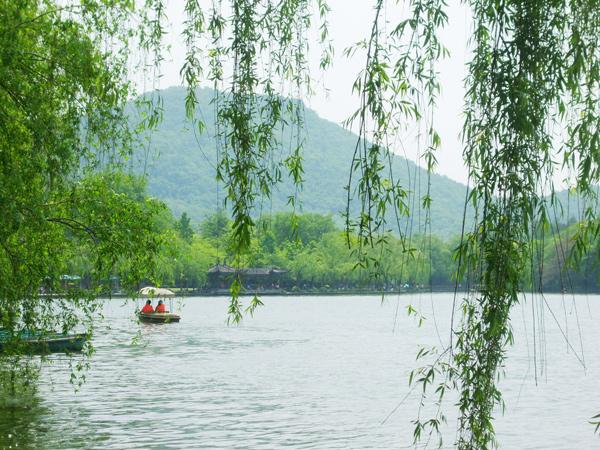 Hangzhou in brief
Hangzhou is a city located in Zhejiang Province, eastern China. As a part of the famous Shanghai, Hangzhou, Suzhou scenic triangle south of the Yangtze River, the city is a top China tourist city renowned for its beautiful gardens, canals and other streams. Hangzhou is a city intertwining past and present in an intelligent way. Indeed, the city is listed as one of China's Seven Ancient Capitals and flourishes with lots of historical and cultural relics mingling with lush sceneries, a scenic spot barely seen anywhere else in the country. Hangzhou is a modern and prosperous city of China situated just a few kilometers away from Shanghai and is also a jewel of cultural heritages and natural beauty. Bathing in a monsoon subtropical climate, the city borders the Yangtze River to the south and is bounded by hills to its west. Being a crucial southern stop of the Grand Canal that goes to Beijing, the city of Hangzhou is just a marvel and must-see scenic spot while touring the Province and Shanghai!
History of Hangzhou – One of China's Seven Ancient Capital Cities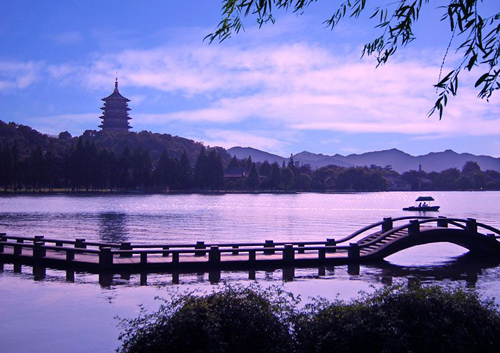 The history of Hangzhou can be traced back to the Qin Dynasty, in 221 BC. By 610 AD, the linking of the city to Beijing was done by the Grand Canal passing through famous cities such as Suzhou, Jining or Tianjin: a tremendous boost for the city. Hangzhou started to prosper at the beginning of the Tang Dynasty (618 - 907), namely, when it started to be the capital city of the Wuyue Dynasty (904 - 978) during the Five Dynasties and Ten Kingdoms Period. In great heyday as a capital then called Lin'an (临安) during the Song Dynasty (1127 - 1279), after the Emperor fled the Jurchen invasion of Kaifeng, the city of Hangzhou developed a lot for finally turned into a prosperous commercial city. Becoming a stop-off point on Marco Polo's journey to Asia during the 13th century, Hangzhou was already described as one of the most beautiful water townships in the world and inspired famous Chinese poets such as Bai Juyi and Su Dongpo. Undertaking dark episodes starting in 1861 with the siege of Taiping to the city, Hangzhou survived some devastation and other warfares. Despite the few surviving dynasties' monuments, Hangzhou is a fairly modern architectural city where little spots of historical Song monuments, canals and gardens intertwine. Renowned for its great West Lake (Xihu, 西湖) landscape and lush vegetation, Hangzhou is a must-see visit during your trip and a famous embodiement of Chinese balance and harmony.
Hangzhou nowadays – A natural beauty intertwining with historical sites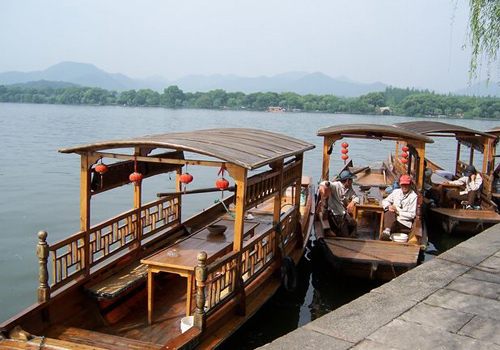 While touring Hangzhou, tourists may definitely have a look at the West Lake (Xihu, 西湖), which is renowned for its natural beauty and historical sites. Scenic areas in Hangzhou are numerous and filling everyone's curiosity: pagodas, temples, gardens, ponds, etc... Hangzhou is a dynamic city where relaxing is still possible compared to other big Chinese cities. Seekers of mountain views will be pleased by the skyline of this charming city. Travelers to Hangzhou may fill the modernity and the extremely good transportation facilities of the place suggested by the nearby sprawling metropolis of Shanghai. Traveling to China is also the opportunity to experience the great diversity of its cuisine and traditional teahouses. Hangzhou's dishes are reputed for being sophisticated and surprising ones: Beggar's Chicken, West Lake Fish, Dongpo Pork and Fried Shrimps, Longjing Tea... Hangzhou is a memorable place to any gourmet and a top China city to discover!