Hangzhou Transportation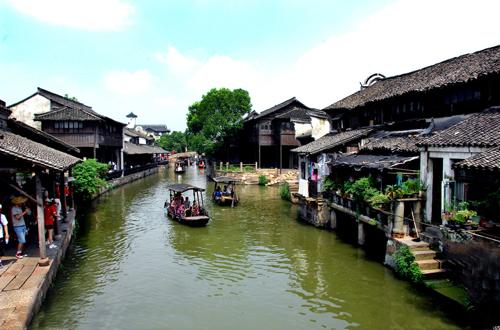 Airport in Hangzhou
Hangzhou International Airport is located in Xiaoshan District, on the south bank of the Qiantang River, and some 27 kilometers away from the downtown. It is the first airport in mainland China that cooperates with other capitals- one of the World's Best Airports- Hong Kong International Airport. Hangzhou airport provides over 240 lines linking with other cities at home and abroad.

Transportation To & From Hangzhou International Airport
Taxi or shuttle buses are available to transfer passengers between downtown Hangzhou and the airport. The ride takes 40 minutes to 1 hour. Generally it costs about 110-150RMB to take a taxi, and 25RMB by bus. It is suggested to arrive at the airport at least 2 hours before the take-off time.
Shuttle buses between the airport and downtown run every 15-30 minutes. Passengers can take airport shuttle buses to downtown and suburban areas of Hangzhou, including Wulinmen, Hangzhou North Coach Center, Hangzhou West Coach Center, Hangzhou Railway Station and Hangzhou East Railway Station.
In addition, long-distance coaches are available at Hangzhou International Airport. Travelers can go from here to the places such as Qiandao Lake(Thousand Islets Lake), Shaoxing, Yiwu, Hengdian, Ningbo and Wuzhen.
Railway stations in Hangzhou
Hangzhou is a significant railway terminal in Eastern China and there are mainly two passenger train stations in the city, one is Hangzhou Railway Station at the junction of East Beltway and West Lake Avenue, and the other is Hangzhou East Railway Station(Hangzhoudong Railway Station) in Jianggan District. Shanghai-Kunming Railway and Xuancheng-Hangzhou Railway go through the former station, while many train lines pass through the latter station, including Shanghai-Kunming High-speed Railway, Nanjing-Hangzhou High-speed Railway, Hangzhou-Ningbo High-speed Railway and Hangzhou-Huangshan High-speed Railway.
Public buses are available at almost every corner of the city to both railway stations.
Hangzhou Metro
Hangzhou Metro Line 1 was officially opened in 2012, making Hangzhou the fourth city in East China(after Shanghai, Nanjing and Suzhou) and the first city in Zhejiang Province to open a subway. As of June 2019, there are four subway lines in operation in the city, namely Hangzhou Metro Line 1, Hangzhou Metro Line 2, Hangzhou Metro Line 4, and Hangzhou Metro Line 5, with a total operating mileage of 135.36 kilometers. The subway fare in Hangzhou starts at 2 yuan, and the specific fee is calculated according to the mileage.
Long-distance bus stations in Hangzhou
Being the center of highway network in Zhejiang Province, Hangzhou has four passenger transport stations in four directions with coaches departing for each direction. Shuttle buses can transfer passengers between every two stations.
Cruises in Hangzhou
Tourist cruises in Hangzhou mainly include Grand Canal Cruise and Qiantang River Cruise. There are water buses available in Hangzhou section of the Grand Canal, namely the Beijing-Hangzhou Grand Canal. These buses, which with different schedules and prices, leave from different wharves and offer visitors a chance to admire the canal scenery in less than two hours.
In the scenic area of the West Lake, short cruise is available. There are motor-driven boats, rowing boats with boatman, and without boatman for choices.