Wuzhen Water Town

More Photos

Wuzhen has a rich and amazing history; it is a typical ancient township south of the Yangtze River delta in Tongxiang city of Zhejiang province. This small town is like a small shining pearl with the fertile bed of the Yangtze River Delta. Like many of the small townships in South China it has a feel and style all of its own. There is a lot more than the ancient bridges, canals, dykes and the centerpiece a magnificent garden villa constructed during the warring state period, and was home to great Chinese literature master Mao Dun. Wuzhen is also special: began it was one of the towns that pioneered in the contracture of pavilions next to the river, , hence Wuzhen is known as the last water town where you can sleep by the water in China.
Wuzhen is included as a world-heritage listed site and is one of China's flagship AAAA listed tourist destination and is currently and the close protection of the Chinese Cultural Relic Bureau and is the top-ten suggested tour sites in China. Wuzhen has been gradually growing in fame across China and the world gradually for the last decade as having a reputation for excellent preservation of cultural relics and amazing scenery.
Wuzhen is one the six major towns south of the Yangtze River where customs from ancient China still exist and are still practiced. The town was originally designed by using ancient planning methods that rest the center of the town perfectly on the axis of east, west, south and north, the streets are also divided up into almost perfect 'criss-cross' patterns, this is just one of its remarkable characteristics. Here ancient Ming dwelling sit encroaching on each side of the canal that passes through the city. In the east of the town is the academy where celebrated Chinese author and philosopher Mao Dun once studied, it has now been transformed into the Mao Dun memorial hall. Situated in the Xizha Old Street of the town are largely best-preserved ancient Ming and Qing dynasty architecturals. Besides, there are also many attractions remained from ancient times, including temples and classically designed 'twin-bridges', etc.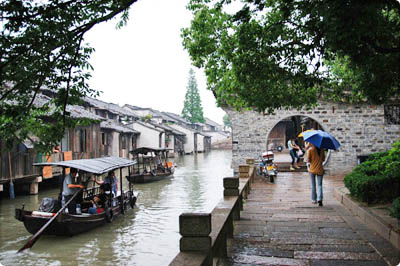 Best Time for Visiting
Wuzhen's climate is very similar to that of Jiaxing and Xitang. The most picturesque time of year is spring and autumn. The best time of day to be in Wuzhen is morning and dusk: a gentle fog covers the canals that run through the city in the morning, as if one has wandered into a blissful dream; and after the visitors leave Wuzhen, you can see a living Wuzhen Water Town by yourself.


Festivals
Wuzhen Carnival: April 5th – 29th
Every year at this time the Xiangshi Market wrote by Mao Dun can appear, accompanied by opera and other stage performances.


Getting there
From Shanghai:
On weekends at the Hangkou soccer field in Shanghai an express vehicle departs at 8am and at the Shanghai sports complex at 7:50am and 8:45am, they all return at 4:30pm Buses are also readily accessible at the Shanghai long-distance bus station, the journey take 2.5hours.


From Jia Xing:
Buses to Wuzhen frequently depart from the Shanghai long-distance bus station starting from 7:20am costing approximately Y70-100 ($US15-20) .


From Hangzhou:
Buses depart from Hangzhou long-distance bus station every 30 minutes, it takes an hour to reach Wuzhen.

From Suzhou:
From Suzhou driving take the Sujiahang expressway, after Wang Jiang exit the expressway and head west for 30kilometres along the salt-lake road after you cross Yabao Li there will be a toll booth that for entering Wuzhen.


Intra-city travel
Three wheeled motor-bikes
Within Wuzhen these bikes substitute taxis starting from Y3 (US$0.5) to get a bike to take you to all major tourist sites expect to pay around Y15 (US$2.5).
Quick Questions
Our team is waiting for your questions. Please feel free to ask us any questions you might have about our China package tours, Chinese culture, or the sites available. We will gladly help you with any special needs you might have and all questions, like our trip designing is completely free of charge.