White Stone Scenic Spot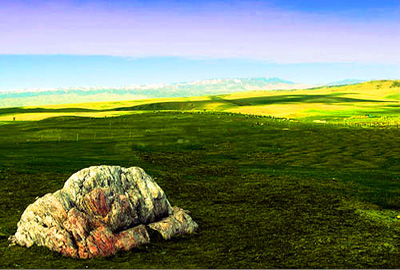 More Photos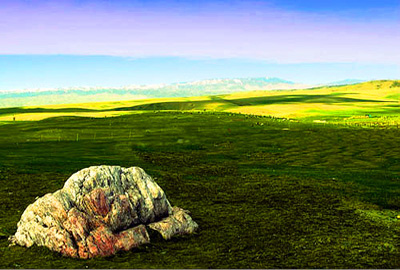 White Stone Scenic Spot is located in the north of Kaerlike Snow Mountain (main peak of Tianshan Mountain), 70 kilometers to Hami city. White stone refers to a white huge stone in lying cattle shape between green grassland and thick forest. Hami is dry and hot in summer while it is wet and cool here with charming landscapes. The green grassland, towering pines, great area of flowers and the unique folk residences are attracting domestic and foreign visitors.
Bordering Yiwueryinggelan Grassland to the east, Balikun Grand Grassland to the west, snowy Kaerlike Mountain to the south and Balikun North Mountain to the north, White Stone Scenic Spot is as high as 2126 meters. Spruces, pines and silver birches grow wildly here. When summer and autumn comes, here is an ideal resort for vacations with green grasses, beautiful flowers, dotted yurts and delightful sceneries. In addition to its long history and beautiful legend, the beautiful landscape here becomes more mysterious and attracting.
The White Stone Scenic Spot is comprised of Haiqi Ditch, Pine Pond, Mingsha Mountain, White Stone and Tianshan Temple, covering an area of 100 square kilometers. There are many ancient temples and cultural relics here as well, such as Tianshan Temple (Temple of Guanyu) and Tianshan Tang Stele. Mingsha Mountain in White Stone Scenic Spot is the most beautiful and sweet-sounding Mingsha Mountain among the only four mingsha mountains (Mingsha Mountain in Hami, Dunhuang, Ningxia and Mongolia) in China with beautiful and legendary story.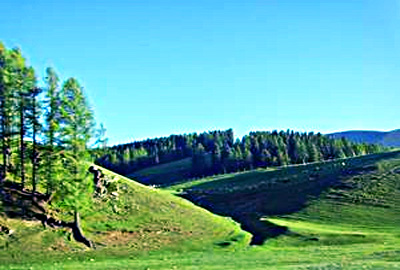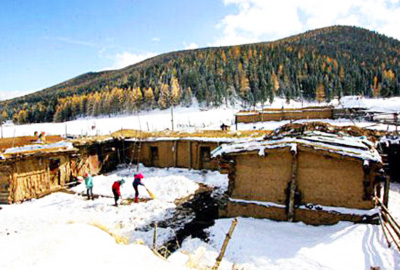 The cuisine in White Stone Scenic Spot is worth tasting: horse milk, tea milk, roasted mutton, grasping meat, braised pancakes, etc.
How to get there: by regular bus from Hami Bus Station.
Quick Questions
Our team is waiting for your questions. Please feel free to ask us any questions you might have about our China package tours, Chinese culture, or the sites available. We will gladly help you with any special needs you might have and all questions, like our trip designing is completely free of charge.