Haikou Transportation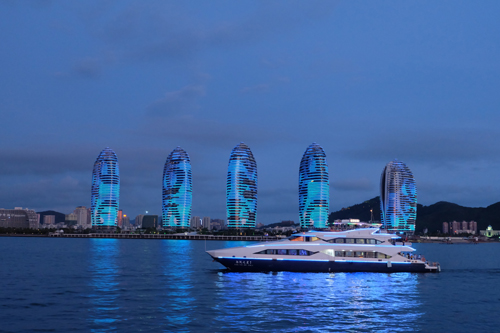 By Air
Haikou enjoys convenient air transport. Meilan International Airport of Haikou is one of the ten civil airports in China. Meilan International Airport has become an important airport in the northern area.
Meilan International Airport
Located in the Meilan District of Haikou, Meilan International Airport is 25 kilometers from Haikou City. It will take you about 30 minutes from the airport to downtown.
Meilan International Airport provides a convenient connection between Haikou and other cities both at home and abroad. There are domestic and international flights to Beijing, Shanghai, Macau, Hong Kong, Shenzhen, Harbin, Hangzhou, Chengdu, Bangkok and Singapore as well. The transportation from Meilan International Airport to downtown area:
1. Airport bus
The first airport bus comes at 05:30 and leaves every 30 minutes. The price is CNY 20/person.
2. Public bus
The destination of No.21 and No.41 bus is Meilan International Airport. The price is CNY 5/person.
3. Taxi
It will take about CNY 60 form downtown area to Meilan International Airport.

By Sea
Haikou is located on the coastline, so there are many ports along the coast. The main ports are Xiuying Port and New Port (Xingang). There are 40 or so boats heading for coastal cities such as Guangzhou, Shangtou, Beihai, Zhanjiang and Hong Kong every day.

By Train
Haikou is connected by railway to the major cities in China. Haikou Railway Station is situated in Changliu New Area which is 20 kilometers form the center of Haikou City. There are four hard seat waiting rooms and one soft seat waiting room. Express trains with air-conditions to Shanghai South Railway Station, Guangzhou Railway Station and Beijing West Railway Station are developed. It will take you 11 hours from Haikou to Guangzhou by train.

By Taxi
Just like other cities, taxi is the most convenient way to travel around Haikou. Taxis are easily hired almost everywhere in the city. Most of the taxis in Haikou are Mazda, Jetta and shally. The flag-fall price is 10 Yuan. It is customary to bargain with the driver before you get on instead of using the meter.

By Bus
There are more than 40 lines of buses in Haikou City. The price is 1-2 Yuan, and most of the buses are self - service ticketing buses. The passengers need to prepare charge themselves. Most of the running hours of the buses are from 6:00 to 23:00.
Tour buses:
There are also special tour buses running among the main scenic spots of Haikou. Line A and Line B of the new tour buses named "Xin Mei Lan" can take you to scenic spots like Qiong Tai Academy, Wugong Temple, Former Residence of Hairui, Wanlu Park, Xiuying Ancient Emplacement and Hairui Park, etc. the price of Line A and Line B is 5 Yuan.

By Road
Due to the severely limited rail network on Hainan Island, buses become the chief method of transport in Hainan. Haikou is the highway hub of the Hainan Island. It's also very convenient to travel by expressway in Haikou. The expressway in Haikou measures 618.23km as a total.
Buses connect Haikou to many cities on the mainland of China, including Shenzhen, Guangzhou, Hong Kong, and Nanning.
There are mainly four long-distance bus stations in Haikou. Haikou South Bus Station is the biggest long-distance bus station in Hainan. It connects several main highways and is responsible for the passenger transportation.
There is also a special line from Haikou to Sanya in Haikou South Bus Station.
Tips: The bus ticket to Sanya can also be purchased at the East Coach Station and the West Coach Station. After getting the tickets, these two stations also supply free buses for passengers to get to the South Coach Station.