Haikou Cuisine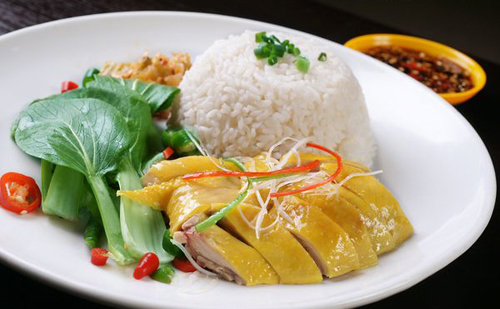 There are four to delight the gourmet and should not be missed. They are Wenchang Chicken, Dongshan Mutton, Jiaji Duck and Hele Crab. The climate means there is an abundance of fresh local fruits such as mangos, pineapples, jackfruits, coconuts and carambola, betelnuts, pawpaw, longan and lichee, loquat, naseberry and passion fruit.
The way to cook Haikou cuisine is the same as that of Guangdong cuisine. The Haikou cuisine is good at coconut. There are many famous cuisines such as Chicken with coconut milk, Soup with bird's nest and coconut milk etc. In addition, the Haikou cuisine is also good at different seafood, including shrimp, shellfish, and fish etc.

Hainan Rice Noodle
The Rice Noodle is one of the most characteristic snacks in Hainan. It has a long history, which can be traced back to the Ming Dynasty. The Hainan Rice Noodle is made of rice noodle and dozens of special condiments. It is white in color and thin in shape. It can be served as cold-dish. People always put some fried peanuts, roasted sesame, bean sprout, chopped green onion, shredded meat, sesame oil, Chinese sauerkraut or coriander on the noodle. Then add some clear conch soup. A bowl of Hannan Rice Noodle is ready.

Hainan Chicken with Coconut Milk
The Chicken with coconut milk also has a long history. It has been popular in Haikou since 1930s. The chicken is tender and the coconut milk is strong. Tourists who travel in Hannan can not miss this cuisine.

Food Street
Tourists can go to the Longkun South Road. There they can enjoy all kinds of seafood in Haikou. The seafood is not so expensive and very delicious.
Jinlong Road is also one of the most famous food streets. There tourists can taste the delicious foods from all parts of China.
For those who want to taste Hainan local snacks, the Boai South Road is the place we strongly recommend. There tourists can taste the real Hainan Rice Noodles and other delicious local snacks.