Holiday Beach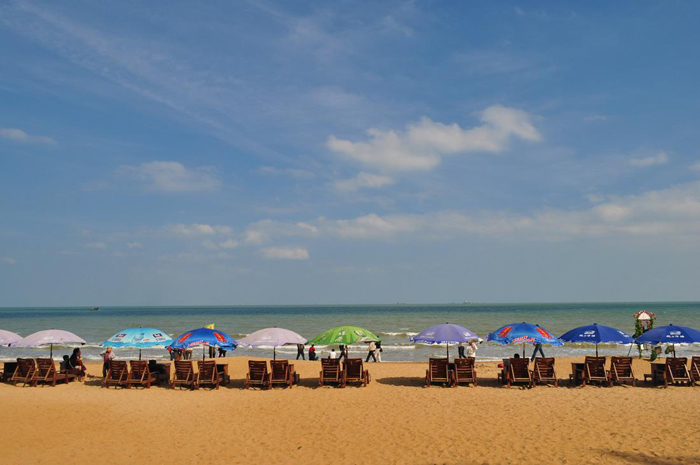 More Photos
Chinese name: 假日海滩(Jiari Haitan)
Location: Binhai Road, Haikou, Hainan Province, China
Opening time: all day long
How to get there: It costs CNY1 to take the Liulong tour bus or Gongshuda tour bus from Fucheng in downtown Haikou to Haifu Road and Benhai Road and finally to the Holiday Beach.
Best time for visit: from October to the following May
Recommended time for a visit: 4-5 hours

Introduction to Holiday Beach
Holiday Beach (officially Holiday Beachside Resort) is located in the west of Haikou City, covering an area of 54 hectares. It's a large-scale beach tourism scenic area and the most representative seaside tourism leisure resort in Haikou. Holiday Beach has the overall length of 6.2 kilometers, stretching from Qiongzhou Strait in the north to Binhai Avenue in the south. The green area of Holiday Beach amounts to over 80%, among which, coconut trees, coast oaks and palm plantations account for 60%, flowers account for 20% and Taiwan turf account for 20%.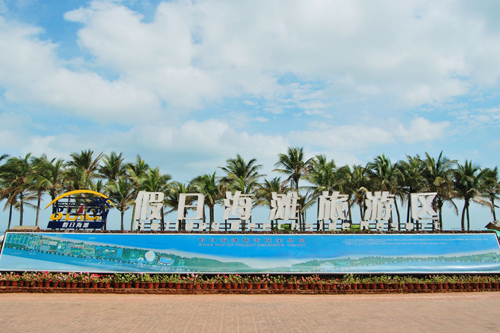 Holiday Beach boasts bright
sunshine, white beach, clear seawater and rows of coconut trees which
constitute a beautiful natural picture. It's an ideal resort for people living
in cities to come back to nature. Holiday
Beach began to open to
the public from 1995. Since its opening for business, several leaders have paid
an inspection visit to Holiday
Beach and spoke highly of
its development and management. The charming tropical landscape of Holiday Beach attracts a large number of
tourists from home and abroad.
Functional and Recreational Facilities
Holiday Beach consists of
four functional areas, including catering culture area, sun bath on the beach
area, exercise area on the sea area and leisure and resort area from east to
west. At present, only sun bath on the beach area and exercise area on the sea
area are available, and the other 2 areas are under construction. Besides,
various recreational and service facilities are available, such as Water Motor
Boat Center, renting swimming outfit shops, bathing center, hot spring hotels,
tourism handicraft market, platform for watching the sea, beverage center,
music square, beach volleyball court, beach football court, barbecue area,
coconut grove log cabin, basketball court with lighting, noble yacht club and
hotels.
In the east of the beach, there is mainly an on-water performance hall, a paddling paradise and a club on the sea. Covering an area of over 80 mu, the construction of this area is in the style of ancient Rome. Each year, famous stars at home and abroad are invited here to give performances, such as on-water ballet, high diving and characteristic dances.
In
the western area, there is a leisure resort. In the elegant leisure resort,
there are new-fashioned holiday bungalows, special wood-structure holiday
center, all kinds of tents, simple hammocks and other seaside accommodation
facilities, offering comfortable accommodation environment and facilities of a
variety.
Attractions near Beach Entrance
The
largest entrance of Holiday
Beach is in sun bath on
the beach area in the central area. Near the entrance, a huge banyan tree is in
the spotlight. Under electronic control, the branches and leaves of the banyan
tree are fluttering and waving, which are flickering, showing their warm
welcome to the tourists. Entering into the area, you can see well-formed
ecological parking lots, flower nurseries of various shapes and tropical
landscape trees of various postures.
What to do in Holiday Beach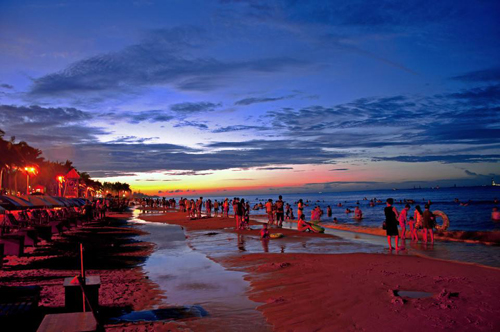 The resort has four zones:
Sea Sports: Here, one can enjoy swimming, sail-boarding, kayaking, or just lazing on the beach. Just whatever takes your fancy.
Food and Culture: the Guanjingtai Plaza provides excellent sightseeing and a wide variety of restaurants and bars to satisfy every palate. The International Fishing Club offers high-tech fishing tools and makes you enjoy the happiness of fishing.
The Fun Section: this offers a wide range of family entertainment: the Music Square, a roller-skating course, a Children's Movement Center, the Kingdom of Butterflies, and much more. Especially popular is the World above Water with its water ballet and diving presentations.
Relaxation: Holiday Beach provides accommodation in a relaxing environment: everything from villas and chalets to tents and hammocks is comfortable, clean and safe.
An unusual feature of the Holiday Beach Resort is the 'kissing fish'. These fish can live happily in 104F water, and they will nibble at your body to provide delightful underwater skin-cleansing care.
Quick Questions
Our team is waiting for you questions. Please feel free to ask us any questions you might have about our China package tours, Chinese culture, or the sites available. We will gladly help you with any special needs you might have and all questions, like our trip designing is completely free of charge.