Evergreen Park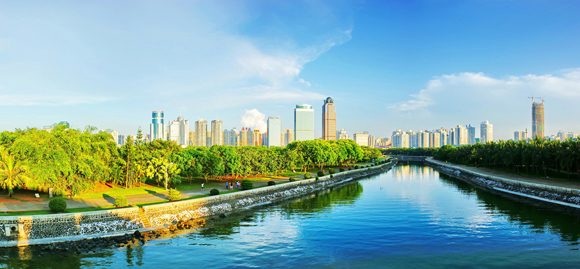 More Photos
Chinese name: 万绿园(Wanlv Yuan)
Location: Binhai Avenue, Longhua District, Haikou, Hainan Province, China
Opening time: all day long
How to get there: Take buses No. 3, 6, 17, 18, 21, 31, 32, 37, 39, 42, 49, 54, 57, 61 to Evergreen Park Station.
Best time for visit: all year round
Recommended time for a visit: 2-3 hours

Introduction to Evergreen Park
Wanlv Park also called Evergreen Park is situated in city of Haikou, in Hainan which is in eastern part of Longhua District, China. It is the largest park in the city, and is situated between Binhai Avenue and the north coast of the main part of Haikou. The park covers an area of 83 hectares and it is also a seaside recreational resort for Haikou residents.
This park has several unique characteristics as well as ecological landscape with wonderful garden features, green water, blue sky, wilderness, and advanced high-rise integrated ornamental plants. The plants can be international or domestic, subtropical and tropical plants that have even seaside characteristics. It was opened in January 3, 1996, and is the main site of many of the city's festivals and events. It contains an artificial lake, a small amusement park, and various kiosks. Wanlv Park has even transformed Haikou into a prominent international tourist destination.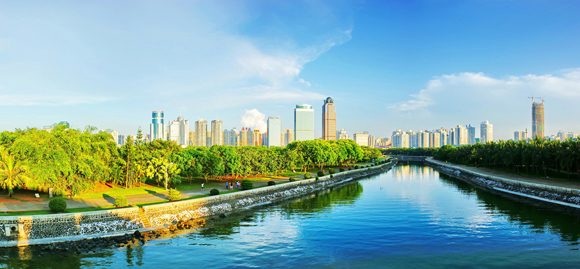 The Haikou Great Hall of the People (a concert hall) and the former Hainan Exhibition & Convention Center(now being converted to a mall) are adjacent to the west side of the park. The mouth of the Haidian River and the Haikou Century Bridge are located by the eastern side. Haikou City Stadium is located on Binhai Avenue, at the southeastern corner of the park. A street selling food and souvenirs was created at the east side of the park.
It is one of four major parks in Haikou, and can be compared to Baishamen Park in that both have large, open, grass areas. The other two, Golden Bull Mountain Ridge Park and Haikou People's Park, have a relatively high percentage of tree cover.

History of Evergreen Park
In 1993 the decision was made by the municipal Party Committee and government to reclaim land from the sea upon which to build the garden. Volunteer labour was called for and within a year townspeople, government workers, students and soldiers had backfilled 700 thousand cubic meters of soil, laid 400 thousand square meters of lawn and planted 10 thousand square meters of trees and flowers.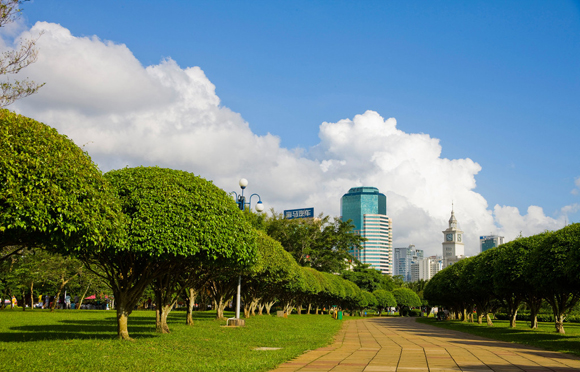 Sixteen attractive spots
Wanlv Park in Hainan is
divided into sixteen attractive spots and numerous attractions. It possesses
varied landscape with rich content. The sixteen spots are play area of
children, door area, Neihu district, plaza area, lawn area, tropical ornamental
plant region, bamboo zone, golf driving range and many more. This park covers
approximately eight three hectares. It is an excellent spot for the ecological
garden in city. Evergreen Park is biggest open
tropical seaside scenery. Travelers to Hainan must never miss to visit Wanlv Park.
It is one among the prominent public recreation spots. There is a beautiful
garden in the park. About ten thousand trees are planted here. The most
commonly found trees in Wanlv
Park are coconut trees,
subtropical ornamental plants, and hundreds of tropical ornamental plants, and
more. It displays a big school of beautiful tropical garden scenery. The park
is having a prominent and leading VIP area for tree planting, and planting
regions of society, etc. There are even planting regions for individual
citizens and groups.
A
walk in the park is loved by each and every visitor. The green grass, blue sky,
white clouds, and sparkling Bihai light can offer a wonderful experience of
urban castle with silent environment. By this, one can feel the real taste of
harmonious blend of nature and man. Evergreen Park is one of the huge beautiful
municipal garden-tropical ecological and coastal landscape park which is
situated in eastern side of coastal Reclamation in Hikou. It is located
specifically in coastal Middle
Road near the financial & trade segments of
the Binhai Avenue
which is across North of Qiongzhou Bay near Haikou Stadium. Near to Wanlv Park,
there is CPPCC City Hall, and many other important
buildings. The park was opened to public officially in the year 1996.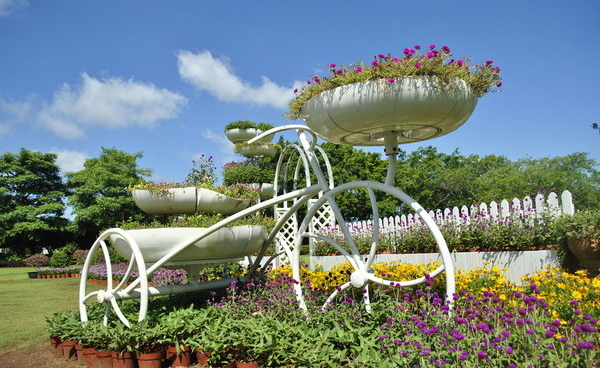 Distinct features
The whole planning of park construction was very outstanding one with
several special tropical seaside characteristics as well as ecological
landscape features. The area of Wanlv
Park amounts to one
thousand two hundred and thirty four acres that also includes the surface of
lake. The construction of park was done in two phases. The initial phase
started by the end of 1994 with a greening rate of eighty four percent. The
park has many herbaceous plants which can very well adapt to the climate
conditions in city of Hainan.
It took nearly four years to construct all the scenic spots, various
facilities, attractions, and more.
Quick Questions
Our team is waiting for you questions. Please feel free to ask us any questions you might have about our China package tours, Chinese culture, or the sites available. We will gladly help you with any special needs you might have and all questions, like our trip designing is completely free of charge.