Guiyang Transportation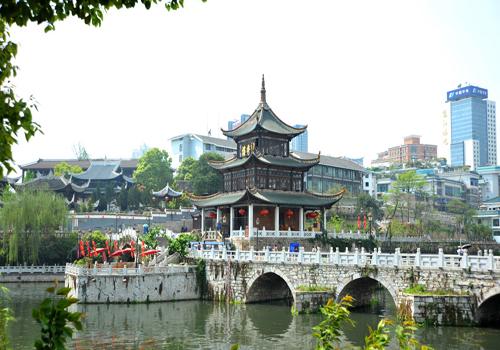 By Air
Guiyang Longdongbao International airport, as a modern 4D airport located in the east suburb of Guiyang city, is ten kilometers away from the downtown area. Airlines from Guiyang to Beijing, Shanghai, Guangzhou, Shenzhen, Chengdu, Chongqing, Kunming, Guilin and other large and medium-sized cities have already been opened. Airplanes bound for Hong Kong, Macao, Singapore, Bangkok are also available. The shuttle bus can bring passengers to the downtown within twenty minutes by way of highway. What is worth mentioning is that the designed free internet area is provided by Guiyang airport for passengers' convenience.
By Train
Guizhou railway transportation network consists of four railways Liuzhou-Guiyang railway, Guiyang-Kunming railway, Zhuzhou-Guiyang railway, Chongqing-Guiyang railway, of which Guiyang city is the hub. Visitors can leave from Guiyang to such cities as Beijing, Shanghai, Kunming, and Guilin by train. Now that the railway station is not situated in the suburb, passengers can take No. 1, 2 buses to reach the downtown area.
By Bus
Lying in the centre of Guizhou province, Guiyang city definitely enjoys the road traffic spreading to the surrounding cities. If you start from places within Guizhou province to Guiyang, the most convenient way is by bus in that through buses are available.


Jinyang tourist bus station – visitors can take shuttle bus from Guiyang to Anshun, Bijie, Zunyi, Liupanshui and other southwestern part of Guizhou province. In addition, it is possible to reach Yunnan, Sichuan, Chongqing, Guangdong, Guangxi, Fujian, Zhejiang via the station.
Guiyang east tourist bus station – take shuttle buses from this station, travelers can reach Zunyi, Anshun, Tongren and other places in Guizhou. In the meanwhile, there are buses bound for shanghai, Fujian, Guangxi, Yunnan, Sichuan, Chongqing, Hubei and other provinces.
City Transportation
Taxi – the starting price is 8 yuan (including 3 kilometres), from 06:30 to 22:00, after 3 kilometres, additional 1.6 yuan for one kilometer, after 5 kilometres, additional 2.4 yuan for one kilometer, from 22:00 to 06:00, after 3 kilometres, additional 1.92 yuan for one kilometer, after 5 kilometres, additional 2.88 yuan for one kilometer. Plus, before you get off, you have to pay another one yuan for fuel surcharges.
Bus – there are self-service buses in Guiyang city. No. 1, 2 buses are running between the railway station and Qianling Park; No. 26, 38 buses depart from Hebin Park to Huxi scenic area and Tianhetan scenic area respectively.
Mini-buses are within reach day and night. The ticket price in the daytime is 2 yuan and at night it is 3 yuan. While the bus stop running after 21:00, the mini-bus does not stop until the wee hours.
Car renting – generally, cars for renting are minivans which can hold five or six people at the same time. Fees hinge on the time you rent. If you are foreign to the mountainous landscape of Guiyang, you'd better hire a driver when rent the car!
Bicycle – for city-dwellers, the main means of transportation in Guiyang is on foot and by bus, few of them take bicycles. So there are not many places for the renting. In some parks and scenic spots you may rent one to have fun there.