Guiyang Cuisine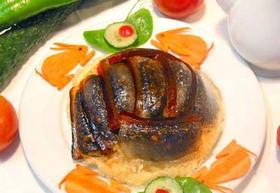 Guiyang, the capital of dainties, has two characteristics in terms of its food. On the one hand, it is hot and spicy, similar to Sichuan cuisine and Hunan cuisine. However, there exist some distinctions. Its conditions are made from several spices and chilli. Frankly speaking, cuisines of different provinces are apt to taste different if they are introduced into Guiyang city. Some well-known dishes like Huajiang dog meat of Sichuan cuisine are in every nook and cranny; besides, they will impress you even more profoundly! On the other hand, you can find places for eating here and there in Guiyang city. In the words of the city-dwellers, restaurants are within sight even though you are missing. When dark arrives, all sorts of snacks are on offer at the bustling night market, such as Siwawa, barbeque, crabs and so forth.
Siwawa (丝娃娃)
It is one of the most common snacks on the streets. At first sight it looks like a baby in swaddling clothes. The "swaddling clothes" are thin pancakes made of rice floor. After rolling radish strips, Houttuynia cordata, sea-tangle strips, chilli paste, and fried soybeans can you try it immediately! Of course, locals often add spicy and sour juice to it.
Spicy Chicken (辣子鸡)
It is so special that you can by no means miss it whenever you are in Guiyang. Salt the chicken with spices before stir-frying. Then drop a great deal of chilli which looks like glutinous rice cake and place the chicken back to the pot at the same time. In effect, people can try this dish in the fashion of hotpot.
Changwang Noodle (肠旺面)
It is a notable local flavour snack, whose main ingredients are pork large intestine, noodle, egg, mung bean sprouts and fried pork. It not only looks like a ruby and tastes spicy, leaving an unforgettable flavour to you.
Huaxi Beef Rice Noodle (花溪牛肉粉)
The snack is so widely known that people treat it as breakfast, lunch, supper and snack food. The beef is thoroughly cooked, the rice noodle is smooth, and more important, the soup is spicy and fresh. Sometimes, you have to queue up to enjoy the dish!
Recommended Food Street:
Hequn Night market Street (合群路夜市一条街) – the larges-scale food street for snacks, where you can find almost all snacks of Guiyang.
Putuo Food Street (普陀路食街) – most restaurants offer ordinary dishes in people's daily life; seafood is also available.