Zhenshan Ethnic Village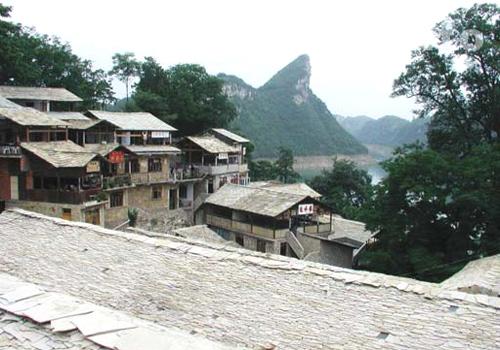 More Photos
Chinese name: 镇山民族村 (Zhen Shan Min Zu Cun)
Location: Shiban Town, Huaxi District, 20 km from Guiyang, in southwest China's Guizhou Province.
Opening time: all day long
Ticket: CNY4
How to get there:
-Take bus at Hebing Park Bus Station to Tianhe Pool (Tianhe Tan) and get off at Shiban Town and then take a motorcycle or hike two km to reach Zhenshan Ethnic Village. Or take a bus directly to Zhenshan Ethnic Village.
- Rent a car to get there there (around CNY25).
Dining and accommodation: It is possible to find a farmhouse to eat and stay in Zhenshan Ethnic Village. However the environment may not be good, it is better to back to Guiyang for accommodation at the same day.
Best time to visit: all the year round
Nearby attractions: Huaxi Lake, Huaxi Park, Tianhe Pool scenic area

Brief introduction to Zhenshan Ethnic Village

Located at the middle section of Huaxi (Flower Stream) Reservoir, between Huaxi Scenic Spot and Tianhe Pool Scenic Spot, Zhenshan Ethnic Village features its primitive stone houses and ethnic minority customs. It was first built in Ming Dynasty (1368-1644). It was originally a military fort and became the gathering point of Bouyei ethnic group. Zhenshan Ethnic Village is built against mountains and surrounded by water. The whole village is just like a stone castle with stone gate tower, stone wall, stone houses and stone paved road. Even many family utensils are made of stones, such as mill, bowl, groove, vat, and so forth. It has some 120 households, threes fourth being Bouyei people and one fourth being Miao people. Ethnic customs and primitive rural appearance make Zhenshan Village a tourist destination. Tourist can pay a visit to a local family, taste Bouyei cuisine, watch performances given by Bouyei people, take a boat to cruise the Huaxi lake or hike to Huaxi scenic area. Zhenshan Ethnic Village was listed as a cultural unit under provincial protection in 1995.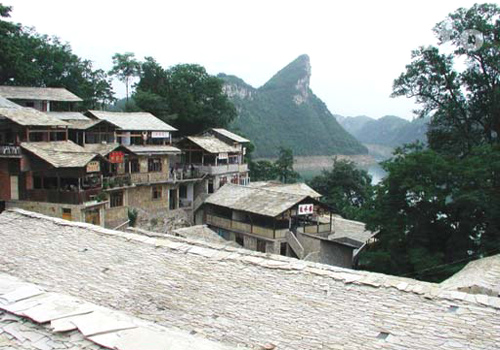 Culture and customs of Bouyei and Miao ethnic minorities

The most important festival of Zhenshan Ethnic Village is the Tiaohuachang Festival. It is celebrated on the twelfth, thirteen and fourth days of the first lunar month when an activity called "Tiaohuachang" will be carried out to show gratitude for Miao people. Girls and boys of Bouyei and Miao are dressed in colorful costumes, singing and dancing to Lusheng flute music. A local story says that an ancestor of Bouyei was rescued by a Miao villager when he was seized by bandit. July 15th and April 8th are also Zhenshan Ethnic Village's traditional holidays. In Zhenshan Ethnic Village, antiphonal singing is the way to find a mate. In this simple way, young boys and girls learn each other and start a match-making. Besides, embroidery and cross-stitch are local fork arts that are worth mentioning, which feature varied stitches and rich contents.

Highlights in Zhenshan Ethnic Village

- Wooden-and-stone houses

The houses in Zhenshan Ethnic Village are made of stones and wood. A wooden framework is set up fixedly and then well-cut square or rectangle slab stones are inlaid into the framework to form walls. The roves are also piled up by irregular tile stones.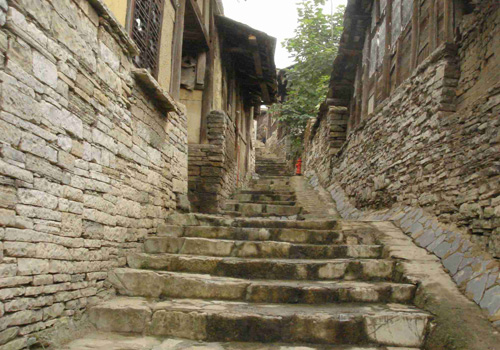 - Costumes of Miao ethnic group


The ethnic costumes still retain strong national characteristic. Ornate wide-collared costumes (festival costomn) are praised as the living fossil of national costumes.

- Ancient barrack

The old barrack was built in late Qing dynasty (1644-1911). It has large scale. Though most of walls have collapsed and foundations are still there. The south city gate is well-preserved. The stone wall divides Zhenshan Ethnic Village into two parts.

- Guanyu Temple

The temple was built in Ming Dynasty. It once was destroyed by bandits and rebuilt in Qing Dynasty. The main hall is kept to this day with carved patterns and gray tiles.
Quick Questions
Our team is waiting for you questions. Please feel free to ask us any questions you might have about our China package tours, Chinese culture, or the sites available. We will gladly help you with any special needs you might have and all questions, like our trip designing is completely free of charge.