Jiaxiu Tower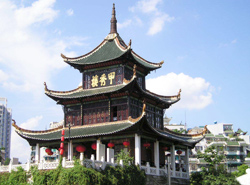 More Photos

Chinese name: 甲秀楼 (Jia Xiu Lou)
Location: Xihu Road, Nanming District, Guiyang City, Guizhou Province.
Opening time: all day long.
Ticket: free
Recommended time for a visit: 1 hour
Best time for a visit: March-October
How to get to Jiaxiu Tower:
- take buses No.1 or 2 and get off at the station of You Dian Da Lou (邮电大楼站, Post Office Buidling);
- take buses No.8 or 11 and get off at the station of Da Nan Men (大南门站, Grand South Gate);
- take buses No.15, 48 or 305 and get off at the station of Jia Xiu Lou (Jiaxiu Building).
Travel tips: Nearby the Jiaxiu Building, it is a flea market selling kinds of antiques, handicrafts, second-hand books, batiks, silvers and other diversified Chinese-featured articles.
Introduction to Jiaxiu Building of Guiyang
Based on a huge stone in Nanming River in the south of Guiyang City, Jiaxiu Building was originally built in 1597 in Ming Dynasty (1368-1644). Firstly destroyed in 1621, and rebuilt later and renamed as Laifeng Pavilion, the Jiaxiu Building was destroyed again afterwards but regained its previous name when it was rebuilt another time in 1689 in Qing Dynasty (1644-1911). Having been repaired for six times, the existing Jiaxiu Building was built in 1909. As witness of Guiyang history as well as the symbol of the Guiyang culture, it was inscribed as a national key protected site in 2006.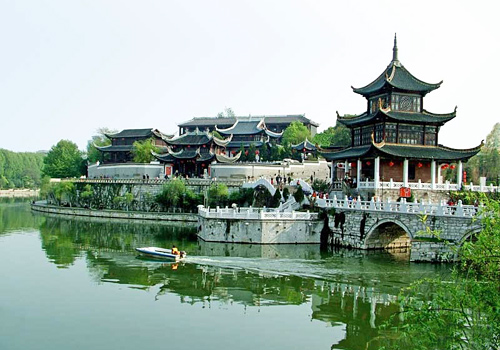 Inset in the beautiful landscape with waters and hills, Jiaxiu Building is live up to its name, as Jiaxiu means best and graceful in Chinese. With red girders and green tiles, the tower is in classical elegance with three storeys and a height of 20 meters. In Ming and Qing dynasties, Jiaxiu Building was a gathering place popular with scholars and literati. Thanks to its amazing view of the surrounding hills, the living vitality of the nearby cottages and smokes and changeable wonders of the four seasons, many celebrities were inspirited and created a large number of praising inscriptions and paintings. Among these precious ancient authentic stone and wood inscriptions and works, a couplet consisting of 206 characters by Liu Yushan (a scholar of Imperial Academy of Qing Dynasty) has to be mentioned, which is unique as one of the longest ancient couplets and describes the geographical changes and historical vicissitude of Guiyang in a imposing and bold way.
What to see in Jiaxiu Building?
Jiaxiu Tower of Guiyang is divided into three parts, the Fuyu Bridge, the building of Jiaxiu Tower and a Cuiwei Garden.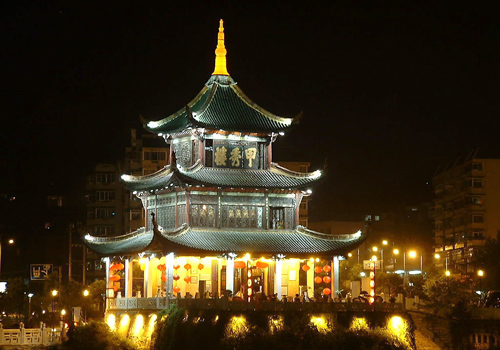 On the bridgehead of the Fuyu Bridge, there is a stone-wood memorial archway inscribed with Chengnan Yiji (城南遗迹, South City's Remains), and on the bridge is a Hanbi Pavilion. The Jiaxiu Building is a typical Chinese style with flying ridges, overhanging eaves, supporting stone pillars and carved railings. As regards Cuiwei Garden, it is an ancient architecture complex of Ming and Qing styles consisting of Gongnan Pavilion, Cuiwei Pavilion and Longmen Academy. In the garden, the new constructed exhibition hall demonstrates traditional costumes of ethnic groups living in Guizhou Province, such as Miao, Dong, Yi, Shui, Gejia, Tujia, Buyi. These amazing dresses and adornments and handiworks of embroidery and batik are the embodiment of the colorful Chinese ethnic cultures.
More about Jiaxiu Tower
A building of quadrangle tented roof with three storeys and three layers of eaves, the structure of Jiaxiu Tower is unique in Chinese ancient architecture. Supported by stone pillars, it is 20 meters high and leads to the bank by Fuyu Bridge, which was originally a nine-arched one but only seven can be seen today with other two approaching to the riverbank being paved to roads. In the front of the building, there were two iron pillars; one was erected to praise a minister of Qing Dynasty who had successfully suppressed revolt of local Miao people, and the other to praise a general also in Qing Dynasty who had successfully suppressed insurrection of Buyi People. After the founding of the People's Republic of China, the iron pillars were moved to Guizhou Museum. On the wall of the ground floor, eight of the poem tablets are the originals. And the characters of Xiu (秀) and Lou (楼) of the building name are also the originals while the Character Jia (甲) was an imitated one in accordance with the previous.
Quick Questions
Our team is waiting for your questions. Please feel free to ask us any questions you might have about our China package tours, Chinese culture, or the sites available. We will gladly help you with any special needs you might have and all questions, like our trip designing is completely free of charge.