Huaxi Park (Flower Stream Park)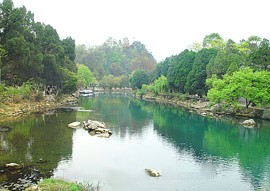 More Photos

Chinese name: 花溪公园
Location: Huaxi Town, Huaxi District, 17km south suburb of Guiyang, southwest China's Guizhou province
Opening time: 08:00-18:30
Ticket: CNY6
How to get there:
-take midibus No. 89, 90 or 109 at old city quarter of Guiyang to Flower Stream Park.
- take coach No.201 (Hebin Park), 202 (Meikuang Village), 203 (train station), 204 (Youzha Street) to Flower Stream Park.
- take express bus (No.223) at Jinyang Passenger Station.
Best time to visit: March to October
Recommended time for a visit: one hour
Nearby attractions: Huaxi Wetland Park (花溪湿地公园), Ten Miles Beach (十里河滩), Tianhe Pool (天河潭), Qingyan Ancient Town (青岩古镇), Gaopo Village Ethnic Customs and Natural landscapes (高坡民族风情与自然风光) of Miao ethnic minority, etc.
Tips: Outside the No.2 Gate of Flower Stream Park, a snack street is just 3 minutes away. Huaxi Beef Noodles is worthy trying.


Brief introduction to Flower Stream Park


Huaxi (Flower Stream) Park is the centerpiece of Huaxi Scenic Spot, which is hailed as "a pearl inlaid in plateau". Blessed with green mountains, limpid water, ample foliage, Flower Stream Park is great place for excursion. Early in Qing Dynasty, a local governmental official began to construct pavilions and cultivate flowers and trees over there. Flower Stream, the "First Love River of China" winds through the park and clearly reflects the beautiful surroundings. Chenyi, a marshal of Chinese Community Party, was once inspired to write an excellent verse to highly praise the beauty of Huaxi Park: Fine mountains and water are everywhere here; the layout of Huaxi is even more natural. Ten miles course of river is as clear as mirror; flower beds and farmlands are only steps away.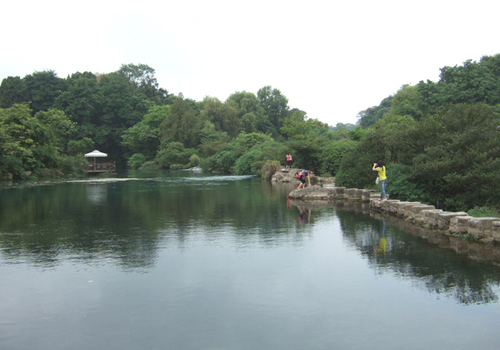 The Flower Stream in the park is flanked by four mountains on two sides, Kylin Mountain (Lin Mountain), Turtle Mountain (Gui Mountain), Snake Mountain (She Mountain) and Phoenix Mountain (Feng Mountain). Kylin Mountain is the highest one with grotesque rocks looking like the horns of Kylin, an animal in Chinese legend. Climb up to mountain top where the refined Flying Clouds Pavilion is found, you will get a full view of the garden. Flower beds, farmlands, bridges, flowing water, pavilions and villas contributes to a picturesque landscape painting. The Turtle Mountain stands next to the Unicon Mountain, being the center of Flower Steam Park. River water rushes ahead at the foot of the mountain. Tourist can admire the beautiful scenery on a boat on the slow water of lake ponds. One of things that must be noted is the Baibu Bridge (One Hundred Steps Bridge). Almost a hundred stone benches are placed in the river dike in a curved line. Visitors often walk step by step on the stone benches that jut out of water. Near the Baibu Bridge, a small villa with red tiles and white wall is quietly set among green trees. It is said that Chiang Kai-shek one commanded anti-Japanese war affairs over there. Down the bridge there is a chess pavilion where Chen Yi once left a poem.


Huaxi Park is particularly charming in spring when peach blossoms are in full bloom and the rural landscape at its best. October is another good time to visit Huaxi Park as ample tourist activities are conducted continuously.
Quick Questions
Our team is waiting for your questions. Please feel free to ask us any questions you might have about our China package tours, Chinese culture, or the sites available. We will gladly help you with any special needs you might have and all questions, like our trip designing is completely free of charge.