Hongfu Temple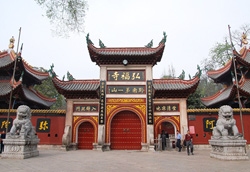 More Photos

Chinese name: 弘福寺 (Hongfu Si)
Location: on Qianling Mountain, Zaoshan Road, Yunyan District, northwest of Guiyang City, Guizhou Province.
Opening time: 06:00-22:00
Ticket: CNY2
How to get to Hongfu Temple: take buses No.1, 2, 10, 12, 13, 16, 23, 25, 30, 41, or 53.
Introduction to Hongfu Temple
Built in 1672 in Qing Dynasty (1644-1911) by Monk Chisong, Hongfu Temple is the most important Buddhism temple in Guizhou Province. Its name Hongfu means to expand the Buddha's will of salvation, and to benefit all living creatures. Hongfu Temple was listed into the 142 national key Buddhism temples in 1983, and under the province's protection at the same year.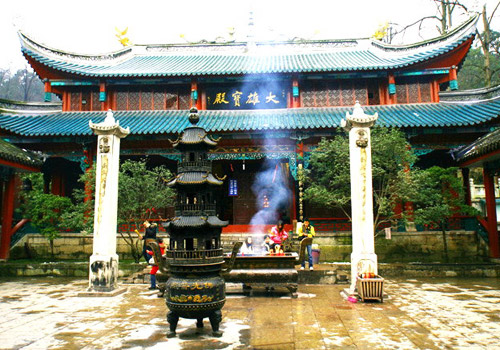 What to see in Hongfu Temple?
At two sides of the entrance gate, there are a drum tower and a bell tower. The bronze bell, casted in 1469 during Ming Dynasty (1368-1644), weights in over 1500 kilograms.
In Hongfu Temple, main buildings are Mahavira Hall, Avalokitesvara Hall, Jade Buddha Hall and Maitreya Hall. In addition, there are 27 gild Buddhas, more than 10 Burmese jade Buddhas, stone lions, stone pennants, bronze treasure tripod, horizontal inscribed boards with golden characters, and over 10 towers for deceased abbots behind the temple.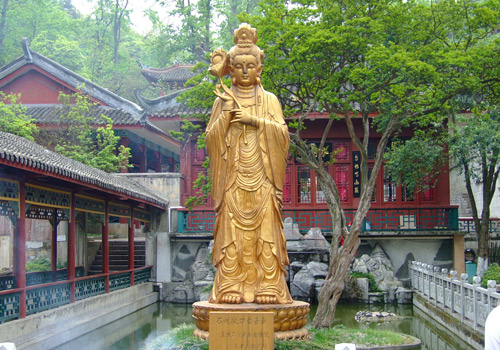 To reach the Hongfu Temple of Guiyang, the ancient way named Jiuqu Path (Winding Path) with 383 steps was firstly built in 1688 and repaired twice in 1789 and 1855 respectively. The path is accompanied with numerous attractions such as Ancient Buddhism Cave, a pool for washing monk's bowl, Lingguan Pavilion, and kinds of inscriptions on precipices.
Precious cultural relics and historical sites in the temple
A great many precious cultural relics and historical sites are found in Hongfu Temple; the ancient Jiuqu Path, the Ancient Buddhism Cave that toured by Xu Xiake (徐霞客, a famous traveler and writer of Ming Dynasty), Tower Forest for past abbots of the temple, tablets corridor with poetry inscribed by Chu De, Dong Biwu, etc. ancient bronze bell of Ming Dynasty, kinds of sutras, and over 100 calligraphies and paintings collected from famous calligraphers and painters.
Quick Questions
Our team is waiting for you questions. Please feel free to ask us any questions you might have about our China package tours, Chinese culture, or the sites available. We will gladly help you with any special needs you might have and all questions, like our trip designing is completely free of charge.