Xichan Temple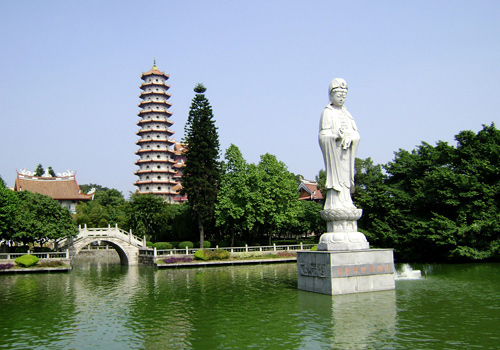 More Photos

Chinese name: 西禅寺 (Xichan Si)
Location: in Fengwei Village, Yishan Mountain, only 1.5 km west of Fuzhou City, Fujian Province.
Ticket: CNY 20
How to get there: on private coach or take buses No.14, 27, 39, 64, 91, 96, 97, 112, 113, 123, 128, 307, 317, 606, 701, 723, 812, 813, 941, 957, and get off at the station of Xichan Temple (Chinese:西禅寺).
Best time for visit: all year long
An aged-old national key temple with an international fame
As one of the national key temples as well as the first of the five Buddhist temples in Fuzhou City, Xichan Temple has been stood for over 1130 years and underwent natural disasters and warring damages in its long-term development since built in 867 of Tang Dynasty (618-907). Covering an area of 7.7 hectares, the temple is grand with 36 halls that all oriented south and north.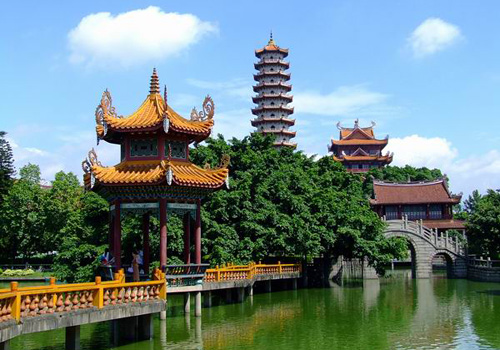 Xichan Temple enjoys a fame home and abroad. Today, it still designates monks to manage its overseas low houses of Shuanglin Temple in Singapore, Shuangqing Temple in Malaysia, South Putuo Temple, Guanyin Temple etc. in Vietnam. Xichan Temple is no doubt a good platform to exchange culture and Buddhism among Southeast Asian countries; and also, a great number of foreign eminent monks and disciples flock to the temple every year, always making a big spectacle.
History of Xichan Temple and its precious historical relics
Xichan Temple was built by a great monk of Tang Dynasty, named Da An (大安, 793-883). Born in Fuqing County of Fujian Province, he was initiated into monkhood in his 24 in Qianyuan Temple, and then he visited in Jiangxi Province and later lived in Hunan Province for 30 years. After he got back to Fujian Province and completed the construction of Xichan Temple, his followers lived in the temple have reached 3000. He also was once awarded as a master with a purple Kasaya robe and Tibetan sutra by the emperor. Today, relevant records still can be found in the well-preserved tablet inscription of Tang Dynasty in the temple. Later, another master of the temple, the abbot Hui Ji has planted 4 Litchi trees in the temple; the one in the west direction of which is still sturdy which has stood for over 1000 years. A memorial tower with a tablet inscription for him is also the important historical relic in the temple.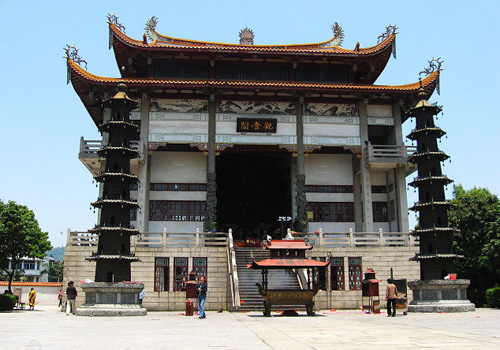 Xichan Temple was repaired twice in Song Dynasty (960-1279); the present scale and layout was finalized in Qing Dynasty (1636-1911), and most of the halls can be seen today were rebuilt in modern times because of the damages in wars.
What to see in Xichan Temple?
Xichan Temple boasts for its grand of full functioned 36 halls, precious cultural relics as well as its great landscape art within numerous Litchi trees and Mango trees. A zigzag bridge on the Free Life Pond features southern gardens and the reflections of towers on the lake are just beautiful to be blended in the delightful natural sceneries. A small exquisite garden in the temple is characteristic by rockeries and a Mingyuan Pavilion, which is the site for Litchi Party of past dynasties.
Litchi trees with deep cultural connotation
Xichan Temple is charming with beautiful natural sceneries with the most famous litchi trees attracting renowned scholars with their praising words and sentences in successive dynasties. There are hundreds of Litchi trees in the temple with the oldest one planted in 9th century by the master Hui Ji. The temple teems with Litchi during mature season and many stories and poems have left by men of letters in the annual Litchi party which remains today.
Tops in Xichan Temple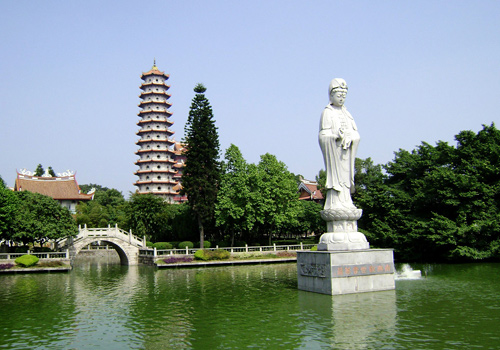 There are two jade josses donated by overseas Chinese placed in an exclusive hall the Jade Joss Hall of the temple. One Buddha is a sitting Sakyamuni in a height of 2.3 meters; the other is a reclining Sakyamuni with a 4-meter body length and 10-ton weight, marking the No.1 jade Buddha in the country.
In Guanyinge hall in the temple, there is a grand thousand-hand and thousand-eye Bodhisattva which was also the only one that molded from 29 tons brass in the country.
Bao'en Tower (Chinese:报恩塔, a return tower), the highest Buddhism temple in the province, was built in 1990 with 15 storeys and a height of 67 meters. It was built from the raising money by the abbot of Shuanglin Temple of Singapore who was appointed by Xichan Temple. The name of the tower comes from the abbot's return for the temple's cultivation. The tower is a dignified and magnificent art tower covered by elegant granite, and decorated by colorful patterns of fowls and beasts, flowers, plants, insects and fish, with elaborate carvings on the walls depicting beautiful stories of Buddhas and Buddhism.
Quick Questions
Our team is waiting for your questions. Please feel free to ask us any questions you might have about our China package tours, Chinese culture, or the sites available. We will gladly help you with any special needs you might have and all questions, like our trip designing is completely free of charge.