Drum Hill (Gushan)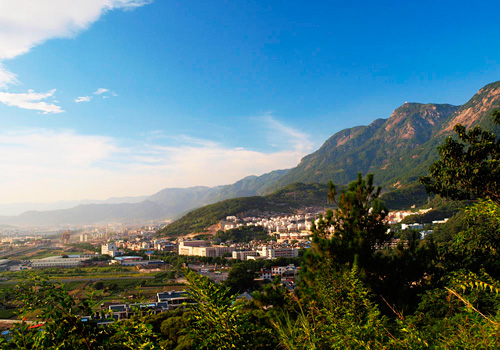 More Photos

Chinese name: 鼓山(Gu Shan)
Location: at the north bank of Min River (Chinese:闽江), 8 kilometers east of downtown Fuzhou City, Fujian Province.
How to get there: on private coach or by buses No. 7, 29, 36, 40, 58, 69, 70, 73, 97, 108, 112, 115 and get off at the stop of Drum Mount Xiayuan (Chinese:鼓山下院), the main entrance for Drum Hill.
Tickets: free for climbing the mountain, CNY 40 for Yongquan Temple; CNY 10 for 18 Scenes; CNY 50 for round trip cable car, and CNY 35 for one way cable car.
Introduction to Drum Hill - A best-known beauty spot in Fuzhou City
With a main peak of 925 meters above sea level and a total area of 48 square kilometers, Drum Hill or Mount Gu is the most famous beauty spot in Fuzhou City. Listed into the national scenic spots in China, Drum Hill features numerous historical sites and attractive natural beauties. Apart from the central site of Yongquan Temple, there are over 20 scenes in the east part of the hill, dozens of spots in the west, over 50 in the south and 45 in the north. Most of the scenic spots are rocks in diverse postures which are the results of long-tem denudation, weathering, collapse and accumulation in the historical development. Besides, many inscriptions on precipices left in past dynasties are also the highlights in the hill.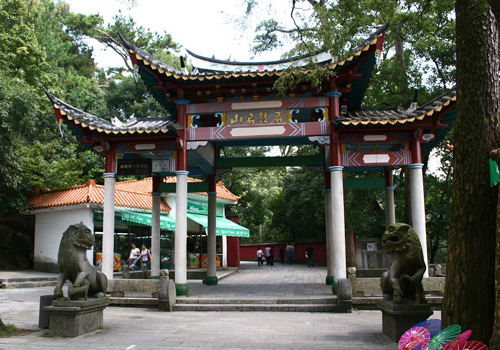 What to see in Drum Hill?
Ancient Path of the hill
It is the only way to climb the hill in the ancient time with over 2000 steps. It is also the path to get to Yongquan Temple after passing seven pavilions and walking for seven li (a Chinese length unit, and one li equals to 0.5 kilometers). Along the way, stone inscriptions are everywhere and the natural beauties are charming with some small spots of caves and a tea plantation.
Inscriptions on Precipices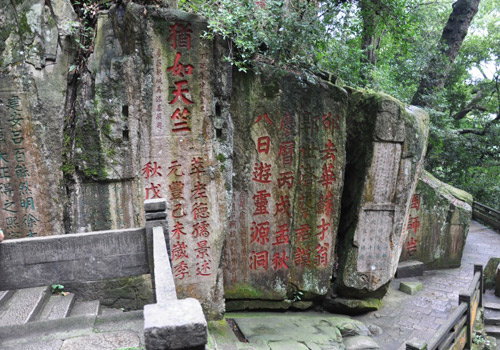 Inscriptions on Precipices are a great feature in Drum Hill which is in high cultural values. Such inscriptions can be found everywhere in the hill of which most are left by celebrities of past dynasties from Song Dynasty (960- 1279) to Qing Dynasty (1636-1911). According to statistics, there are over 300 inscriptions scattered in Drum Hill, 109 of which are left in Song Dynasty with the earliest one on the east wall of Lingyuan Cave by Caixiang (Chinese:蔡襄, a great stateman and calligrapher in Song Dynasty) et al in 1046. Those inscriptions are rich in styles and content, which contains nearly all styles of ancient Chinese calligraphy like Li style, running style, standard style, etc. It is a concentrated place for stone inscriptions in Fujian Province, which is hailed as stone tablets in Fujian and provides rich information in the research of history of ancient Chinese calligraphy.
Yongquan Temple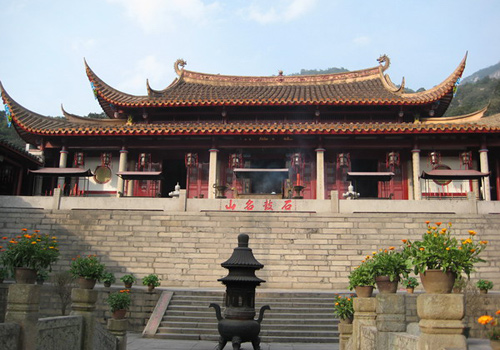 Covering an area of 17000 square meters, Yongquan Temple (Chinese:涌泉寺) is a grand complex consisting of 25 halls in styles of Ming and Qing dynasties (1368-1911). Paintings on ceilings of halls are gorgeous, and numerous bright patterns painted in Qing Dynasty just decorate the central hall of the temple, the Great Budda's Hall. Patterns include dragons, cranes, kylins, white horses, elephants, apes and the like. Yongquan Temple once was a key Buddhist classics publisher in the history, and over 20000 carving boards are still well-preserved and over 27900 volumes of ancient edition are collected in the Scripture-stored Hall in the temple. Therefore, it is a temple titled as "a treasure of Buddhist Sutras". A dagaba with three Sharipu and a tooth relic of the Buddha also cherished in the Scripture-stored Hall. Free Life Pond of the temple was originally built in Song Dynasty during Shaoxing Period (1131-1161), in which now are more than 100 tortoises and red carps including a oldest tortoise over 1000 years old. It is said that in its best days, the number of monks in Yongquan Temple reaches 1500 and today four huge boilers made in Song Dynasty still can be visted in the temple, of which the largest one regarded as "a boiler for 1000 people" that can boil 5 dans rice melt with 20 dans water (dan is a Chinese unit of weight, and one dan equals 50 kilograms),
18 Scenes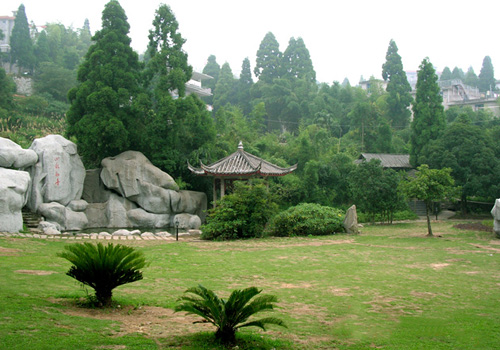 18 Scenes (Chinese:十八景) in Drum Hill famous is for 18 distinctive vivid scenes of rocks and caves. Each scene implies a beautiful story. Some are lively portray the images of beasts like the Lion Peak and Tiger-suppressed Rock; some are related to popular myths and legends about Avalokitesvara, the Queen of the Heaven or the Eight Immortals.
Overlooking Stand
Overlooking Stand (Chinese:观景台) is built 400 meters above the sea level in ancient style. It is a perfect site for a good view of the whole city of Fuzhou, which is also a popular resting site for visitors to enjoy the cool and have a tea after a tired climbing, and also relax and enjoy authentic farm dishes with native poultry and fresh vegetables.
White Cloud Cave
Located in the northwest of Drum Hill and over 700 meters above the sea level, White Cloud Cave (Chinese:白云洞) gets its name as clouds often flying into the cave from a distance look. White Cloud Cave is famous for precipitous steep and cliffs, clear springs, waterfalls and legend's sites and celebrities' footprints.
Waterfalls and Ancient Trees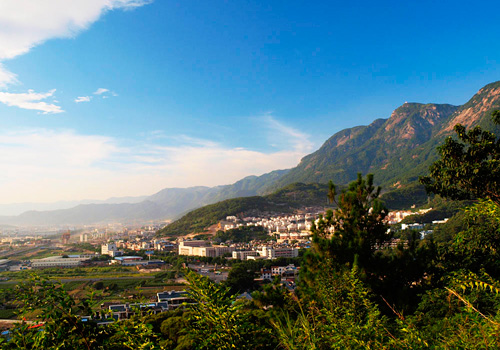 About 23 waterfalls in kind of shapes scatter in Drum Hill, which are spectacular and beautiful no matter enjoyed in a far or near distance, in an upward view or an overlook view. Abundant types of ancient trees is another big characteristic in Drum Hill that there are over 1600 trees with an age over 100 years and some even over 1000 years; besides, there are over 1000 species in the hill including some precious ones like Rhododendron thymifolium, Cymbidium dayanum Rchb.f and the like. In brief, a wild profusion of vegetation plus the waterfalls form a delightful contrast with shapes of rocks and ancient buildings in the hill.
Quick Questions
Our team is waiting for your questions. Please feel free to ask us any questions you might have about our China package tours, Chinese culture, or the sites available. We will gladly help you with any special needs you might have and all questions, like our trip designing is completely free of charge.