Diqing(Shangri-La) Transportation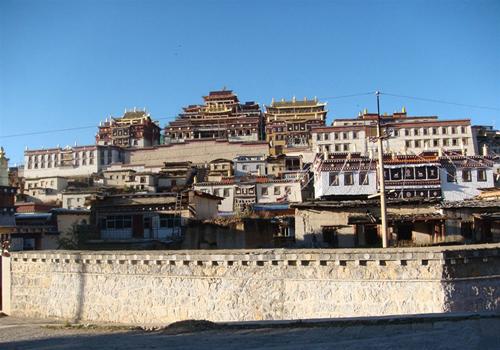 By air


Located 5km from downtown Shangri-La, Diqing Airport (Zhongdian Airport or Shangri-La Airport) has opened flights linking itself with Kunming, Chengdu and Lhasa. There are daily flights from Kunming to Shangri-La, and two flights weekly from Chengdu to Shangri-La, and one flight weekly to Lhasa. However, tourists in other cities have to transfer at Kunming in order to get Diqing.


There is no shuttle bus running between the airport and Shangri-La urban area. A taxi costs around CNY15 (at daytime) or CNY20 (at night).


By train


There is no railway to Diqing. However, tourist may take a train to nearby cities such as Kunming, Lijiang, and Dali. A railway is under construction and predicted to be finished in 2015.


By Long-distance bus


The best way to reach Shangri-La is by long-distance bus. A highway system composed of Yunnan-Tibet highway, Sichuan-Tibet highway has linked Yunnan province, Sichuan province and Tibet. Shangri-La Long-distance Bus Station is located in the middle section of Changzheng Road, which operates shuttle buses to nearby counties and major cities of Yunnan Province.
---Kunming to Shangri-La: 12 hours' drive, more than 720 kilometers, 210yuan/person (morning) and CNY180/person (afternoon).


The coach runs every half an hour from Kunming every day between 09:00am-12:00 noon and 18:00pm-20:00pm.


---Lijiang to Shangri-La: 4 hours' drive, about 174 km, CNY42, 52, 59 per person according to vehicle type.


The coach runs every 40 minutes from Lijiang Bus Station from 07:00am to 17:00pm.


---Dali to Shangri-La: about 7 to 9 hours' drive, CNY66, 70, 84 per person according to vehicle type.


Located in Dali Road, Dali North Bus Station has regular buses to Shangri-La. There are coaches running every half an hour from 06: 30am to 12:00 noon with price difference of CNY66 and CNY70. A sleeper bus runs daily to Shangri-La at 20:00 with the ticket price of about CNY84.


---Deqin to Shangri-La: 6 hours' drive, CNY43


There are four regular buses from Deqin to Shangri-La, respectively at 07:30am, 08:30am, 09:30am, and 12:00 noon.

---Panzhihua (Sichuan Province) to Shangri-La: 15 hours' drive, CNY137, 498 km.
There is one daily sleeper bus from Panzhihua Bus Station to Shangri-La, leaving at 13:00.
City transportation


---There are minibuses leaving for nearby towns and tourist buses to famous scenic spots in peak tourist seasons.


---A taxi usually costs CNY5 within urban areas.