Shuoduhai Lake

More Photos

Chinese name: 属都岗湖 (Shudugang Hu) / 硕都海 (Shuodu Hai)
Location: in the Pudacuo National Park, 35 kilometres away from northeast part of Shangri-la County, Dêqên Tibetan Autonomous Prefecture, Yunan province.
Admission fee: 110 yuan. 80 yuan for green car in the national park.
Opening time: 08:00-18:30
How to get there:
- as rural highways are linked with Shangri-la county, you can go there and back in one day, but there is no bus, so you can only reach there by taxi or passenger car.
Best time to visit: in the spring (March to May) and summer (June to August)
Recommended time for a visit: 2 hours.
Shudu Lake – a Fairy Land in Shangri-la
Shudu Lake, 3,705 kilometres high above the sea level, covering a catchment area of 15,000 square metres, is surrounded by mountains, with the annual temperature on average being 5.4℃. It often rains from June to October, and precipitation is some 580 milimetres.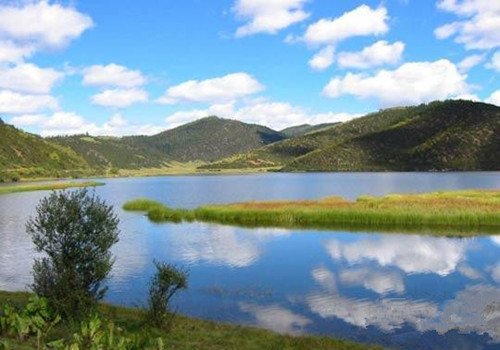 As one of the largest lakes within Shangri-la, Shudu Lake is renowned for its limpid water and its unique fish, which has streaks on its abdomen and tastes fresh and delicate. In fact, legions of wild ducks, water hyacinth, and any other birds and plants. If you look eastward, white birch forests catch your eyes; when autumn steps in, they all turn golden!
Luxuriant green mountains surround the lake, spruces and firs in the midst of it pointing to the sky, with their crown blotting the sky. In the virgin forest, bear, leopard, musk deer, golden cat, Tibetan eared pheasant and other rare animals inhabit.
Along the Shudu Lake is the famous pasture of Shangri-la, where a vast expanse of meadow and waterseeds, grow very well. At the turn of spring and summer, flocks and herds are wandering lakeside, melodious reed pipe is audible. Placing yourself in the picture, you can always be overjoyed at the leisure life on the plateau.
In the spring and summer, it is the sea of flowers, while in the winter, wispy and unreal rime fog emerges from the lake, due to the temperature difference. Thereupon, if you are a photographer, you can take fantastic pictures during this time.
With respect to Shudu Lake name, in Tibetan, Shu means cheese, Du stone. Legend has it that an eminent monk travelled here long time ago and was offered a piece of cheese by the local herdsman. Finding the cheese was as strong as the stone, he was beyond himself to the point of praying, "may the cheese here as strong as stone forever", thus the name of the lake.
Quick Questions
Our team is waiting for your questions. Please feel free to ask us any questions you might have about our China package tours, Chinese culture, or the sites available. We will gladly help you with any special needs you might have and all questions, like our trip designing is completely free of charge.