Mingyong Glacier

More Photos

Chinese name: 明永冰川 (Ming Yong Bing Chuan)
Location: under the Kawakarpo, a peak of Meili Snow Mountain in Deqin County, Diqing (Shangri-la) Tibetan Autonomous Prefecture, Yunnan Province.
Ticket: CNY83, or CNY228 for through ticket for the whole scenic area of Meili Snow Mountain.
Opening time: all day long.
Recommended time for a visit: 3 hours.
Best time for visit: in winter.
How to get to Mingyong Glacier:
- take shuttle busses in Shangri-la at 07:20, 08:20, 09:20 or 12:00;
- take shuttle bus in Deqin County around 15:30 in the afternoon, which will ride for over 1 hours and the retuning bus departs at Mingyong Village at 08:00 in the morning;
- charter a cross-country jeep with about CNY400.
Introduction to Mingyong Glacier
Mingyong Glacier, an extremely long ice under the Kawakarpo Peak, is the largest, longest and lowest valley glacier in Yunnan Province. Meili Snow Mountain gives birth to many a cirque and glacier, among which the Mingyong Glacier is the longest, which called Mingyong Qia in Tibetan language; Mingyong is the name of a village underneath the glacier, and Qia means the melted water from glaciers.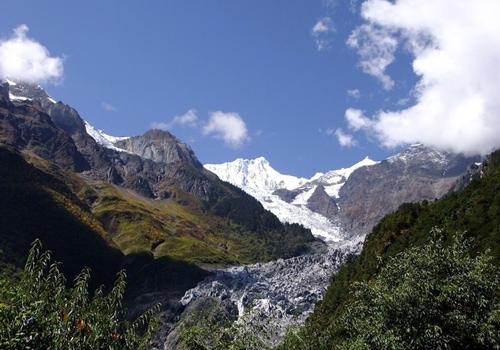 At 28.5 degrees north and an elevation of 2700 meters, Mingyong Glacier is a tropical monsoon contemporary glacier at the lowest latitude and elevation of any glacier in China. It is sacred to locals. Its top is covered with ice and snow all year round. It has a low snow line, high temperature, melts quickly and lives on rainfall; therefore, it has a high velocity of movement. In winter, its glacier tongue can extends to an altitude of 2800 meters from 5500 meters, resembling a silver dragon rush to the Lantsang River. The Mingyong Glacier is one of the classical outdoors hiking routes in Lijiang.
Features of Mingyong Glacier
The Mingyong Glacier is regarded as the largest and longest glacier in Yunnan is profiting from its background- the huge massif with 3 peaks above 6000 meters, 5 peaks above 5000 meters, and a 3 km width for the peaks above the snow line. It has low average temperature in high peaks area (-19.2 Celsius degree for Kawakarpo), and the supply from the avalanche of neve basin.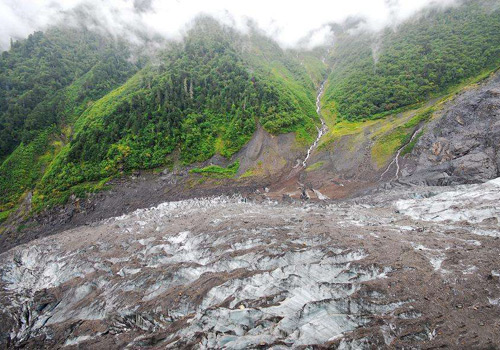 The whole Mingyong Glacier extends 5 km from north to south and 3 km from east to west. It is an enormous ice and snow valley, which become a lake with melted water in summer sunny days. The lake has a 50-meter diameter, and black blue water, which refreeze to ice during night; it is the rare neve basin wonder in the transverse mountains. In the south side of the glacier is a mountain ridge run north-east with several residual summit planes, which stands 5500 meters high and covered with an ice cap. The ice and snow in north slope flows down to the cliff, produces 5 hanging glacier and remanie glacier. All in all, on the Mingyong river valley, there are diversified types of glaciers, and the physiognomy of the glacier itself is also ever-changing, both constitute the distinct glacier wonder in northwest Yunnan.
Neighboring villages
Mingyong Village, after which the Mingyong Glacier was named, is a Tibetan village with about 300 people of 52 households. From the town seat to Mingyong Village, there is a 1-hour-driving distance; while the village is 8 kilometers away from the glacier. Visitors can ride a horse to get to Mingyong Glacier.
Taizi Temple (literally Prince Temple), is located at the foot of the snow mountain and Mingyong Glacier. Divided into upper temple and lower temple, it is the place to worship the sacred snow mountain. According to local customs, pilgrims worship Buddhas first in lower temple and then in upper temple; afterwards, to climb the holy glacier completed by foot; it is a propitious omen for them.
Quick Questions
Our team is waiting for your questions. Please feel free to ask us any questions you might have about our China package tours, Chinese culture, or the sites available. We will gladly help you with any special needs you might have and all questions, like our trip designing is completely free of charge.