Hundred Chicken Temple
The Hundred Chicken Temple, as Baiji (百鸡) would be translated, dates back to the Yuan Dynasty (1271 - 1368). It is located in the west of Shangri-La's Dukezong Ancient Town and offers an amazing bird's eye view of the ancient town and the surrounding city. Only little known to the public, it hides in the shades of 7 very old trees on top of a hill.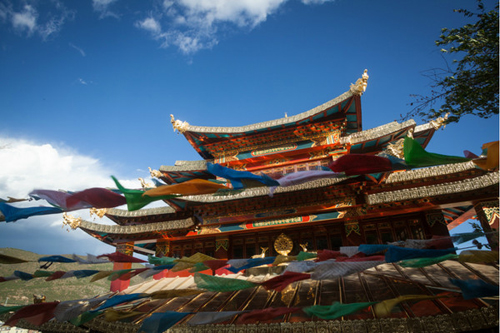 This is a quaint little temple on the top of the small hill behind the old town. The temple gets its name from the chickens roaming around the grounds. It is also covered in Tibetan prayer flags and locals can be seen/heard praying at the temple.
For local Buddhism believers, always the first and the fifteenth day of a lunar month are the days for lighting up incense stick at the temple and pray for luck and health. To redeem their vows, a chicken is being brought and released up on the hill - hence its name. In the early mornings, roosters will be chorusing in the trees and wake the sleeping city of Shangri-La.