Dabao Temple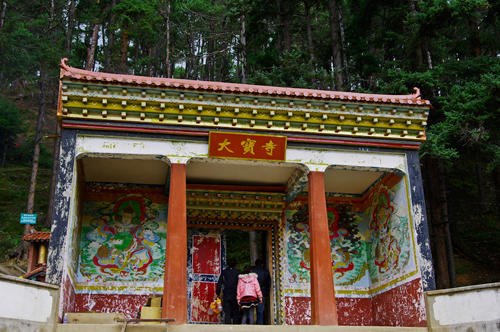 More Photos
Dabao Temple (大宝寺) is built on a rugged green hillside at an altitude of 3,300m (10,827 ft) and is one of the earliest Tibetan Buddhist temples built in Zhongdian (Shangri-La) County. Not much of a temple to look at—destroyed in the Cultural Revolution it was rebuilt in 1984—it's the sacred surroundings that are the draw here; hillsides dotted with sheep, fluttering prayer flags and pine trees. At the foot the hill there lies a lovely, 2 km (1.2 mi) long stone wall with delicate Buddhas and scriptures carved on it.
It's 15 kilometers away from Shangri-la county seat, and
situated in the pastoral countryside of Hongpo Village.
Many trekkers prefer to start their journey on the rugged footpath behind
Jiangtang Hotel, and it would take 4 hours to get there.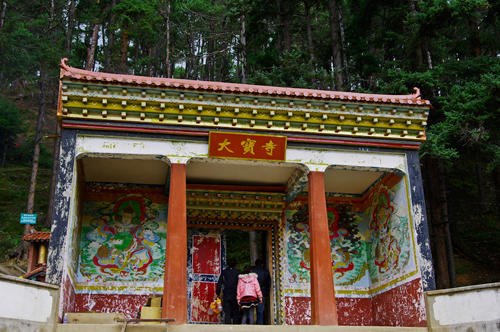 In Tibetan, Dabao is named "Ren An Yun" or "Nai Qin Ji Wa Ren Ang", which indicates a holy place of the Five Buddhas. Originally established as a temple of Kaggupa (White Hat Sect Buddhism) in the Yongle Period of the Ming Dynasty, it was converted to Gulugpa (Yellow Hat Sect Buddhism) as an affiliate of Gedan?Songzanlin Monastery in the reign of Kangxi Emperor in the Qing Dynasty.
Before being converted into an affiliate of Songzanlin Monastery, Dabao was known for its White Sect Masters who chose to practice Buddhism here. Since it was converted to a Buddhist Chapel of the Yellow Sect, Yidams (Saints) of different sects were enshrined inside and Gedan?Songzanlin Monastery dispatched annually two lamas to station here. At the foot of the hill where Dabao Temple is situated, there are two springs. The left one is said to be the reincarnation of the Six Chanting Mantras of the Goddess of Mercy; while the right one is that of the wisdom of Bhodisattva Manjusri who is regarded as the symbol of wisdom in Buddhism. The water from both of the springs has been endowed with magic power. Locals believe it is able to lighten up the eyes so they prefer to fetch the water home to drink or wash their eyes hopefully.
Away from the hustling and bustling world, and not so jammed
by noisy tourists, Dabao
Temple is an ideal place
to experience Tibetan culture in Shangri-la. You can choose to pay a visit to a
local family, and try their homemade yak-butter tea which is quite different
from those available in the restaurants and hotels. Tibetan houses are
scattering among the farmlands planted with highland barley, potatoes, and
turnips etc; green meadows foster assorted wild flowers, red, yellow, white and
pink, like the dress of a lass. Find a place to think about what Shangri-la is.
It's neither a town, nor a street or market, but something else. You do not
have to speak Tibetan very well, say "Za Xi De Le" to people when strolling in
the village because that works very well.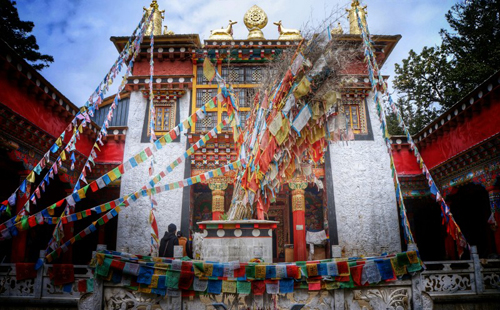 Quick Questions
Our team is waiting for you questions. Please feel free to ask us any questions you might have about our China package tours, Chinese culture, or the sites available. We will gladly help you with any special needs you might have and all questions, like our trip designing is completely free of charge.