Baishui Terrace

More Photos

Chinese name: 白水台 (Bai Shui Tai)
Location: In the Baidi Countryside, Sanba Village, Shangri-la County, Dêqên Tibetan Autonomous Prefecture, Yunan province.
Admission fee: 30yuan.
Opening time: all day long.
How to get there:
- There is a motor bus every morning running from Shangri-la to Sanba County; it takes you about four hours to get.
- Shuttles are available from Lijiang Guluwan (丽江古龙湾) bus station and Lijiang passenger station to Baishui Terrace.
Best time to visit: All year round, and on the eighth day of lunar February, residents come to here for worship.
Recommended time for a visit: three to four hours.
Introduction to Baishui Terrace
Located at the foot of Haba Snow Mountain, 103 kilometres away from Shangri-la, and rising 2,380 metres above the sea level, Baishui Terrace is a marvelous geological sight because it was formed as calcium carbonate dissolved in the spring. When spring containing calcium bicarbonate flowed down, carbonate gradually precipitated, and over long years, terrace-shaped tableland was formed, known as celestial field. Covering an area of 3,000 square metre, Baishui Terrace is the largest tableland of Huashan Mountain spring. Seen from afar, it looks really like terraces set off by the green mountains; in the sunshine, it is congealed waterfall in the photograph.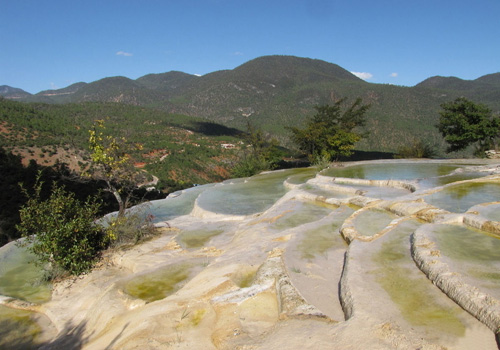 Connotation of the Name of Baishui Terrace
In Naxi, Baishui means the growing flower. It resembles the moon scattered in the world, and silver jewelry put on Naxi girls. On the left, a tableland like crescent is fraught with limpid water, where fairy maidens were said to have makeup. Beneath the tableland is the place for the locals to consecrate goddess in charge of reproduction. Baishui Terrace enjoys not only a picturesque landscape, but also is the birth land of Dongba of Naxi ethnic minority.
Climate and Legend of Baishui Terrace
Falling into temperate zone, Baishui Terrace often rains, with the average annual temperature is 11.4℃. According to research, Baishui Terrace was originally used to consecrate goddess. Legend has it that the ancestor of Dongba Dingbashiluo, after studying Buddhist sutra from Tibet, was allured by the charming scenery of Baishui Terrace, and decided to stay to preach religion.
Dongba Culture
Shangri-la County is home to Tibetan people, but in Dagu, near Lijiang, Naxi people are the majority, Dongba culture originated from here. Dongba is the ancient religion of Naxi ethnic group, and means sutra chanter in the mountain and village. It is said Dingbashiluo, together with his pupils wrote Dongba sutra in pictograph, blazing a trail of Dongba, and he was dubbed as the forerunner of Dongba. After thousands of years development Dongba is now treasury of Naxi ancient culture. Baidi, where Dingbashiluo lived in most of his life, is regarded as the holy land. Every year, when it comes to the eighth day of lunar February, nearby residents and disciples of Dongba from afar will come for worship. Year after year, it has become a grand spring outing of Sanba.
Quick Questions
Our team is waiting for your questions. Please feel free to ask us any questions you might have about our China package tours, Chinese culture, or the sites available. We will gladly help you with any special needs you might have and all questions, like our trip designing is completely free of charge.