Yingxian Wooden Pagoda

Chinese name: 应县木塔 (Ying Xian Mu Ta)
Location: in Fogong Temple, in the northwest of Ying County, Shuozhou City, 75 kilometers to Datong City, Shanxi Province.
Opening time: 07:00-19:00
Ticket: CNY60
Recommended time for a visit: 2 hours.
Best time for visit: all year round.
How to get to Yingxian Wooden Pagoda:
- Depart from Datong: take non-stop bus from Datong Passenger Station to Yingxian West Station, and then take a taxi to the pagoda;
- Depart from Taiyuan: take non-stop bus in the north of Taiyuan Train Station to Ying County (which takes about 2.5 hours), and then take a taxi.


Travel tips: during every Dragon-boat Festival (on lunar May 5th or later June in western calendar), locals wear new clothes, go to the Wooden Pagoda, burn incense and worship the gods. In the past, they even ascended to the top of the pagoda for a good omen (people's life and career get better or reach a new height step by step). Now, though the pagoda is not allowed to be ascended for a better protection, the occasion is still quite ceremonious.
A brief introduction to the Wooden Pagoda in Ying County
Yingxian Wooden Pagoda, Yingzhou pagoda, or Sakya Wooden Pagoda, is the main architecture of Fogong Temple in the northwest of Ying County. Originally built in 1056 during Liao Dynasty (947-1125) and restructured in 1195 during Jin Dynasty (1115-1234), the pagoda is the existing oldest and tallest timberwork pavilion architecture in China. It is the gem in Chinese ancient architecture, the model of timberwork in the world and a key cultural site under the nation's protection. It is hailed as Three Wonders of Towers together with the Leaning Tower of Pisa in Italia, and the Eiffel Tower in France.
The layout of the Wooden Pagoda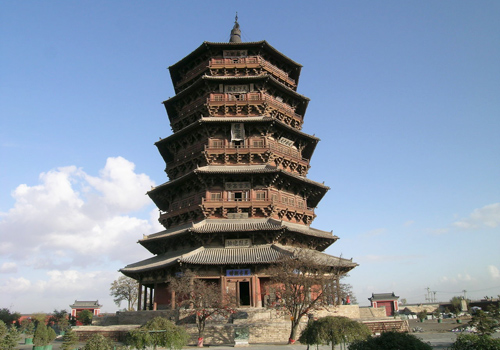 Standing on the axle wire of Fogong Temple between the gate and the main hall, Wooden Pagoda was built on a 4-meter-high base, measures 67.31 meters high and 30.27 meters in base diameter. It is an octagon pagoda with 9 stores; outwards, there are 5 storeys and 6 eaves- the first floor with double eaves and the other 5 with single eave respectively; between every two storeys, there is a blindstory. Each floor is supported by two circles of wooden poles, 8 inside and 24 outside, among poles are many girders, beams, square-columns and short columns. In total, the pagoda employed 54 Dou Gong (斗拱, a system of brackets inserted between the top of a column and a crossbeam). Someone calculated that the whole pagoda had used 3000 cubic timbers which may weight more than 2600 ton. The sophisticated structure, magnificent size and ingenious artwork reflects the outstanding accomplishment of ancient timber structure of China.
The ground floor of the Wooden Pagoda has two gates in both south and north, and the rest floors are equipped with railings and flat seats. With the wooden stairways, visitors can reach the top floor. Each outer floor enshrines a Buddha of diversified postures and with great art values. In the first floor, it is the Sakyamuni with a height of 11 meters and exquisite caisson above it. On the walls are bright and vivid murals of 6 Tathagata, Buddha's warrior attendants, the heavenly King, and disciples. In the second floor, it is a square altar with 1 Buddha, 2 Bodhisattva and 2 attendants. In the third floor, it has an octagon altar and four Buddhas of four directions. In the fourth floor, there are Buddhas, Ananda, Mahakasyapa, Manjuist and Samantabhadra, and in the fifth floor, there are Tathagata and Bodhisattvas. Under the eave, there are hanging wind bells, which are sweet-sounding with ding-dongs with gentle breeze.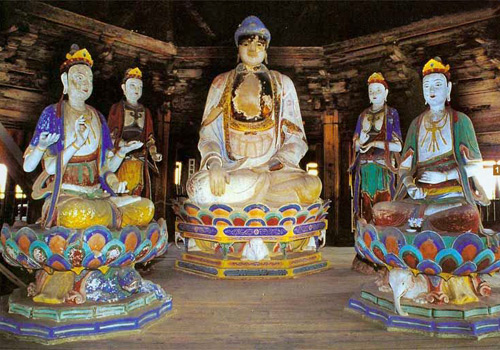 Design achievement- an ancient wooden pagoda survives for a millennium
The design of the Yingxian Wooden Pagoda boldly inherited the double-style of Han (220B.C.-202A.D.) and Tang (618-907) dynasties, made the utmost of ancient architecture techniques, and widely used Dou Gong (a system of brackets inserted between the top of a column and a crossbeam). It was a wonderful artical excelling nature with scientific design and perfect structure. With features of both national style and religious style, the pagoda is considered have been reached to the highest level in ancient architecture art with great values to modern researchers.
According to textural researches, the pagoda was survived for 1000 years though has underwent erodes from wind and frost, many an earthquakes (a dozen times with magnitude over 5) and turmoil of wars. In Yuan Dynasty (970-1279), the wooden pagoda suffered a violent earthquake which lasted for 7 days; in 1926 during the wars, it was struck by over 200 bullets, the holes still are observed; and in 1970s, it was involved in the Great Tangshan Earthquake. However, it still strongly standing today due to the perfect structure, special neighboring environment and artificial protection.
Cultural and historical relics in the Wooden Pagoda of Ying County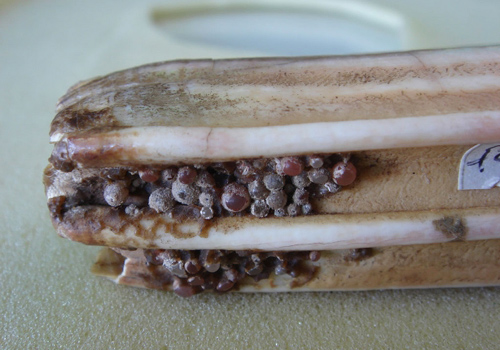 The Wooden Pagoda has earned many an inscription by celebrities of past dynasties, among which there are one entitled by Zhu Di, the third emperor of Ming Dynasty (1368-1644), and one given by Zhu Houzhao, the tenth emperor of Ming Dynasty. In addition, there are other 54 inscribed boards of Ming and Qing (1644-1911) dynasties, some excellent couplets, and a batch of valuable cultural relics of Liao Dynasty, especially those color printings, which fill in gaps in Chinese printing history. Among the relics, most are sutras, some are manuscript, some are block printed of Liao Dynasty, some has a length more than 30 meters, which are rarely seen and provides valued material date in political, economical and cultural researches of Liao Dynasty.
What deserve to be mentioned further, are two enshrined teeth relic of Sakyamuni; it is said that when the Buddha passed away in a state of nirvana in 486, he left over 7 teeth.