Jinshitan Scenic Area

More Photos

Chinese name: 金石滩风景区 (Jin Shi Tan Feng Jing Qu)
Location: Situated in the Liaodong Peninsula and bordered the Yellow Sea, Jinshitan Scenic Area is about 50 kilometers (31 miles) from Dalian City, Liaoning Province.
Opening time: 09:00-16:30
Entrance fee: CNY90 (including all attractions in the scenic area)
How to get there:
- Take buses directly to Jinshitan Scenic Area, which is adjacent to Dalian Economic and Technological Development Zone;
- Light rail from Dalian City to Jinshitan is available.
Best time for visit: all the year around
Travel tips: The food in the scenic area is a little bit salt. If you can not get used to it, you can ask the chef to put less salt in the food in advance.
In 1988, Jinshitan Scenic Area was ranked as the National Key Scenic Area and in 1992 it was recognized as the National Holiday Resort. In 2000, Jinshitan Scenic Area was listed as the first batch of "the 4A tourist attractions" of China. In 2002, it had passed the Examination of Quality ISO9001 and ISO14001 and is recognized by the environmental system. In 2004, Jinshitan Scenic Area was rated as the National Geological Park. In 2011, it was awarded as a 5A Tourist Attraction.
Brief Introduction to Jinshitan Scenic Area
Jinshitan Scenic Area, also known as the Golden Pebble Beach National Resort, is one of the most famous and popular tourist attractions in Dalian. Situated in the south tip of Liaodong Peninsula and bordering the Yellow Sea, Jinshitan Scenic Area is about 50 kilometers from Dalian City. Consisting of two peninsulas and a wide beach, Jinshitan Scenic Area covers a land area of 62 square kilometers and a water surface of 58 square kilometers, and owns a coastline of 30 kilometers.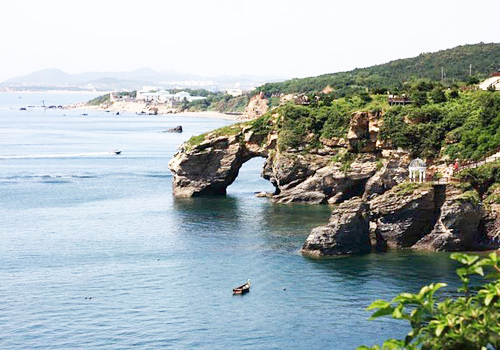 The climate of the region is an oceanic monsoon climate. With mild temperature and distinct four seasons, Jinshitan is among the best places for vacation and summering throughout the country. Fresh air, clean sea water and spacious beach along the coast line attract a larger number of tourists home and abroad every year. Jinshitan also is the location of the marine sports center where various trainings and competitions are carried out. Jinshitan Scenic Area is a tourist attraction integrating entertainment, living, food and visiting and it is the only seashore beach in Dalian which has not been changed to be a private enterprise.
Grotesque Rocks
The resort owns a breathtaking landscape. Along the 8 kilometers long coast, at the east part of the peninsula, splendid rocks formations constitute a natural museum of marine-erosion rocks, which formed from Sinian to Cambrian. Those vivid rock formations are of great scientific value and appreciation value. Visitors can see large numbers of strange rocks in various kinds of shapes and postures. Some rocks are similar to camels, turtles, dinosaurs, tigers, and so on. No wonder that it is named as the solidified animal world. The Longevous Rock is the biggest sediment rock with the clearest structure in the world, which was formed 600,000 years ago. Some other geological wonders, formed 300,000 to 600,000 years ago, also provide an interesting sight: some stone monkeys watching the sea, some birds spreading their wings, etc.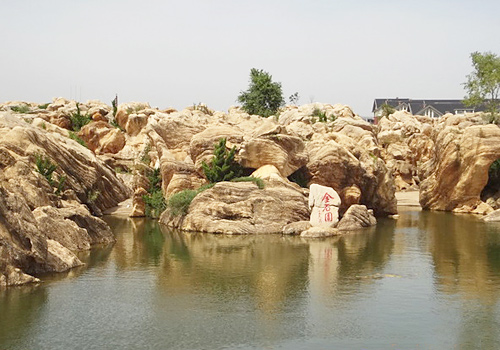 Flower World
Located in the north side of Jinshi Road, Flower World is going to cover an area of 1 square kilometers. Till now, the flower exhibition hall of 3000 square meters, sunlight greenhouse of 10000 square meters, and modern greenhouse of 30000 square meters have been finished. Flower World is the largest flower production base and distributing center so far in China. The fresh cut flowers and seeds of carnation have won the national Silver Prize, and have started to export to foreign countries. In Flower World, visitors can appreciate or buy nearly 100 kinds of shade plants, fresh cut flowers, dried flower and any other flower products.
Jinshi Wax Statue Museum
In luxurious and grand Europe style, Jinshi Wax Statue Museum is awarded as the "White House" in Jinshitan Scenic Area. Helped by lights, props and backgrounds, more than 100 wax statues are vivid and lifelike. According to the historical events and the real plots, the wax statues are divided into 13 themes: History, Hero, the Founding Fathers of China, Scientific Tunnel, Xi'an Incident, the World War II, the Diplomatic Relations between China and the United States, the Return of Hong Kong, the Light of Olympics, the Dream of Wanda, Waterloo Bridge, the World of Stars, the Elegant Demeanour of Women Volleyball Team.
Dalian Discoveryland Theme Park
Dalian Discoveryland Theme Park is divided into six theme areas: crazy town, mysterious desert, metal factory, magic forest, legend castle and wedding palace. There are more than twenty high level large and medium-sized amusement attractions in Discovery Land, which make it a top-ranking amusement theme park. The Suspended Roller Coaster named Sky Rotated & Land Loved claims to be the first orbit in Asia. The 57m high Space Shuttle is the highest in the nation. Nearly 1km artificial drift is the longest nationwide. In the aspect of show, gorgeous float parades and funny cartoon pleasance are only held in interior areas. The park has successfully attracted Chinese and foreign visitors by its world's top amusement facilities, global custom shows, rich and colorful perennial celebrations. Roller coaster, energy storm, giant pendulum and oscillating ax, billows, space shuttle, rain forest drifting, torrent brave and any other entertainment facilities are very funning and interesting.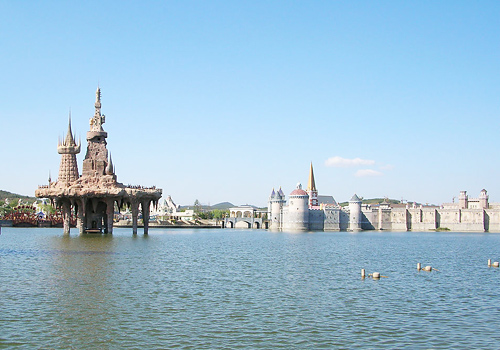 There are many other scenic spots in Jinshitan Scenic Area, such as the Movie and TV Art Center, Chinese Martial Arts Hall, International Yacht Club and Hot Spring Holliday Village.
Jinshitan Golf Club
Jinshitan Golf Club covers large greens of 17,500 square kilometers and it is surrounded by sea on three sides and by mountain on one side. The green lawn, the blue sky, and red flowers constitute an elegant and relaxed environment. There are 36 international standard fairways in the club and the putting greens are all set at the seaside, taking good advantage of the seashore. Among the 36 fairways, 7 fairways has been listed as one of the top 100 fairways in the world and the No. 7 fairway has been ranked as one of the most challenging fairways in the world.
Jinshitan Hunting Ground
There is a hunting ground in the western peninsula, which covers an area of 2,000,000 square kilometers. The Hunting Ground is equipped with modern facilities. There are a hunting area, caliber rifle shooting range, trapshooting field, paintball field, archery field and animal watching garden in the Hunting Ground, where you can carry out kinds of forest hunting and shooting, and any other entertainment activities. Wooden villas, comprehensive service building and hunter mountain villa are equipped with guest rooms, dining hall, sauna, dance halls and various indoor recreation facilities.
Quick Questions
Our team is waiting for you questions. Please feel free to ask us any questions you might have about our China package tours, Chinese culture, or the sites available. We will gladly help you with any special needs you might have and all questions, like our trip designing is completely free of charge.