Charm of the Sea Square

Chinese name: 海之韵广场 (Hai Zhi Yun Guangchang)
Location: At the entrance of northeast Binhai Road Area, Dalian City, Liaoning Province, China; 10 km from city center.
Opening time: 06:00-21:00.
Ticket: There is no charge for entering the square, but CNY10 is expected for Charm of the Sea Park.
How to get there:
---Take light rail Line 201(CNY1) to get there.
---Take bus No.529 and get off at the Charm of the Sea Square.

Brief introduction to Charm of the Sea Square


The Charm of the Sea Square is one of eight most famous sights of Dalian and a great place for leisure. Completed in 1999, it once won the landscape planning award of national artistic design competition. Located within the Charm of the Sea Park, the square covers an area of 38,000 square meters, with 13,000 square meters of stone-paved floor, 12,000 square meters of green belt, and a number of sculptures. It offers good view of the sea, being a bright pearl on the beautiful Binhai Road. The "Charm of the Sea" Square boasts totally 26 theme sculptures and other super-realistic sculptures.


The most eye-catching part of the square is the sculpture of "Charm of the Sea" on the center of the square. It is made of five white wheel pipes of different curvature. The sculpture stands 19.9 meters high, marking the 100th anniversary of Dalian's foundation in September, 1999. 21 soaring sea gulls on the sculpture symbolizes 21st century. 50 balls of different sizes resemble atoms, standing for the 50th anniversary of founding of People's Republic of China. The five pipes just like a musical notation made by sea waves; the five balls are bouncing sea sprays; the seagulls are dancing to the music…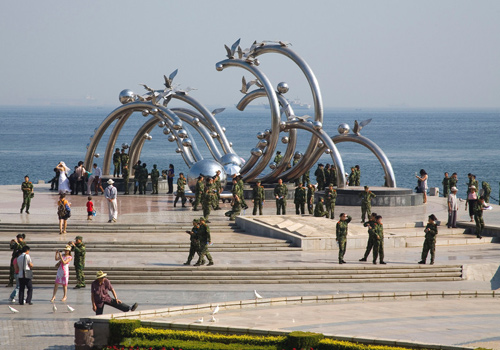 Standing on the center of the square, the first sight to see is an artificial waterfall, which has a fall drop of 60 meters. Source of the waterfall is Holy Axe Garden, which is also called Totem Garden. The Totem Garden symbolizes harmonious relationship between man and nature with a multitude of totems.