Bingyu Valley Scenic Area

Chinese name: 冰峪沟风景区 (Bing Yu Gou Feng Jing Qu)
Location: some 40 kilometers north of Zhuanghe City, 240 kilometers from Dalian City, Liaoning Province.
Opening time: all day long
Entrance fee: CNY100
How to get there: take shuttle buses in Dalian City at Dalian Train Station Square or Beigangqiao Coach Station (北岗桥长途客运站).

Travel tips:
1. Fulihua Holliday Resort is the only star-level hotel in Bingyu Valley Scenic Area.
2. The Ice Festival of Bingyu Valley is held annually in January and February; it is very popular with ice lantern party and various ice-related recreational activities.
Brief Introduction to Bingyu Valley Scenic Area
Located in the north of Zhuanghe City, Bingyu Valley Scenic Area is about 40 kilometers from Zhuanghe City and about 240 kilometers from Dalian City. The centre area of Bingyugou Provincial Level Tourist Resort has an area of 47 square kilometers, the protection area of the Bingyugou Valley Scenic Area is 64 square kilometers, and the total area of the Bingyugou Valley Scenic Area is 110 square kilometers. Thanks to its rugged cliffs, astonishing peaks, crystalline rivers, and mysterious caves, Bingyu Valley Scenic Area is reputed as "Mini Guilin of Northern Liaoning Province", "Oriental Miniature of Switzerland" and "Northeast Jiuzhaigou". Bingyu Valley Scenic Area is an AAAA national tourist resort and it is approved to be the national forest park by the Bureau of State's Forestry.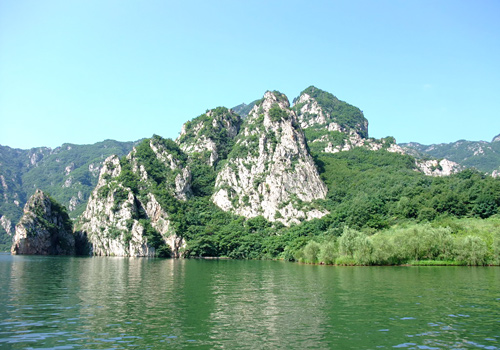 There are many places of interest in Bingyugou Valley Scenic Area, such as Longhua Mountain, Xiaoyu river valley, and Yingna river valley, Shuanglong Dam, Xianren Cave and so on. The valley is beautiful in different ways during different seasons. As the song Circle of Life goes: the flowers bloom in spring; it offers a cooler place in summer; during autumn the gorgeous mountain is covered with red leaves; in winter the mountain suddenly changes into crystalline icebergs. Its gorgeous glacial landscape, splendid mountains and beautiful rivers have really amazed many visits. The quartzite mountain is an unsoiled Karst landform that is extremely rare in upper Yellow River. According to geological investigation, this landscape was formed during the fourth glacial age, as many glacial relics were found around the area.
Primitive Forests
The forest coverage rate of Bingyu Valley Scenic Area is more than 90% and the green primitive forests are here and there, owning the ability to clipse the sky. It is said that the primitive forest is a natural zone and a natural botanical garden. There are not only alpine and frigid region plants but also subtropical plants in the 1740 hectares primitive forest. The woody plants are more than 150 species and the herbaceous plants are more than 500 species. Some precious plants with high appreciation value and research value are also grown in the primitive forests. It is also a habitat for hundreds of animals and the vertebrate is more than 200 species, such as otters, roe deer, badgers, foxes, squirrels, and birds, especially indigenous robins.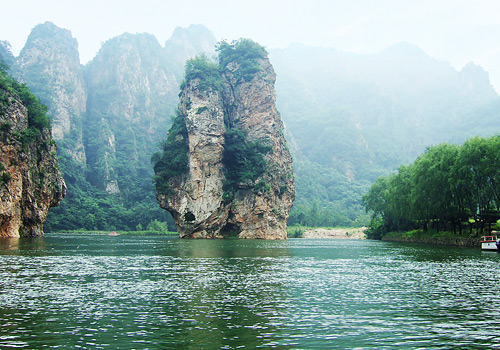 Xianren Cave
Under the cliff of Tiantai Peak there is a cave, Xianren Cave, which covers an area of 385 square meters. The temple in the cave is built in 1398. Shakyamuni Buddha, Baochuang Buddha, Maitreya Buddha and 18 arhats are worshiped in the temple. The right side of the temple is two-floor wooden building, named "Sanguan Hall" and "Yuhuang Pavilion", where Taoist immortals is worshiped. The temple in Xianren Cave is a unity temple of Taoism and Buddhism. With two meters high, the rock cave in the northeast corner of Xianren Cave is large enough for one person sitting cross-legged and it is said that it is the place for Hongzhen to sit in meditation. On both sides of lower cave, Four Heavenly Kings are worshiped. The implements in their hands imply "Feng Tiao Yu Shun", which means good weather and abundant water for the crops. The door of the lower cave is inscribed with three words "Ban Ruo Cave". In Buddhist Language, Ban Ruo means wisdom and intelligence. Two springs at the entrance of the cave is called Dragon Spring. The spring is cool, sweet, and refreshing and which is said warm in winter and cool in summer.
Longhua Mountain
Longhua Mountain gives visitors a sense of both loftiness and elegance and imbue the visitor with both boldness and tranquility. Amongst the numerous scattered peaks you can discern many phantasms and figures, such as a gnarling tiger, a tiercel spreading its wings, or a long sharp sword.
Yingna River and Xiaoyu River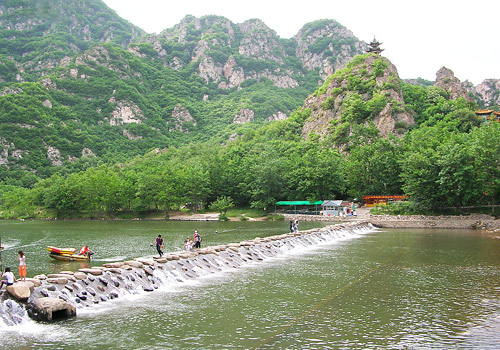 The Yingna River, dances along the valley like a white silk ribbon. Its tributaries, Xiaoyu River, looks like threads, pass through some isolated peaks. Due to millions of years' erosion, the river is very clean and clear and all kinds of pebbles are scattered in rivers. The water in upper reaches of the river is flowing slowly and calmly, later becomes rapid and expansive, and even changes into a picturesque lake, Yinghua Lake. The fog formed from sea water usually massively pours into the valley and Yinghua Lake is always surrounded by clouds and fog. So, Yinghua Lake is also called Shuiyundu, which means water and clouds are combined together.
Shuanglong Dam (Two Dragons Dam)
With a height of 192 meters and a width of 15 meters, Shuanglong Dam has formed 5-kilometer-long water, which stretches directly to the north door of the tourist resort. There are two dragon statues in the water which are very vivid and lively. At the Shuanglong Dam, the scenery is suggestive of the captivating scenery of Guilin and the Three Gorges which is a most marvelous section of the Yangtze River. A lot of activities such as, skating (winter only), boating and fishing can be enjoyed here.