Bangchuidao Scenic Area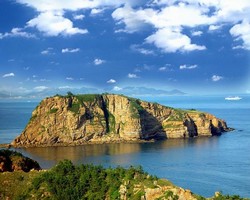 More Photos

Chinese name: 棒槌岛风景区 (Bang Chui Dao Feng Jing Qu).
Location: in the east of the Binhai Road, 9 kilometers (some 5 miles) away from the center of Dalian City, Liaoning Province.
Opening time: all day long
Entrance fee: CNY20.
How to get there: take bus No. 712, 404, 703.
Travel tip: On the beach, swimming is available, but private tents are not allowed to be used here.
Brief Introduction to Bangchuidao Scenic Area
Bangchuidao scenic area is about 9 kilometers (some 5 miles) away from the center of Dalian City, located in the east of the Binhai Road. The three Chinese words of Bangchuidao (棒棰岛) is written by Chairman Mao Zedong. Chairman Mao has not come to Dalian once, which is a great pity for the citizens of Dalian. However, where do the three words of Bangchundao come from? Actually, it comes from a poem of Ye Jianying, which is copied by Chairman Mao. Bangchuidao Scenic Area is a famous seashore resort combining marvelous scenery of hills, sea, islet and beach. The main scenic spots consists of Bangchuidao Islet, the natural lido and Bangchuidao Hotel (guesthouse).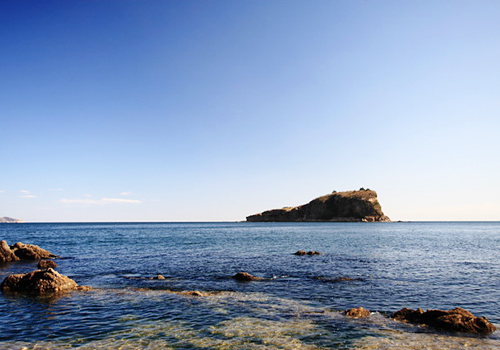 Bangchuidao scenic area is surrounded on three sides by green hills and lush pine and cypress-topped mountains, especially the northern part of the scenic area appears beautiful and verdant. The hills are densely planted with flourishing pine trees and cypresses. The southern part is an open maritime area featuring a smooth sand beach. If a traveler views this scenic area from the distance, he will find that the three islands are under the mist, evoking a feeling of being in fairyland.
Bangchuidao Hotel (Bangchuidao State Guesthouse)
Bangchuidao hotel, also called Bangchuidao State Guesthouse, was built in 1960. It is the state guest house of Dalian and it is the only state guesthouse in Dalian. The luxurious hotel covers 87 hectares and has a floor space of 42137 square meters. Now the hotel has been outfitted with standard golf course, tennis court, bowling alley, swimming pool and other modern recreational facilities, which ensures visitors a happy stay in the beautiful scene. Bangchuidao State Guesthouse faces the sea, with the remaining sides tucked into green hills. Covering an area of over 870,000 square km, it is the largest landscape-style villa in Asia, boasting 13 villas in typical Chinese, European and Japanese styles. As the only national hotel in Dalian City, it mainly functions as the accommodation for leaders and holding large-scale important conferences, which have been held many times here in the past. Many famous national leaders from home and abroad have lived here. Premier Zhou Enlai (the first Premier of the People's Republic of China), Chairman Deng Xiaoping and Chairman Jiang Zemin had lived here once. Now the hotel greets friends from the whole world with its different styles' garden villas, excellent services and self-contained modern recreational facilities such as standard golf course, large tennis court, swimming pool and bowling alleys.
Bangchuidao Islet
The name of Bangchuidao scenic area is derives from its shape of this relatively small islet. Since the ginseng-shaped island looks like a Bangchui, a wooden baton used by ancient Chinese as a washing tool, hence the name comes out. The islet is situated 600 meters (about 2000 feet) away from the smooth seashore. The highest peak in the island is 53.1 meters high. In the coastal sea area of the island, there are shrimp, conch, sea cucumbers and other seafood can be caught. Bangchuidao Islet is relatively small, covering an area of only 0.3 square kilometers (about 74 acres), but it boasts craggy and peculiar stones and rocks, steep cliffs, blossoming flowers, singing birds as well as beautiful wild flowers and grasses everywhere.
Bangchuidao Lido
Bangchuidao Scenic Area enjoys a temperate climate, thus it is a perfect and famous offshore summer resort in China. Bangchuidao Lido is one of the best lidos of Dalian. The 500-meter-long nature sand beach is the primary highlight of the lido, where the water is quite blue and clean, the sand is white and pure, and the sea wave is slow and gentle. It really is a perfect place for swimming and having fun. What's more, travelers also can enjoy the beautiful sunrise and sunset, and have a warm, happy and interesting day on the sand beach. Till now, Bangchuidao Lido has attracted thousands of tourists every summer.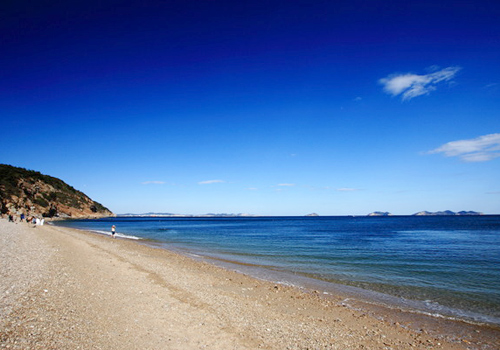 Dalian is a very beautiful, famous and ancient as well as modern city in northeast of China. It is a place where you can find natural scenes of stunning beauty, amiable climate, stylish architecture, comfortable beaches and summer tourist resorts. The gardens and circuses everywhere are good decorations of the city. Besides Bangchuidao scenic area, it also has many other sceneries like Tiger Beach, Fujia Village, Baiyunshan Park, and Xinghai Park, worldly famous Lushunkou, Taiyanggou (Sun Valley), and Baiyu Mount (White Jade Mount), etc. Bangchuidao Scenic Area, together with friendly Dalian people and so many natural wonders, is welcoming the travelers all over the world.
Quick Questions
Our team is waiting for your questions. Please feel free to ask us any questions you might have about our China package tours, Chinese culture, or the sites available. We will gladly help you with any special needs you might have and all questions, like our trip designing is completely free of charge.