Changchun Cuisine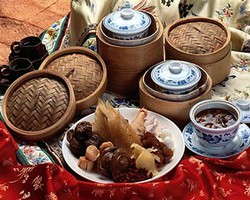 Changchun cuisine gives priority to Northeastern Chinese Cuisine. The most special dishes are venison from Greater Khingan Mountains.


Classical dishes include Changbai Mountain Produce Rare Feast, Jade Chicken with Ginseng and Moutai, Roasted Deer's Tail (烧鹿尾). Most of them are priced around CNY400. Recommended restaurants to eat: Beiguo Zhichun Hotel (Spring of Northern Country Hotel, Chongqing road near People Street), Mingmen Hotel (Blue-blood Hotel, Ziyou Road on People Street), Xidefu Restaurant (Nanhuan Road on People Street)


Home style dishes include Sauced Pork Bone, Quick Boiled Pork, and "Snow-coated" Bean Paste. These dishes are priced around CNY20. Recommended restaurants: Wangji Jianggutou Restaurant (Cultural Center), Dongfang Jiaozi Wang (Nanhu Road on People Street), Nanhu Dalu Gourmet Street (People Street).


Introduction to specialties


-"snow-coated" bean paste (雪衣豆沙)
This dish has a history of one hundred years in Changchun and it is quite popular among travelers. Food materials include red beans, egg and sugar. The plump bean paste has a white color and served with white sugar, hence the name. it is sweet and refreshing.


-Jade Chicken with Ginseng and Moutai (翡翠人参茅台鸡)
This dish is one of most famous dishes of Changchun. Famous Moutai wine is added to remove the soil taste of Ginseng and enhance the aroma of chicken. The combination of the Moutai wine and ginseng makes it a particularly tasty herb cuisine.


-Roasted deer's tail (烧鹿尾)
Deer's tail has long been rare and expensive food material and frequently shown on luxurious banquets. This dish gives much attention to ingredients. Chives, mustard, scallion, ginger are among them. Deer's tail is cooked delicious with red and shining gravy.


-Quick boiled pork (汆白肉)
Pickled Chinese cabbage, paper-thin marbled pork and water-soaked vermicelli are stewed in boiled soup. When the three are cooked thoroughly, white vinegar, ground pepper, caraway and sesame oil are added to make it savory and appetite-boosting.


-Steamed chicken with ginseng (人参汽锅鸡)
Chopped Chicken are blanched in boiling water and steamed in a boiler with ham, mushroom, green union, ginger, aginomoto and scalded ginseng.