Culture Square

More Photos

Chinese name: 文化广场 (Wenhua Guangchang)
Location: covering 20.5 hectares, it connects Eastern Minzhu Street in the east, Liberation Road in the south, Western Minzhu Street in the west and Jilin University in the north.
Entry fee: free
Opening time: all day long
How to get there: take public bus No.9, 221, 229, 240, 264, 283 or 288 and get off at the station of Culture Square.

Introduction to Culture Square – the largest urban square in Changchun
Formerly known as Dizhigong Square (Geology Palace Square), Culture Square, located in the city center and covers 20.5 hectares, is the largest leisure square in Changchun with a history of 70 years. The square has a sunbird sculpture in its heart, in the north of which is an open-air music platform and a Geology Palace Building in the northernmost. The axle wire of the square is obviously paved with natural granites, and the areas on its both sides are green space and garden paths, inhabited by 3000 pigeons. As a popular haunt among locals for recreation opened up since 1996, the Culture Square accommodates over ten thousands of people each day and often serves as a holding site for many a great events and activities of the city, such as annually Changchun Film Festival (from August 23rd -28th each year), Changchun International Sculpture Exhibition (in the middle of July every two years), book fairs, Asian Art Festival, Science & Technology Exhibition, national auto rally and kinds of celebrations. The square today has been developed to be a political and cultural center of the city, and a key site for citizens to enjoy their spiritual life.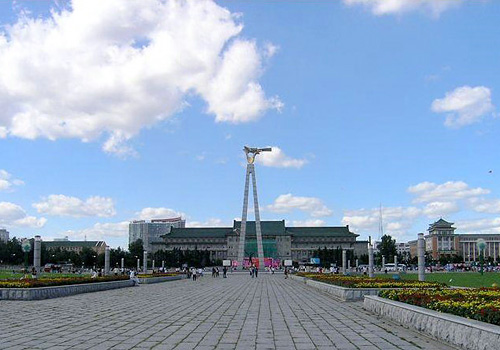 More about Culture Square of Changchun
The Culture Square was originally built in 1933 when Japanese chose the location for building the palace of Manchukoku (the puppet regime) and its front square. The palace was started to be built in 1938 while the construction ceased later on because of the Pacific War. In 1953, the Republic of China had the palace to be redesigned by Chinese famous architectural historian Liang Sicheng and be built to be the Changchun College of Geology. The architecture, known as Geology Palace, is a typical Chinese ancient palace style covered with green tiles and occupies an area of 30 000 square meters. In the front of it is the 180 000-square-meter Geology Palace Square. In 1996, sponsored by the government, the square was renovated for three months to be present Culture Square with the layout being changed, many species of plants being planted, stone sculptures being erected in its four directions and illuminations being installed.
In the Geology Palace there is a Geological Museum exhibiting kinds of precious diamonds, mineral products, prehistoric fossil specimens, and dinosaur fossils.
Quick Questions
Our team is waiting for your questions. Please feel free to ask us any questions you might have about our China package tours, Chinese culture, or the sites available. We will gladly help you with any special needs you might have and all questions, like our trip designing is completely free of charge.