Charlie's China Tour—A Rainy Day in Zhangjiajie
2018-12-27China travel Guide
Hey, 'good morning' everyone. I awoke at 6:20 AM, shaved and showered. It's really raining but it's not going to stop us from having a fun day. Back to our room following breakfast. Many, many 6 story buildings in this area including our hotel. Our breakfast options at this hotel consist of an Asian buffet.
The rain continues. Melody met us at our hotel at 9 AM and off we went adorned in our rain gear. We got about 6 blocks from our hotel when I discovered that I didn't have the 'train card' that I needed so back to the hotel for me. Following that delay I finally caught up with Melody and Jay. In the meantime Jay decided the risk of getting his very expensive wet and damaging it was too great, Jay decided not to travel up to the mountain with us this morning so back to the hotel he went. Melody got in the long queue for the shuttle bus. Lot of people, many shuttle buses. We finally got on a bus and went up the mountain to the Golden Whip Stream area. The original plan was to walk along the Golden Whip Stream and let the beauty of the valleys and cliffs before reaching the Water Around Four Gates area. The winding stream runs through the four stone gates. The terrain in this area is flat and there is a sandy bank. It is said that people will enjoy themselves so much in this area that they will as to forget to go home for the gorgeous spectacle of "Water Winding Four Gates." Because of the rain, things didn't quite work out that way this morning. In spite of the rain there were many visitors. In fact it was quite crowded.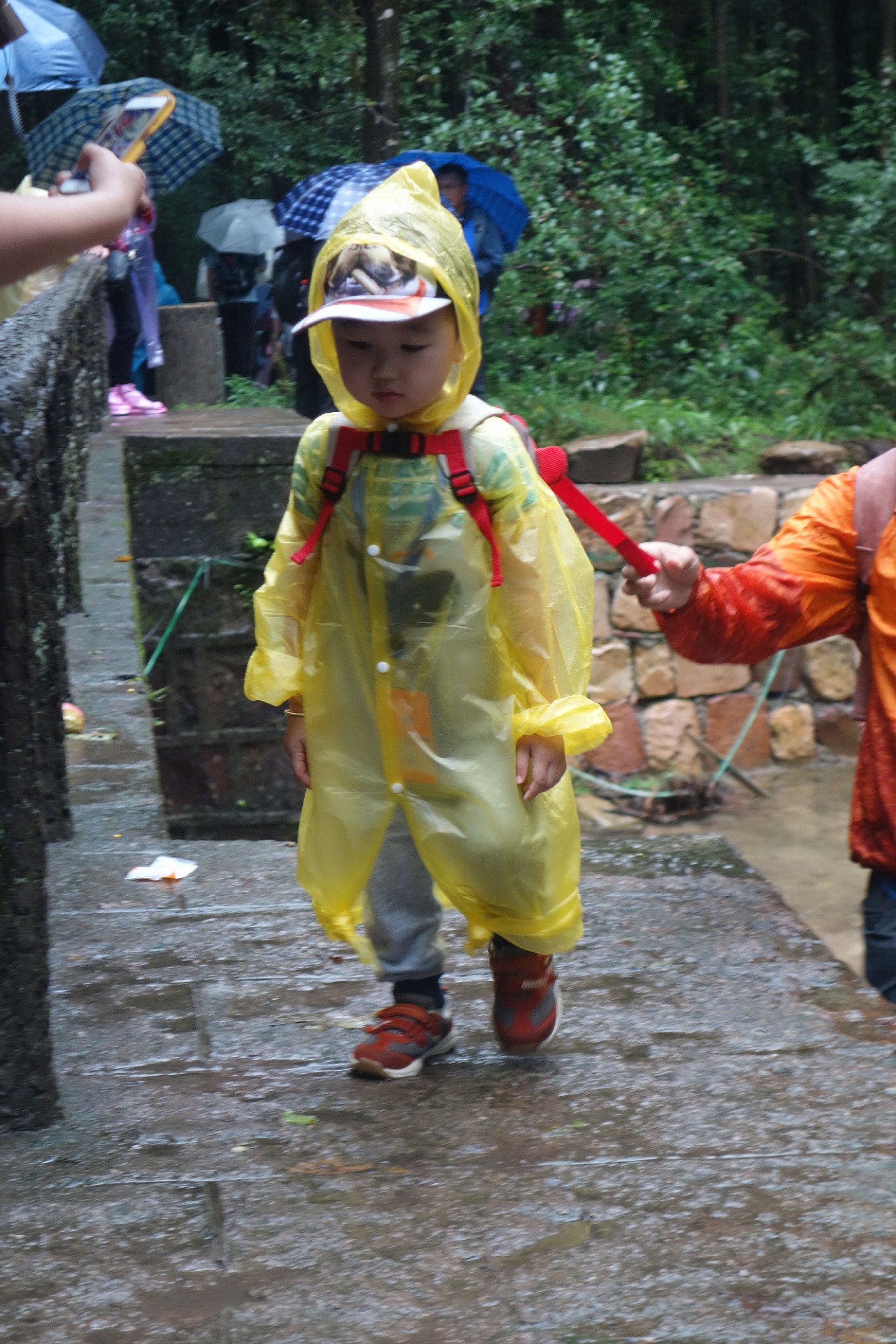 Kid Adorning with Yellow Rain Gear
Everyone was colorfully adorned with their rain gear. Plastic shoe 'cover ups', plastic rain gear, and umbrellas were being sold everywhere in the area where the shuttle buses were to help make walking in this heavy rain a bit more enticing. Melody and I walked around in this very picturesque area. The rain made the area even more hauntingly beautiful. The rain didn't seem to bother the wild monkeys that were in the area as they waited for someone to throw them something to eat. From this area we took a cable car further up the mountain. All in all, we had a very pleasant morning.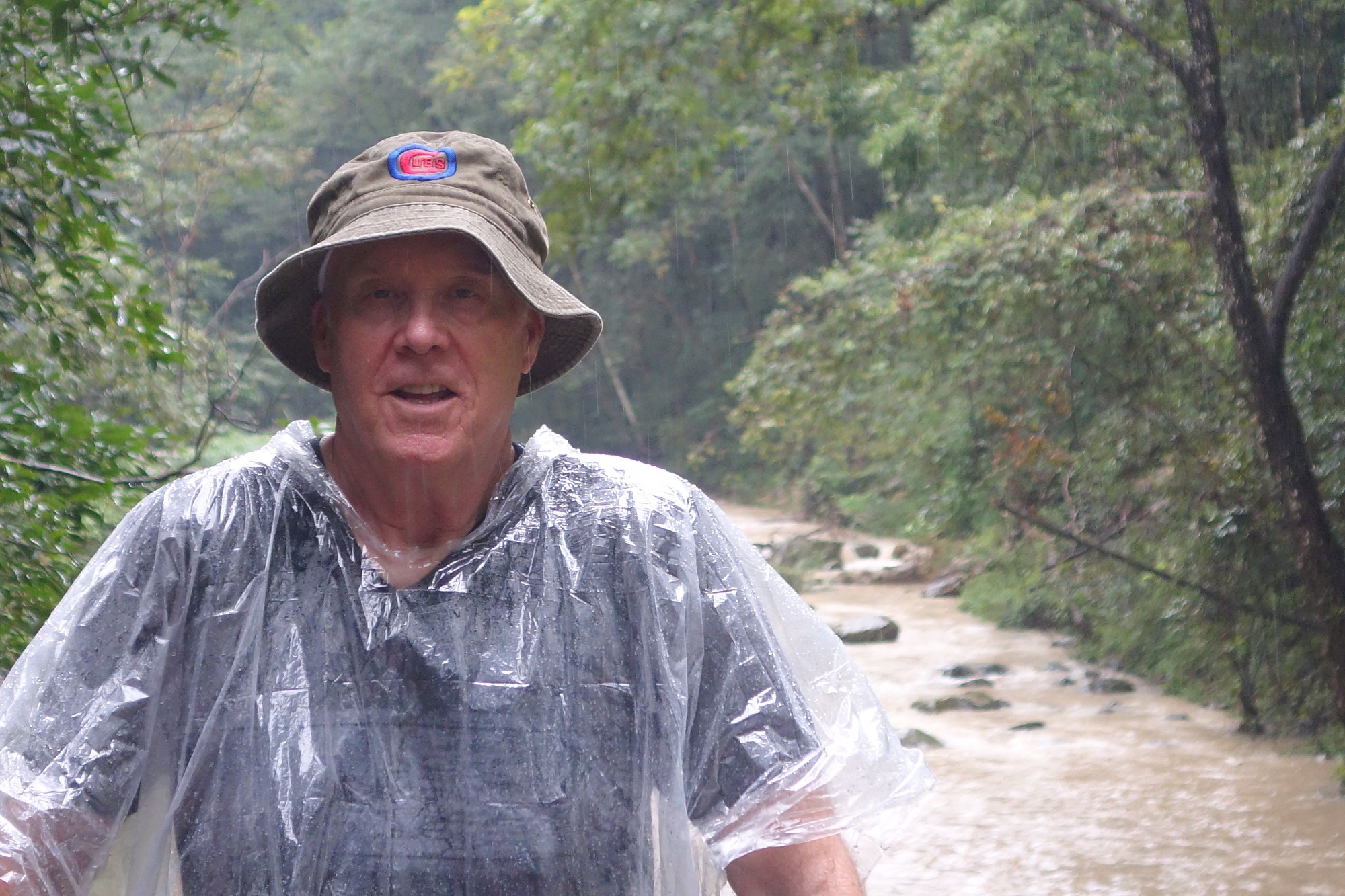 Golden Whip Stream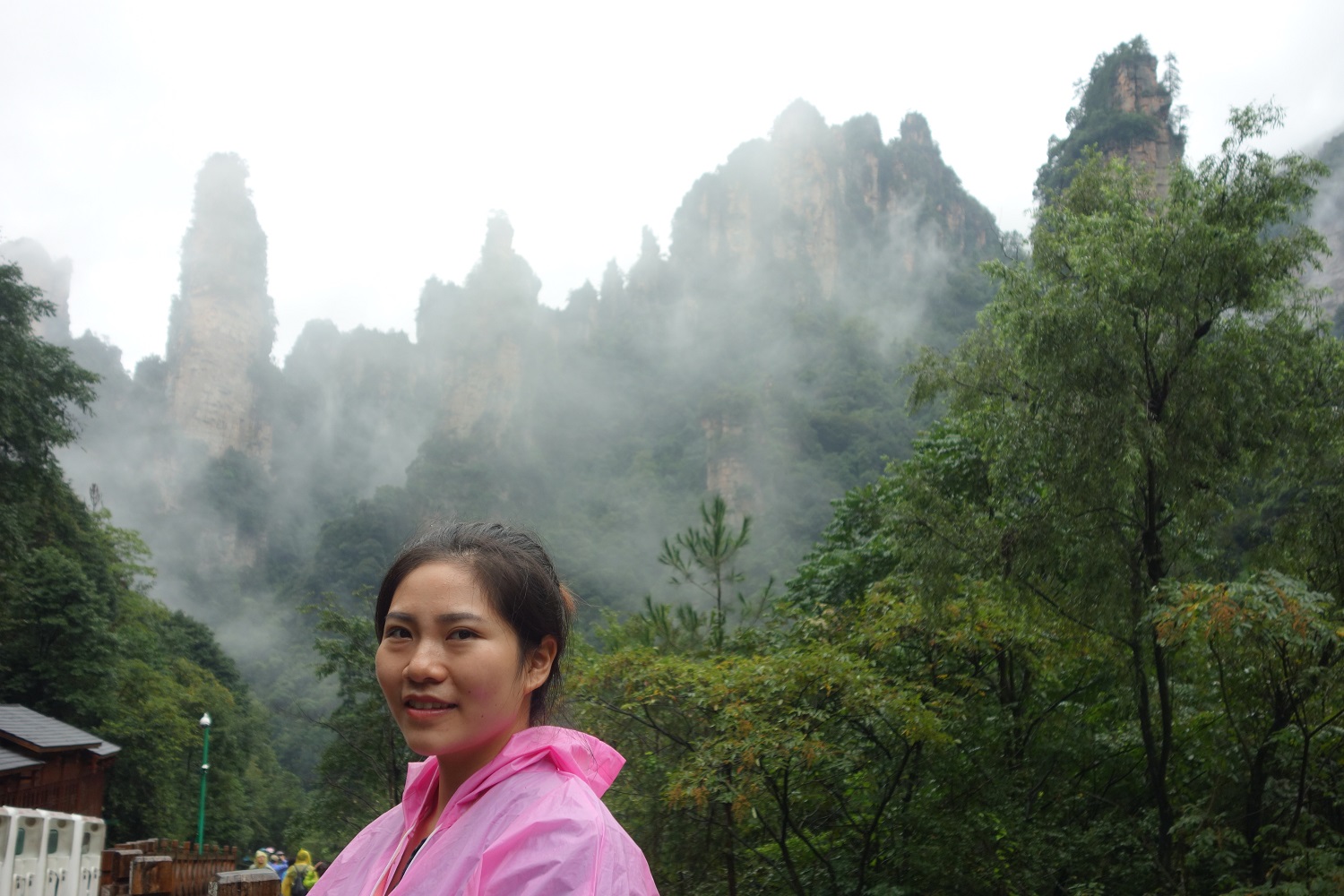 Some of the Spectacular Scenery
We then returned to Zhangjizjie and found Jay in our hotel room. Jay had decided to get caught up on some sleep and thus, saved his camera from the damaging moisture that one couldn't avoid if outside. Off to lunch went the 3 of us. Melody took us to a fantastic restaurant. The restaurant was managed (owned ?) by friends of hers and indeed, she seemed to know many of the restaurant staff. She introduced us to many of them. The 'house special' was ....'SALAMANDER'. Yes, we tried it and yes, we enjoyed it. The restaurant only recently opened and it was truly exquisite. Seriously! The ample staff were all very friendly and everything was very tastefully done. Following a very satisfying meal and dining experience the 3 of walked around a bit and then back to the hotel.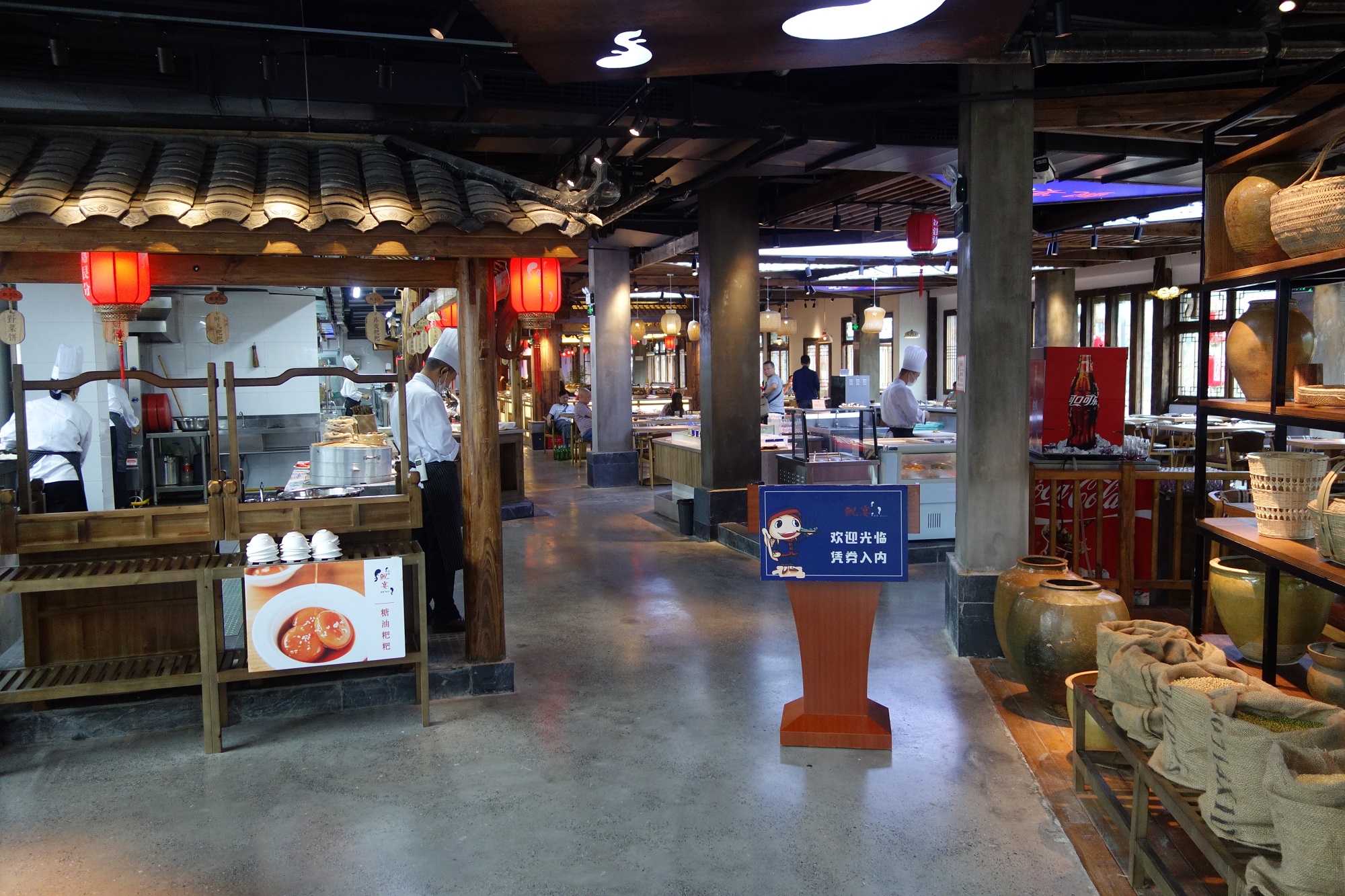 A Fantastic Restaurant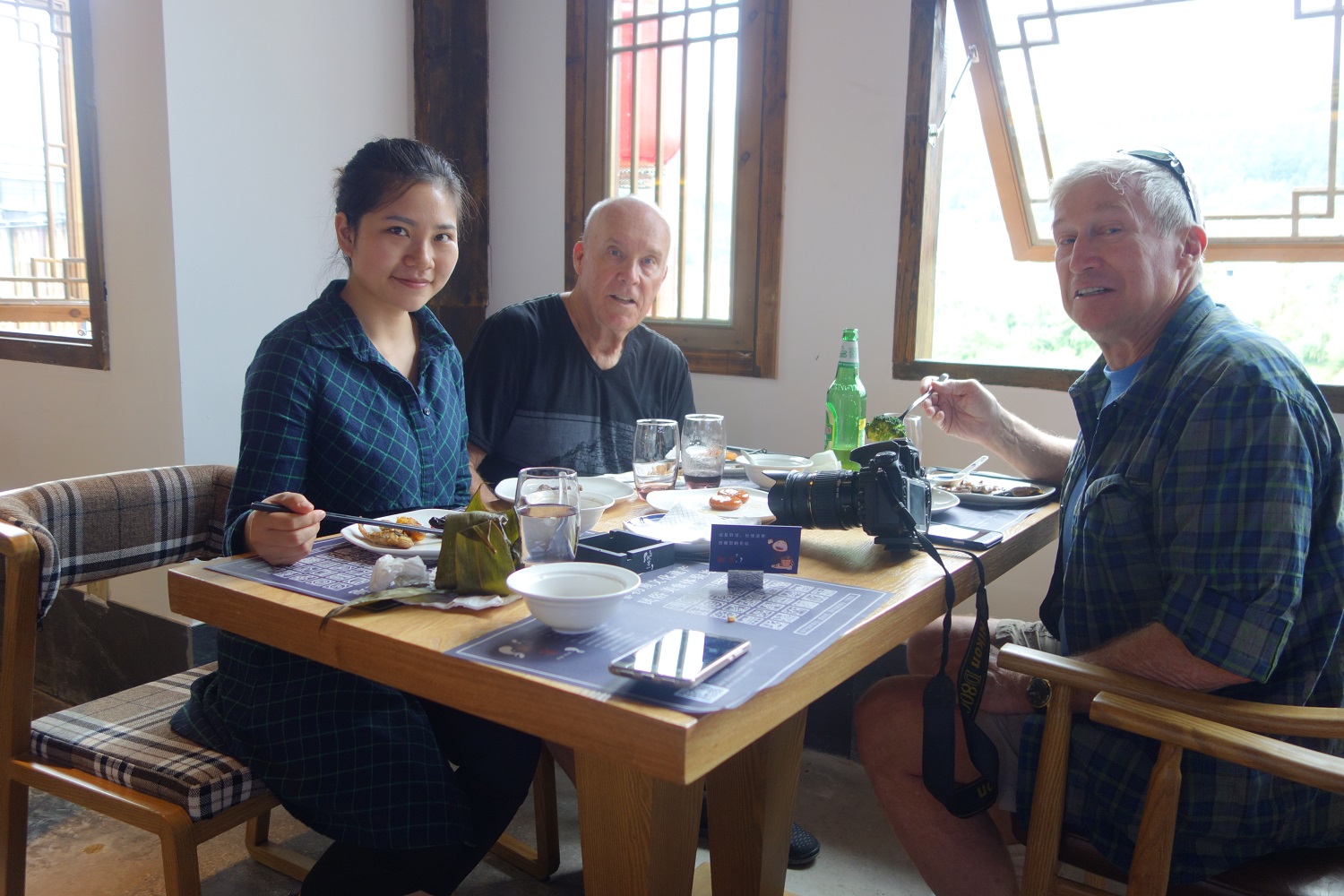 Having Lunch with Melody
Tomorrow we depart at 5:30 AM for the bus depot. We will then board a bus for a 6 hour ride to Changsha. At Changsha we will board a high speed train headed for Hangzhou where we will spend the night. A word about our local guides; they have all be exceptional in every way. Julie in Guilin, Sunny in Xian, and now Melody in Zhangjiajie. All have been more than friendly, very knowledgeable, and so eager to please. We've been very fortunate to have each of them help us in so many ways making this adventure in China so enjoyable. THANKS again to Sandy Ren for setting this up and making it possible.
To be continue...
--by Charlie Kath (customer of Visit Our China)
Comment