What a glamorous autumn landscape painting of Guilin!
2012-11-21Life in Guilin
October marks the harvest time of paddy rice in Guilin; it is also the golden season for our hiking lovers. Recently, I joined a hiking trip organized by a Hiking Club and had the opportunity to admire the idyllic scenery of Huixian County (会仙乡) in Lingui (临桂), a part of Guilin. Azure sky, golden waves of rice paddies, and simple folk customs, left us
very
good memories.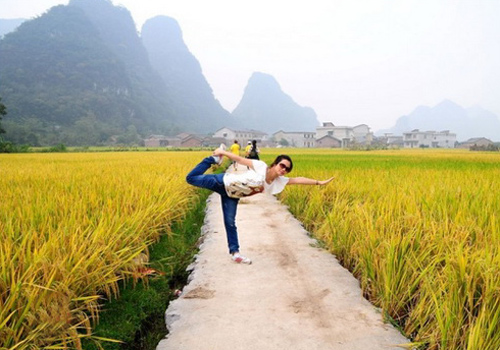 Situated 40 km south of Guilin, Huixiang County is hometown of Bai Chongxi, a famous military officer of Kuomintang (KMT) during the Period of Republic of China (1912-1949). Right at 8am, 36 of us got on the tour bus, which drove along 321 National Road towards Yangshuo for half an hour and then turned right at the Huixian Intersection, another 40 minutes later, finally brought us to the Shuangshan Village (双山村).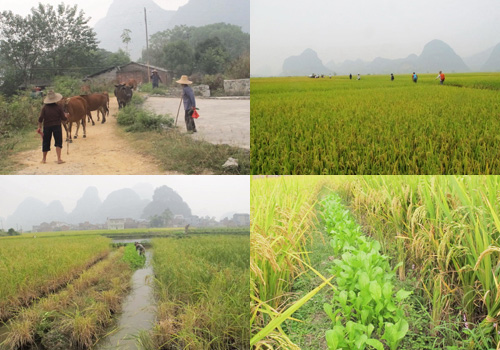 Upon arriving, we immediately started hiking. We went through the Shuangshan Village and continued 10 minutes and then arrived at Yinshan Village (Seal Mountain Village, 印山村), which is small and quiet. All we came across were women, children and the aged because most of the young people have all gone out to seek livehood in cities. An old man was drying his grains on the threshing floor; a couple of little girls joyfully raced for a hand rake to imitate the old man turning over the grains. What a simple and joyful scene!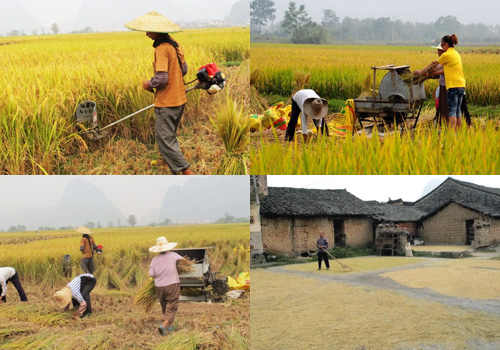 The village was named after a small seal-like hill - the Seal Mountain (印山), which is only 50 meters high, yet very steep. Our mountaineering to the top was finished within more than 10 minutes' climbing, which rewarded us with the panoramic view of nearby lovely countryside: narrow and winding paths crisscross the rice fields; undulating rice paddies stretch into the distance like golden waves, creating a scene of fabled Shangri-La. Out of great excitement, some of us even posed for pictures!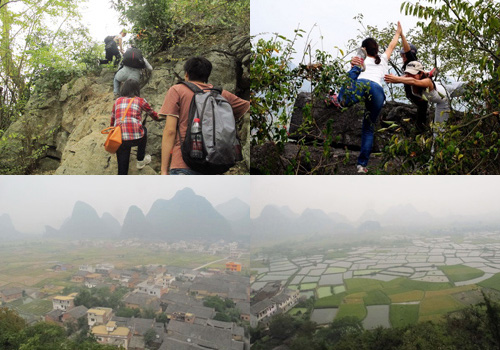 At around 12:30, we got to Zhupo Village (竹陂村) which is as small as Shuangshan Village. There are no more than ten households. It is populated by Muslim (Hui ethnic minority). The villagers are hospitable. A young couple invited us to have a rest at their home and prepared water for us to wash face and hand. They have just gotten married in January this year. The man is surnamed Bai. He usually works for others and had just been at home recently. My companions said that he is the imam of the village. My heart was filled with deep esteem toward him, not for his status, but for his virtue.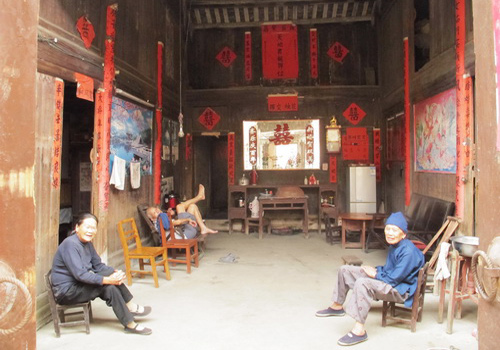 Then we headed to Copper Bridge (铜桥) in Huixian County. Golden rice, green mountains, and clear water enhanced beauty of each other, presenting an extraordinary autumn landscape painting. We among rice paddies also became a part of the painting!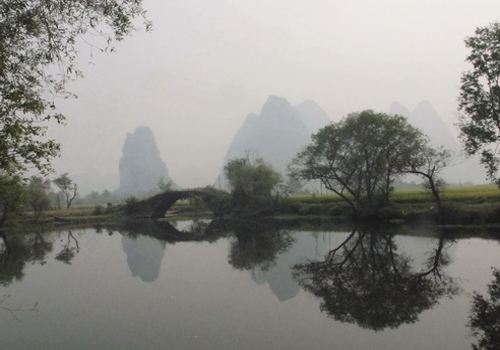 The Copper Bridge, despite of the name, is actually a stone bridge. Why it is called Copper Bridge remains unknown. Legend has it that it was a part of Guilin-Liuzhou Canal in Tang Dynasty (618-907). It is conceivable that in the past when sun went down, women and girls either did their laundry or cleaned rice under the bridge; naughty and naked kids jumped into water from the bridge which caused spattering water and aroused well-intentioned scolding. However, as time passes by, the bustling old canal has seen its best days and gradually dilapidated; may occasionally, enter the lens of photographers and hikers. I couldn't help sighing for the old bridge. As to why it is called Copper Bridge seemed less important for me.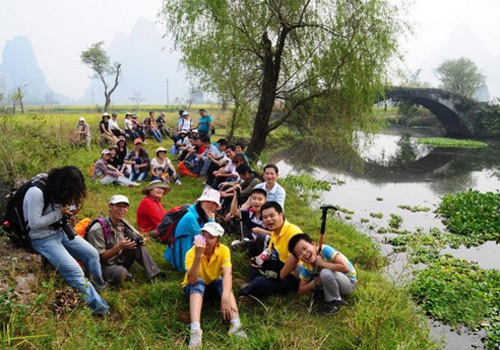 At around 4pm, we reluctantly parted with the Copper Bridge and stared our way back to Guilin. Rolling rice paddies extends as far as the eye can see. When I looked back, the distant bridge still stayed silently across the old canal, and the green mountains, clear water and golden paddy rice were bathed in the rosy glow of the setting sun. What a charming autumn landscape painting of Guilin!
Comments
Comment