A Bite of China---Story of Chinese New Year's Cake
2012-06-26China Food
Staples are not only the main food on the table of Chinese people but also the main source of their energy. Divergent staples vary from regions to regions, ranging from wheat in the northern China to rice in the southern China. But whatever they are, staples always play a profound impact on people's understanding of the ever-changing seasons, and in the meanwhile make their life much bountiful, healthy and charmed.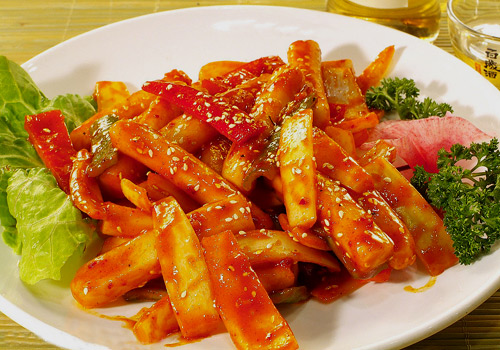 Every year when late rice is ripe, dwellers in Ningbo,
Zhejiang
province begin to make Chinese New Year's cake, also known as Niángāo, or Year cake – the staple in this long-history city. Actually, it is a tradition for the residents to herald
Spring Festival
by making Year cakes.
New Year's cakes of Ningbo city are made from milled late medium to short-grain nonglutinous rice. After it is soaked, ground, steamed and pounded, molecules of rice are reorganized, which enhances its taste. Then, the rice flour mash has to be kneaded on the board before it is cut into bars and pressed on them with mould. Finally, a very common seen footlike niángāo is done. Previously, households in Ningbo made more than fifty-kilogramme-Year cakes before the arrival of Spring festival, and then they would deposit them in the water so that family could enjoy this dainty until the coming year.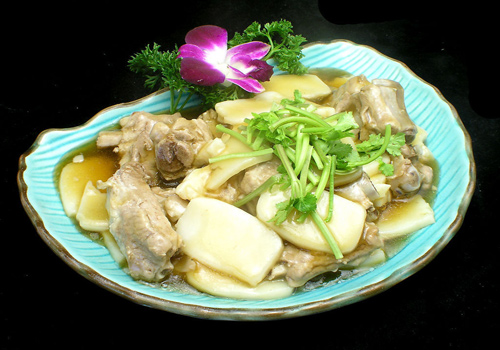 More often than not Ningbo residents have Chinese New Year's cakes as their dinner after toiling in the farmland, in that it saves time. A perfect combination of vegetables and Year cakes can not only cram people but also regarded as a delicacy.
Another exquisite dish is Crab Fried with Year Cake. It follows like this: first, wash the crab and chop it into several thick pieces; second, poach Year cakes before soaked in the cold water; then, fry the crab together with shredded ginger for a few minutes; next, fry the Year cakes until they are a little bit burnt and add the crab to them seasoned with cooking wine, white sugar and light soy sauce; finally, put some chopped green onions. In this way the yummy dish is before your eyes!
When Chinese Lunar New Year is around the corner, children on the move will come back to their hometown to usher in the new beginning. On the table there are sumptuous meals that cannot dispense with children's favourite food – Chinese New Year's cakes. The older the children grow, the fewer times the family makes n
iángāo. Nevertheless, the senior still carry on this tradition despite the fact. In Jingtou Village, Ningbo City, Zhejiang Province, making niángāo is indeed a ceremonious event. Locals there tend to call this round-shaped Chinese New Year's cake Tuanzi, which means reunion. On these days, neighbours will help each other to make the food, thus Tuanzi of varied shapes come to life. Dwellers often mix steamed rice flour mash with wormwood stored in spring before pounding. Usually, the ready-made Year cakes touches warm and sticky. Scattering golden pollen pini, you will breathe in the refreshing and sweet scent!
Years may elapse but this distinctive taste will always be engraved in the heart of the children, in that it is a dainty, but more importantly, it is symbolic of our own family.
Quick Questions
Our team is waiting for you questions. Please feel free to ask us any questions you might have about our China package tours, Chinese culture, or the sites available. We will gladly help you with any special needs you might have and all questions, like our trip designing is completely free of charge.