Juyongguan Great Wall

Chinese name: 居庸关长城 (Juyongguan Changcheng)
Location: Nankou Town, Changping District, 20 kilometers to Badaling Great Wall and 60 kilometers northwest to Beijing.
Opening time: 08:30-16:30
Ticket: CNY45 in peak season and CNY40 in low season.
Best time for visit: May-October
How to get to Juyongguan Great Wall:
- take buses No.345 or 919 to Changping District and then transfer to bus No.68 to the scenic area;
- take subway No.13 and get off at the station of Long Ze Zhan (龙泽站), and then transfer to bus No.68 to get to the scenic area.
Travel tips:
1. Wear thick socks and comfortable shoes for long walking on the rugged and slippery roads.
2. It is wise to prepare a walking stick especially for elderly people, which will be very helpful on mountain roads.
3. Take along some warm coats even in summer due to the large temperature variations in the mountain.
4. Carry some traumatic such as band-aids, gentian violet, for occasionally need.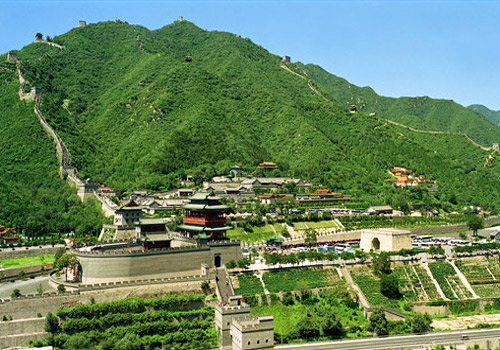 Introduction to Juyongguan Great Wall
Situated in a gorge, some 20 km north to Changping County, the Juyongguan Great Wall is the most well-known section of the Great Wall with rugged topography and stunning scenery. Since ancient times, it is a key mountain pass of great military vital importance. Connecting Cuiping Ridge in the east and reach the top of Jingui Mountain in the west, it has a perimeter of more than 4000 m. Built in a circumferential style, in the middle of Juyongguan Great Wall is an 18-km-long valley, and both sides of it offer gorgeous landscape of clear streams, overlapped green peaks, luxuriant plants and blooming mountain flowers, making it famous as one of the Eight Scenes of Beijing as early as in Jin Dynasty (1115-1234).
The existing section of Juyongguan Great Wall was built in 1368 when the Ming Dynasty (1368-1644) was founded, and repaired for times later. A gateway to Beijing in the north, Juyongguan Pass was the major thoroughfare between Dadu (present Beijing) to Shangdu (present Duolun of Inner Mongolia) in Ming Dynasty. As the emperors usually passed the Juyongguan Pass that an array of architectures were built for the imperial family, such as imperial palace, ancient government offices, temples, gardens, Confucianism studies, and the well-preserved Cloud Terrace.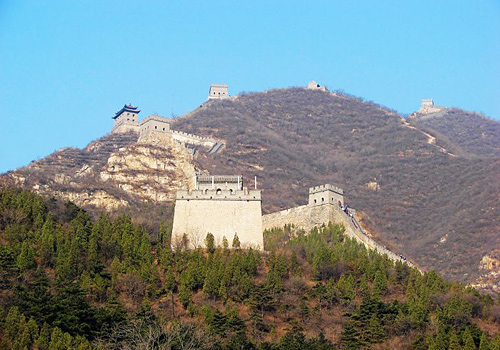 In the vicinity of Juyongguan Great Wall, there is also an abundance of other attractions, such as Wulang Temple, Wangjing Stone, Tanqin (Playing Piano) Gorge, Terrace for Mu Guiying (a female hero in Chinese classics), Bronze Statue of Zhang Tianyou (a modern rail engineer), and so on.
Due to its time-honored history and rich cultural connotation, the Juyongguan Section was inscribed as a national key cultural site in 1961.
Four features of Juyongguan Great Wall
1. An architecture in circumferential closing style.
2. Large difference in width and height; the widest is 16.7 m and the narrowest is 1.2 m; the highest section is 370 m above the lowest section; furthermore, the inner side of the wall is lower and the outboard is higher, which is beneficial to resistance in wars.
3. Considered the essence of the Great Wall, Juyongguan Great Wall has diversified structures built in different eras, which can be concluded from the building materials of granites.
4. With a surrounding area of over 50 hectares, it provides a large defense scope with kinds of all-sided defense installations, e.g. gate towers, water gates, tunnels, turrets, fort barbettes, barbican, etc.


Cloud Terrace
In the center of the Juyongguan Pass, there is the well-preserved Cloud Terrace made of white marble with exquisite carvings. Originally built during 1342-1345, the terrace is 9.5 m high, 25.21 m long and 12.9 m wide of the top, and 26.84 m long and 15.57 m wide of the base. With all parts in the style of Yuan Dynasty, the Cloud Terrace was previously a base for three stone pagodas which were destroyed in late Yuan Dynasty, afterwards served as the base for Tan'an Temple which was also destroyed in Qing Dynasty (1644-1911). On the gate and cave walls of the terrace, ingenious carvings can be found in the patterns of whale, elephant, dragon, mandala, Buddhas, and Dharani sutras written in six languages (Sanskrit, Tibetan, Mongolian, Uyghur, Tangut and Chinese). The Cloud Terrace is surely a large scale stone carving with a high value both as cultural relics and work of art.
Recommended Reading: China Great Wall Hiking