Beihai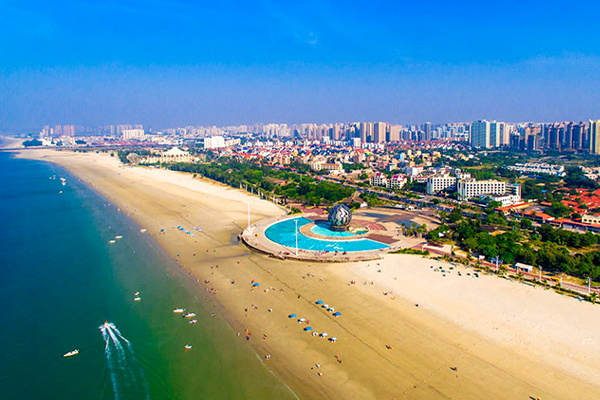 Beihai in brief
Located at the south of Guangxi Zhuang Autonomous Region, at the north bank of Beibu Gulf, Beihai is a famous coastal city with beautiful silver beach and charming island. Thanks to its subtropical climate and winding coastlines, Beihai has abundant sunshine, plentiful rainfall, limpid seawater, fine beaches and fresh seafood. Covering an area of 3337 square kilometers and administering four districts, Beihai has been listed as "the best place to live in". Beihai is skirted by the sea on three sides with two main island-Weizhou Island and Xieyang Island. The former is a young volcanic island, known as one of the most beautiful islands only second to Xisha Islands in China. Besides, it borders on Nanning City of Guangxi Province and Zhanjiang City of Guangdong Province and faces Haikou City of Hainan Province across the sea. Such a perfect location has made it the beginning point of Maritime Silk Road in ancient time and become one of China's 14 coastal cities opening to the outside world. Being the pivot of Southeast China, Hainan Province and Southeast Asia and the most convenient access to the sea for Southwest China, Beihai is a brilliant jewel alongside Beibu Gulf.
History of Beihai- the beginning of ancient Maritime Silk Road and a foreign trading port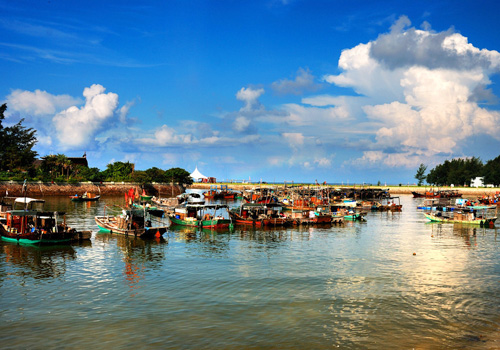 Beihai underwent a tortuous history. "Beihai" as a place name can be traced back to Qing Dynasty (1644-1911). At that time, Beihai is the starting point of Maritime Silk Road and also the bridge connecting China with Southeast Asia and even Europe. In 1876, Beihai was turned into a trading port due to the Sino-British Treaty of Yantai. Since then, eight western countries successively constructed western buildings in Beihai such as consulates, churches, hospitals, monasteries and schools, which still remain in Beihai. You can take a walk at the old alleys on Zhuhai Road to gaze at the western architectural complex built over one hundred years ago. Otherwise, go to Weizhou Island to feel the atmosphere of old cathedrals and experience culture of the Hakka. In 1963, Beihai became a part of Guangxi Province. In the following years, it was listed as an international tourist city by the State Council and then elected into one of the 14 coastal cities opening to the outside world. In 2010, Beihai was recognized as "a famous historic and cultural city" by State Council.
Beihai nowadays- a popular seashore tourist city
Thanks to the beautiful landscape and excellent location, Beihai has become an increasingly popular tourist city and has been ranked first among "ten fastest-growing cities in the world". Beihai may spoil you with plenty of scenic spots including Silver Beach (银滩), Weizhou Island (涠洲岛), Mangrove Forest (红树林), Submarine World (海底世界) and Window of The Sea (海洋之窗), Aquatic Product Museum (海生博物馆), and Dongpo Pavilion (东坡亭), old streets and Qiaogang Town (the home to overseas Chinese) etc. Everywhere is landscape, everywhere is beautiful. If Maldives has the most beautiful beach; Beihai has the most extraordinary beach. White sands sparkle like a silver ribbon under the illumination of sunlight. Beihai Silver Beach is praised as "the first beach under heaven". Taking a cruise to the Weizhou Island, strolling on the Silver Beach at sunset and enjoying the fresh seafood can be a lifetime experience. Beihai is a beautiful city which never disappoints you.