Beihai Transportation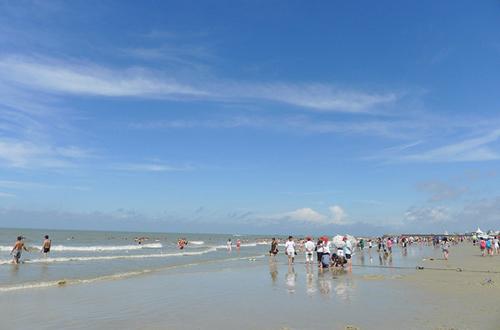 By Plane
Fucheng International Airport is only 24 km away from downtown of Beihai. It takes about 30 minutes to get there and a taxi should cost CNY 50. Beihai has already launched flights to 16 cities at home and abroad, including Beijing, Shanghai, Wuhan, Guangzhou, Hong Kong, Nanchang, Haikou, Kunming and other cities.
CAAC (Civil Aviation Administration of China) buses (CNY10, 30 minutes) wait in the airport according to arriving planes and depart from the gate of the CAAC building (Minhang Dasha) to airport two hours before airplane taking off. CAAC building is located on Beibuwan Xilu.
By Train
Beihai has only trains to Nanning (k9319/9320) and Guilin (k9301/9304). People from other cities will have to change vehicles at Nanning or Guilin. A high-speed railway between Nanning and Beihai has been under construction and will be available at the end of 2012. Beihai Railway Station is located at the junction of Beijing Road and Zhanqian Road. At the square of Railway Station, you can take the bus No.2 to Beibuwan Square, Passenger Transportation Center and other places. It is very easy to get a train ticket in Beihai even in holidays.
By Bus
Beihai has a very complex highway network since roads extend in all directions. At present, there are 209 National Road (Hohhot-Beihai) and 325 National Road (Guangzhou-Nanning) and other roads which lead to Tieshangang, Nanning, Chongqing, and Zhanjiang and so on. Nanning-Beihai Highway is 220 km and Guilin-Beihai Highway is 630 km. Beihai has a total of four long-distance bus stations and 104 bus routes.
By Ship
Harbor of Beihai has a frequent trade with 216 harbors in the world. Apart from passenger ships to Haikou and Weizhou Island, There are also passenger ships to Halong Bay of Vietnam.
City Transportation
There are 15 public transportation lines and a special line to railway station. Starting and terminal stations assemble at Beibuwan Square and People's Theater. Running time is around 6:00 am-22:00pm.