Huangguoshu Waterfall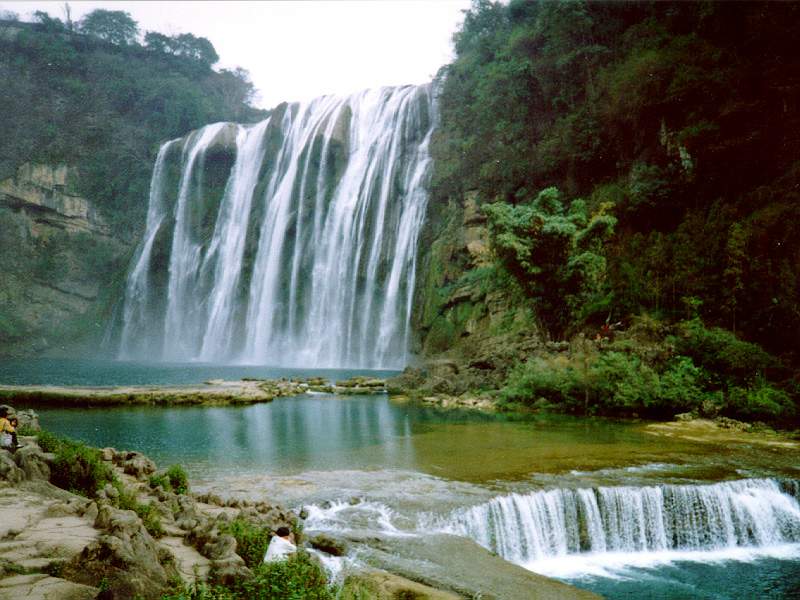 More Photos

Chinese name: 黄果树瀑布 (Huangguoshu Pubu)
Location: on Baishui River, Zhenning Bouyi and Miao Nationalities Autonomous County, southwest 45 km to Anshun City, Guizhou Province.
Tickets:
- CNY180 during high season (Mar.1st- Oct.31st), and CNY160 during off season (Nov.1st-Feb.27th), the ticket includes Tianxing Bridge Scenic Area (天星桥景区), Huangguoshu Great Waterfall (黄果树大瀑布景区), and Doupotang Waterfall Scenic Area (陡坡塘瀑布景区);
- CNY50 for the shuttle bus among the three scenic areas;
- CNY70 for Bizarre Stone Museum;
- CNY30 for a single trip and CNY50 for a round trip of escalator in Huangguoshu Great Waterfall Scenic Area;
- CNY40 for Shitou Zhai (石头寨景区, Stone Village Scenic Area);
- CNY70 for Shengnong Cave (神龙洞景点, Dragon Cave);
- CNY158 for a drift along Huangguoshu Waterfalls.
How to get there:
- Depart from Guiyang: take coach at Jinyang Coach Station (金阳客运站); coaches are available only from 07:30 to 12:45, and it will take more than 2 hours to get there;
- Depart from Anshun: take shuttle bus at South Bus Station (汽车南站), West Bus Station (汽车西站) or Train Station Square; buses are available during day time (07:00-19:00), and it will take less than 1 hour.
Best time for visit: in late Spring and Summer with abundant water flow.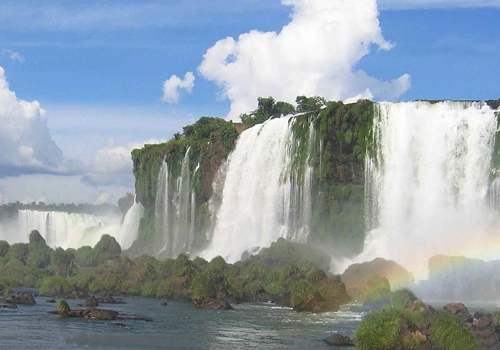 Travel tips:
1. Due to the steep mountain road in the scenic spot, it is suggested to wear comfortable shoes for walking, such as cloth shoes and rubber shoes.
2. The area is a habitation for Bouyi people, and one of their festive Double Sixth Festival happens on June.6th of Chinese lunar calendar, around in July in western calendar.
Introduction to Huangguoshu Waterfalls
Named after a kind of common plant in the area Huangguoshu (黄果树, Huangguo Tree), the Huangguoshu Waterfall is the third largest waterfall in the world second to Niagara Falls and Victoria Falls. Consisting of 18 waterfalls of diversified styles stretching 20 kilometers, the whole Huangguoshu Waterfalls Scenic Area is magnificent with grand remarkable interlinked waterfalls, fantastic karst caves and underground lakes, and the superb beauty of ambient. It is a waterfall with a height of 77.8 meters and a width of 101 meters, of which the main waterfall is 67 meters high and 83.3 meters wide. Being a typical karst falls, the 5A national scenic area of Huangguoshu Waterfall present a amazing karst landscape with waterfall groups, a string of caves, overlapping steep peaks, dense vegetations, and countless stone forest, cliffs and gorges.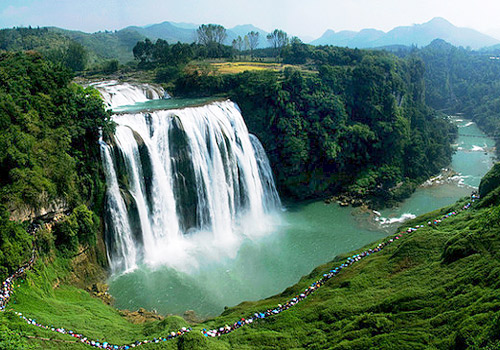 A locality inhabited by Bouyi and Miao people, Huangguoshu offers more with peculiar stone buildings, unique habits and customs and the famous ethnic batik.
Main scenic areas and attractions in Huangguoshu Waterfalls
Tianxing Scenic Area
A typical karst landform, Tianxing Scenic Area is 6 kilometers away from the grand Huangguoshu Waterfall in lower reaches. It is a featured area contains three parts, the natural bonsai area, the Tianxing Cave and Stone Forest on Water.
The natural bonsai area is a large stone forest. Here are kinds of natural hillstone bonsais, waterstone bonsais, large and small water basins and an overtopped dam. The twisty stone paths lead to diverse mini scenes. The Tianxing Cave is located on the bank of Maoshui Pool. Covering 18000 square meters, in the cave are multifarious picturesque peaks and rocks. The stone forest on water offers countless banyan bonsais, and among stones are flourishing cactus, low shrub, and kinds of flowering straws. A must of this area is a Beauty Banyan, which is composed by intertwined branches from a same banyan tree, the pattern of which resembles an upside down beauty after her bath.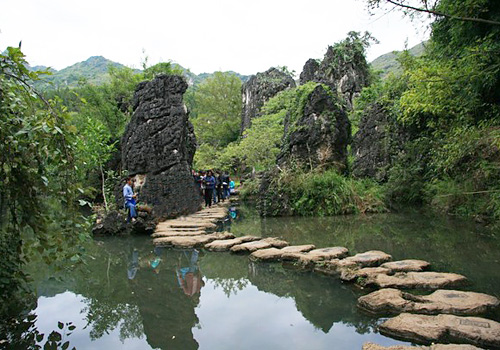 Water Curtain Cave
Located at the height between 40 m and 47 m of the grand Huangguoshu Waterfall, the Water Curtain Cave is 134 m long with 6 windows, 5 halls, 3 vauclusian springs and 6 passageways. It provides an amazing experience to pass through the spectacular Huangguoshu Waterfall inside. Another wonder after traversing the cave can be appreciated in sunny days during day time is the dynamic colorful rainbow spanning over the Xiniu Pool (Rhinoceros Pool).
Dragon Pool Scenic Area
The Longmen Waterfall is 34 m high with great momentum and thunderous sounds. It is hailed as the crown of all underground waterfalls. It offers a superior landscape with the Dragon Cave and its pool, and a lake.
Yinlianzhui Tan Waterfall (Silver Pendant Pool Waterfall)
Though not large in size and tall in height, The Yinlianzhui Waterfall is charming because of numerous silver-chain-shaped flows shrink to be one to reach the ground or rush to the river.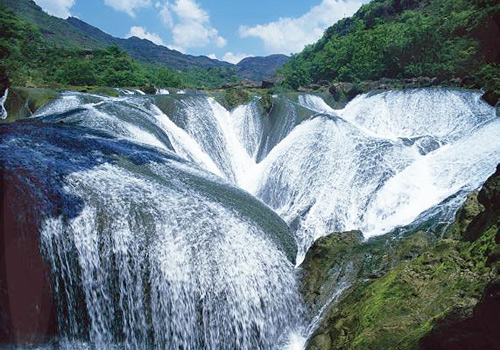 Guanjiaoxia Waterfall Scenic Area
It is the waterfall with most water flow among all Huangguoshu Waterfalls. Being a large waterfall with three levels and a total drop of 120 meters, the Guanjiaoxia Waterfall is 40 km away from the grand Huangguoshu Waterfall and located among steep cliffs.
Red Cliff with Words from the Heaven
On the hillside of Hongya Mountain (Red Cliff Mountain) 7 km from the Huangguoshu Waterfall, there is a conspicuous light red precipice, which is 100 m long and over 30 m high. Resembling a dazzling ruby inlaid a green carpet, 21 scarlet signs on it are still a mystery to people. The signs look like some ancient words but difficult to be recognized both in styles and meaning.
Quick Questions
Our team is waiting for your questions. Please feel free to ask us any questions you might have about our China package tours, Chinese culture, or the sites available. We will gladly help you with any special needs you might have and all questions, like our trip designing is completely free of charge.