Dragon Palace Cave (Longgong Caves)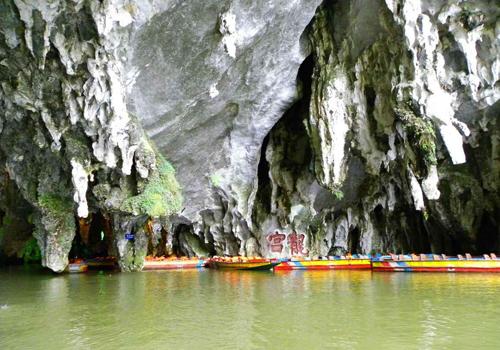 More Photos
Chinese name: 龙宫洞 (Long Gong Dong)
Location: 27km south suburb of Anshun, southwest China's Guizhou Province
Opening time: 08:30- 17:00
Ticket: CNY120
How to get there: get to Anshun first and then take regular bus at Anshun West Bus Station to Dragon Palace Cave.
Best time to visit: May - October
Recommended time for a visit: two or three hours
Tips:
-Dragon Palace Cave is only a half hour's drive to Huangguoshu Waterfall, so the two scenic spots can be visited on the same day.
-Famous local cuisines: Huajiang Dog Meat (花江狗肉), Fried Chicken (炸鸡), Cold Buckwheat Noodles (荞凉粉).
-Shopping: batik fabrics and handicrafts

Brief introduction to Dragon Palace Cave Scenic Spot

Dragon Palace Cave Scenic Spot is located in south suburb of Anshun, 116 km south suburb of Guiyang, the capital city of Guizhou Province. It is one of golden scenic spots of Guizhou. It is famous for its main attraction, the Dragon Palace Cave (Longong Cave), which is the longest water cave in China. Dragon Palace Cave got its name because it looks like a crystal palace where the "Dragon King" lives. Dragon Palace Cave Scenic Spot has the longest water cave, the widest underground waterfall, the largest Buddhist cave, and lowest natural radiation in China. In 1988, it was approved as a national scenic spot. Covering an area of 60 square kilometers, Dragon Palace Scenic Spot is composed of four parts: the Rape Lake, the Whirlpool, the Leech Pass and the Dragon Palace Cave itself. Dragon Palace Cave includes Heavenly Pool, Dragon Palace, Tiger's Cave, Longmen Waterfall and other eye-catching landscapes.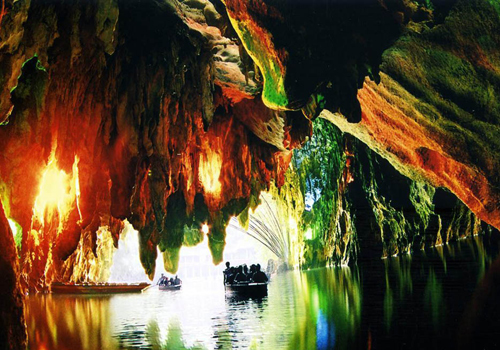 Highlights in Dragon Palace Scenic Spot

- Dragon Gate Waterfall (龙门瀑布)

Longmen Waterfall is located at the mouth of Dragon Palace Cave. The 50 meter-long and 26-meter-wide waterfall surges down from vertical cliffs with great momentum, looking like a hanging silver curtain. The sound it generates can be hearted before you see it. The waterfall is even more splendid basked in rainy season, especially when the sunshine forms multicolored rainbow on the waterfall.

- Heavenly Pool (天池)

Climb up the damp stone case, the vista suddenly becomes open and clear. The venturous Heavenly Pool lying among a stone forest silently bursts into view. Heavenly Pool covers an area of 7000 square metres and is surrounded by high cliffs and cirrus. Collapsing of rock mass give rises to its formation. It is 17 meters deep and the surface is mirror-like.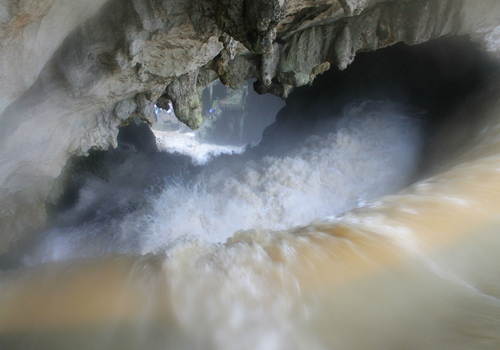 - Dragon Palace (龙宫)

Dragon Palace is located between Heavenly Pool and Clamshell Rock. It is more than 5000 meters long and 850 meters can be visited. At its gate, stalactites of different sizes and shapes droop down to caress water. Their endpoints turn outwards. The formation is caused by the deposit of calcium carbonate as well as the function of lower plant algae. Because those algae depend on sunshine to grow, they grow outward year after year and give rise to such karstic formation. At the bottom of the cave, countless springs come out from rocks and merge into a river. Stalagmites and stalactites on the ceiling are lit by colored LEDs and cast wondrous and resplendent reflections on water. The whole cave looks just like a crystal palace.

- Whirlpool (漩塘)

The whirlpool is a round pool in a diameter of 101 meters. The pool rotates eternally in clockwise. The natural wonder is formed because the water pours into the pool in tangential direction and a natural funnel at the 43-meter-deep bottom to let water submerge into a underground river. The most wonderous phenomenon is the funnel will automatically adjust submerged water yield.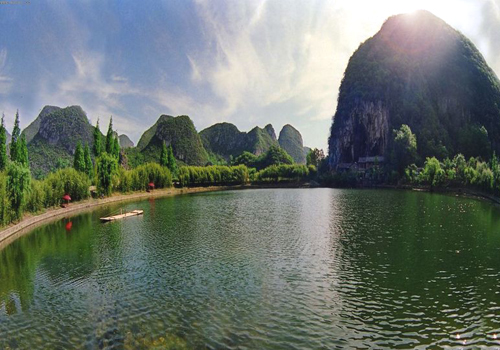 - Avalokitesvara Cave (观音洞)

Avalokitesvara Cave is impressively more than 60 meters tall. It features many Buddha halls which are natural caves. Skanda Hall, Maitreya Hall, Mahavira Hall, and Avalokitesvara Hall combine to cover an area of 20,000 square meters. A total of 32 Buddha statues can be found in the cave, the statue of Avalokitesvara being 12.6 meters high. Avalokitesvara Cave is surrounded by seven peaks, each surrounded by green bamboos and clear water. The cave is the largest Buddhist cave in China.
Quick Questions
Our team is waiting for you questions. Please feel free to ask us any questions you might have about our China package tours, Chinese culture, or the sites available. We will gladly help you with any special needs you might have and all questions, like our trip designing is completely free of charge.