Zhuhai in brief

As one of the most inhabitable cities in China, Zhuhai was founded in 1979, located in South Guangdong Province and faces Hong Kong and Macao across the sea. Same to Shenzhen of South China, Zhuhai is a SEZ (Special Economic Zone). It may not as prosperous as its well-heeled step-sister across the Pearl River estuary, but so much the better for citizens and travelers, for this 'Pearl City' close to Macao is one of the cleanest and most inhabitable metropolises of China. It possesses long coastline, high virescence degree and low population density. Zhuhai is also called the Islands City, with beautiful natural sceneries, like green mountains and clear waters, as well as the broad, open ocean and more than a hundred islands. The city is carefully constructed and developed by focusing on foreign capital economy, tourism and natural harmony. Thus, the whole Zhuhai showed us graceful, classic but modernistic sights. 1991, Zhuhai was ranked to be one of the Forty China's Tourist Attractions, for its perfect seaside city image.
History of Zhuhai – Cultural and Economic Integration of China and Western

Five thousand years ago, the ancient people started to explore this area. Nobody knew what Zhuhai was called in that time. After Song Dynasty (960-1279), since the development of salt industries and silver ore exploitation, the government established Xiangshan Town here. Zhuhai is also an important military stronghold for its geographical position. 1553, Portuguese occupied Macao and made it the communication center of trade and culture. Consequently, many foreign people migrated into Zhuhai. In order to strengthen frontier management and fishery industry expansion, Zhuhai County was launched with the permission of the Government Administration Council in April, 1953. From then on, Zhuhai had its own administrative system. 1980, the central government of China decided to make Zhuhai one of the five special economic zones in the fifth NPC (nationwide people's congress).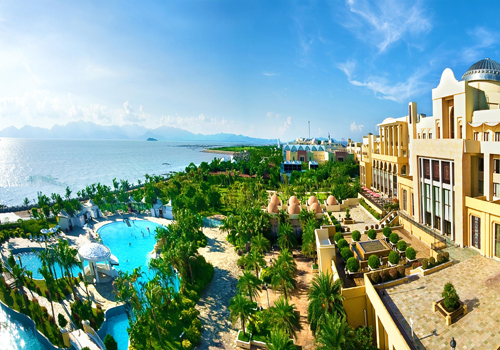 Zhuhai Nowadays – Booming Tourism and Foreign Capital Economy

With rapid economic development, Zhuhai has turned into a beautiful, prosperous, stable modern coastal city. In recent years, Zhuhai won various awards from different institutions, such as the "Best Practices in Human Settlements Improvement" from the UN, "Top Forty Tourist Attractions in China", "National Excellent Tourist City", "National Environmental Protection City", "Guangdong Modern Technological Demonstration City" and etc. The biennial China International Aviation Exhibition and the annual World FIA GT Championship of Zhuhai have brought Zhuhai great reputation and influence, which make Zhuhai a hot travel spot attracting thousands of visitors all over the world.