Zhuhai Transportation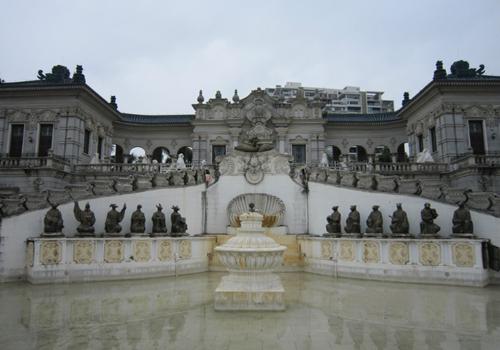 Zhuhai is located in the south of Guangdong Province, west bank of Pearl River Estuary and borders Hong Kong and Macao. Perfect geographical position makes Zhuhai the hinge of connecting mainland and overseas. Visitors can get there by air, water and land.
By air

There are over 30 destinations served by Zhuhai Airport. Zhuhai Airport is a little far from the downtown, you'd better get to Guangzhou first, then transfer to Zhuhai, which takes around 1.5 hours by shuttle bus.
Travelers got mainly 3 transport ways between Zhuhai downtown area and Zhuhai airport.
1. By airport shuttle bus
Every scheduled flight is arranged with a bus to the downtown, including four lines (20 RMB per person):
a) Xiangzhou Swan Hotel – Nanping South Bay Huaxia International Business Hotel – Zhuhai Airport
b) Gongbei Zhongzhu Building – Laimeili Hotel -- Nanping South Bay Huaxia International Business Hotel – Zhuhai Airport
c) Jiuzhou Port Passenger Station – Jida Ginza Hotel -- Nanping South Bay Huaxia International Business Hotel – Zhuhai Airport
d) Tangjia – Xiangzhou Swan Hotel – Zhuhai Airport
2 . Take a taxi
Taxi usually wait in the front of the terminal. It is about 40-60 mins drive to the downtown, costing about 80 RMB.
3. By Public Bus
Complete public bus system properly makes downtown, Doumen Zone and Sanzhao Town well connected: No. 201 and No. 504 bus will take you to Gongbei Port.
By Train

Zhuhai is the only one of the several special economic zones that does not have railroad. But you can come to Guangzhou by train first, and then transfer to Zhuhai by shuttle bus.
By Regular Bus

Zhuhai has an efficient highway network. It is very convenient for customers to transfer from Guangzhou to Zhuhai (about 1.5 hours). There are mainly three bus stations in Zhuhai, Zhuhai Coach Station, Qiguan Coach Station and Gongbei Coach Station.
1. Zhuhai Coach Station is located on No. 59, Zijin Road, which can be reached by taking public bus No. 1, 2, 3, 4, 10, 11, 13, 201 and 206. It is the biggest bus station of Zhuhai and provides nationwide transportation services.
2. Qiguan Coach Station
Qiguan Coach Station sits on the Shuiwan Road, Gongbei (where the bar street lies)
3. Gongbei Coach Station
It is on the Lianhua Road, Gongbei (opposite to the Gongbei Customs).
By Boat

Jiuzhou Harbor is the maritime transport hub of Zhuhai connecting Southeast China and Asian and Pacific regions. It directly links Hong Kong, Macao and other big ports of China.
1. Sailing Information.
1) Jiuzhou Harbor to Hong Kong: 28 sailings every day, Tourist Class costs about 180 RMB, 70 minutes.
2) Jiuzhou Harbor to Shekou, Shenzhen: 46 sailings every day, Tourist Class costs about 100 RBM, 60 minutes.
3) Macao round- island trip: 5 sailings every day, 100 RMB for tickets.
4) Romantic ocean night trip: 2 sailings every night, 120 RMB.
2. Traffic information of Jiuzhou Harbor.
1) You can take public bus No. 1, 4, 12, 22, 24, 25, 26 and 99 to Jiuzhou Harbor.
2) Shuttle Bus from Zhuhai airport to Jiuzhou Harbor: 1 hour, 30 RMB.
Zhuhai Local Transport
Public Bus
Some of Zhuhai public buses are equipped with English Speech System, which is very nice for foreign customers. Another distinguishing feature is that its bus stops are built based on harbor-styled garden.
Touring Bus
Zhuhai touring bus is set by the Qiguan Hotel to serve for travelers. Equipped with air conditioner and television set, the buses are quite huge and comfortable.
East Line: Da Jinding - Jinding Market - International Circuit - Peal Park - Tangjia - Sun Yat-sen University - Dieshi - Nursing Home - Qiye Hill - Xiangzhou Port - Xiangzhou Department Store - Martyr Cemetery - Mingting Park - Zhuhai Fisher Girl Statue - Lingjiaozui Bating Beach - Jiuzhou New Village - Jiuzhou Harbour - Lovers Road - Rihua Garden - Gongbei Hotel - Gongbei Port - Gongbei Market - Overseas Chinese Hotel - Jiuzhoucheng (Leaves every half hour, 3 RMB per person)
West Line: Phoenix Mountain Scenic Area - Dongkeng Park - Institute of Agricultural Sciences - Meixi Memorial Arch - Shangyong Village - Mingzhubei - Cuiwei - Cuijing Industrial Estate - Jinji Intersection - Qianshan West Gate - Dreamy Water Park - Yuanming New Palace - Lanpu - Bailiandong Park - Lotus Mountain - Jida - Zhuhai Hotel - Jiuzhoucheng (Leaves every 20 mins, 2 RMB per person)
(The price mentioned above may be varied by seasons or other factors)