Zhangjiajie Transportation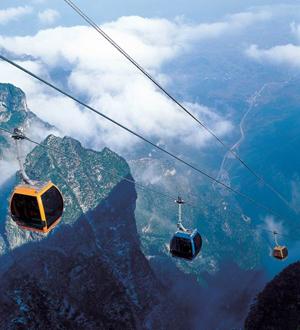 Airport in Zhangjiajie
Zhangjiajie Hehua International Airport, located in Hehua Village of Yongding District, is about ten kilometers away from the downtown area. It is the second largest international airport in Hunan Province and is known as one of the most beautiful airports in China because the scenic spot Tianmen Cave can be seen from the airport. The airport was formally opened to traffic in 1994. As of April 2019, a total of 42 domestic and international air routes have been opened here.
Airport shuttle bus Line 1 is available between Zhangjiajie Hehua International Airport and downtown area. Its service time is from the arrival of the first flight to 00:00, with an interval of 20-40 minutes.

Railway stations in Zhangjiajie
Though railways in Zhangjiajie are not that much, yet they have already connected Beijing, Shanghai, Guangzhou, Shenzhen, Changsha, Guiyang, Liuzhou, Yichang and other large and medium-sized cities. In particular, the opening of Changsha and Zhangjiajie intercity trains has greatly facilitated the travel of tourists.
There are two train stations in Zhangjiajie, namely, Zhangjiajie Railway Station and Zhangjiajiexi Railway Station(Zhangjiajie West Railway Station). Both stations are located in Yongding District of Zhangjiajie city. The former one was built in 2008, and its main line is Jiaozuo-Liuzhou Railway. While the latter one was put into use at the end of 2019, with Qianjiang-Changde Railway and Zhangjiajie-Jishou-Huaihua High-speed Railway as the main routes. Passengers can take bus No.4, 6, 16 or 17 to get to Zhangjiajie West Railway Station.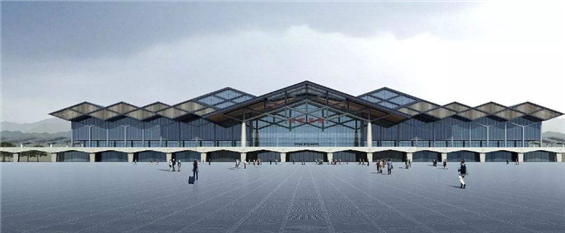 Long-distance bus station in Zhangjiajie
There is only one coach station in Zhangjiajie. Located next to Zhangjiajie Railway Station, it is a general bus station where long-distance coaches are bound for cities within and outside the province. Some short-distance shuttle buses heading for Zhangjiajie scenic areas and nearby counties are also available.
From Zhangjiajie to Changde south bus station – the first bus departs at 06:30 and it covers a 200-kilometre distance.
From Zhangjiajie to Jishou – the bus runs every 60 minutes from 07:00 to 18:00.
From Zhangjiajie to Changsha – the bus runs every 30 minutes from 07:30 to 12:00 and it covers a 390-kilometre distance.
From Zhangjiajie to Fenghuang – the bus runs at 08:30 and 14:00.
From Zhangjiajie to Furong Town – the bus runs every 60 minutes from 07:00 to 18:00.
From Zhangjiajie to Wuhan – the bus departs from the station at 08:30, covering 550 kilometers.
Zhangjiajie City Transportation
Bus – since Zhangjiajie is not a big city, the bus routes are relatively few, and there are less than twenty bus routes in the city.
Taxi – the starting price is 6 yuan (including 1.6 kilometers), after 1.6 kilometers, additional 1 yuan for half a kilometer. If you take a cab from 22:00 to 06:00, the starting price is 7 yuan.
Pro-environment car – you must take pro-environment cars so long as you are visiting Wulingyuan Scenic Area, where fees are included in the entrance ticket. The cars generally serve from seven o'clock in the morning to eight o'clock in the evening.