Gezhou Dam

More Photos

Chinese name: 葛洲坝 (Ge Zhou Ba)
Location: Six kilometers from Yichang City, Hubei Province.
How to get there:
-High-speed shuttle bus from Wuhan Bus Station will bring you to Yichang City.
-Bus No.2 and No.9 in Yichang City will bring you here.
Best time for a visit: summer.

Gezhou Dam, the first water conservancy project on Yangtze River
The Gezhouba Dam, or Gezhouba Water Control Project, is the first water conservancy project on Yangtze River. As a part of the Three Gorges Project, it is a milestone in China's history of water conservancy. Gezhou Dam is located 38 kilometers downstream from the Three Gorges Hydropower Station, 6 kilometers upstream from downtown of Yichang City, in central China's Hubei Province. In commemoration of Chairman Mao who came here to inspect the Three Gorges Dam in March 30, 1958, Gezhouba Dam was also called ''330 Project''. The construction of Gezhouba Dam began in 1979 and was finished in 1988. The Gezhouba Dam generates 14,100 GWh electricity annually.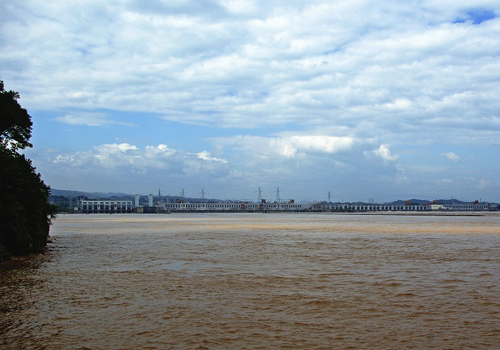 After dashing out of the Three Gorges, the Yangtze River takes a sharp bend from east to south. It widens up to 2200 meters at the Gezhouba Dam. Two small islands, the Gezhouba Island and Xiba Island are formed to divide the Yangtze River into three channels. The Channel one is the mainstream of Yangtze River and another two might have no water in dry season.
More about the Gezhouba Dam
The reservoir has a total volume of 1.58 billion cubic meters (that of the Three Gorges Dam is 39.3 billion cubic meters), and annual average flows is 14300 cubic meters/second. The Gezhouba Dam is made up of ship locks, power station, discharging gate, flush gate, water retaining and discharging structures. The dyke is 2606.5 meters long with a maximum height of 47 meters.
The Gezhou dam has three navigation locks, among which the No.2 lock is 280 meters long and 34 meters wide and provides passage for 10.000 ton ships at a time, and the No.3 is the first ship lock on Yangtze River installed in 1980s.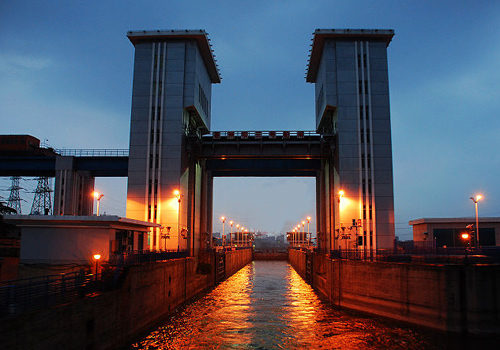 The Gezhou Dam is a multi-functional project
Gezhou Dam has the functions of generating electricity, shipping, preventing flood and irrigation. Now it is also functioned as a major tourist attraction by the city of Yichang, bringing in tourism-related revenues for the city. During holidays, a number of tourists swarm into the city. The most grandiose scene appears after the floodgates are pulled out when water rushes down and generates thunderous sound and massive mists.
Quick Questions
Our team is waiting for your questions. Please feel free to ask us any questions you might have about our China package tours, Chinese culture, or the sites available. We will gladly help you with any special needs you might have and all questions, like our trip designing is completely free of charge.