Shou Xi Hu (Slender West Lake)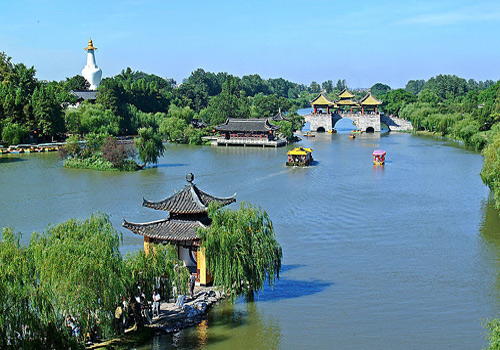 More Photos

Slender West Lake got its name of "Shou Xi Hu (瘦西湖)" from a poem by a Qing Dynasty poet which has compared this lake with West Lake. The beauty of Slender West Lake is similar to the West Lake but more bijou and exquisite with a slender water about 4 kilometers in length. It is just like a pleasant colorful ribbon of a dancing fairy. Visiting on Slender West Lake is enjoying a marvelous gradually unfolded Chinese painting; flowers and willows are planted on both banks, famous gardens and cultural sites are built one after another.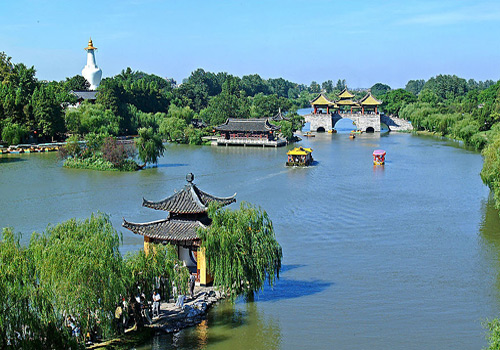 Slender West Lake was originally a wide river course and gradually became a famous scenic area with continuous constructions. In Sui and Tang dynasties, some gardens were built on the bank; and afterwards in Qing Dynasty, many wealthy salt dealers had the gardens built along the lake for self-pleasure as well as to cater to Emperor Kangxi and Emperor Qianlong, who had traveled to south China for 6 times. The general landscape visitors can enjoy today was formed at that time.
What to see at the park of Slender West Lake?
Slender West Lake is famous for its natural charming sights, while it is also a place with plenty human cultures. Many politicians, litterateurs, painters and artists of past dynasties were attracted by the landscape and have left numerous poems, essays, paintings, calligraphies and music as well as their legends and stories. At the time of enjoying the beauty of Slender West Lake, visitors can also reading an interesting history of Yangzhou.
The whole lake is divided by bridges, isles and banks, which make this slender lake well-bedded in zigs and zags. It is a good sightseeing ruoute to begin with Royal Dock, and alone the lake, about other 26 spots can be enjoyed with distinctive features, including Five- Pavilion Bridge, West Garden, Lvyang Village, Rainbow Bridge, Long Dyke, Fishing Terrace, Little Jin Mountain, Ten Thousand Followers Garden, Leaf Garden, 24 Bridges, etc.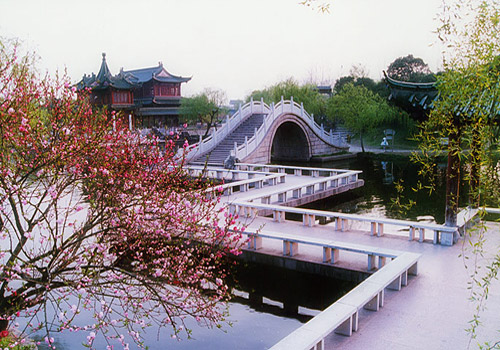 Five-Pavilion Bridge – It is the symbol of both Slender West Lake and Yangzhou. Built in Qing Dynasty with a history of more than 200 years, the five pavilions are just like five lotuses on the lake. Five-Pavilion Bridge is in southern style and was praised as a bridge with great artistic beauty by Chinese famous bridge expert Mao Yisheng. There are 15 arch holes in the bridge; and a special view can be enjoyed on full moon nights as "15 moons" will be reflected on the lake.
Long Dyke – It is on the west bank of the lake. Willows and peaches are planted there, making it a comfortable place for spring time. At the end of the dyke, elegant lotuses and delicate Chinese traditional screens can be enjoyed in Xu Garden.
Little Jin Mountain – An isle in the lake built in middle Qing Dynasty. At that time, rich local squires in Yangzhou dug a new river to make a waterway from the lake to Daming Temple, then the large mound gradually became to a small mountain, that is Little Jin Mountain. The Wind Pavilion on the top is the highest site for sightseeing in the whole park.
Fishing Terrace – Also called Blowing Terrace, where Emperor Qianlong once fished. It is a Chinese pavilion model as well as a representative of Chinese Enframed scenery Art. It is also a popular site for photos as standing in the right front of it, the scenery of Five-Pavilion Bridge can be seen in the central hole of the pavilion and the White Tower is in the left hole.
24 Bridges – It consists of a footway, an arch bridge, a zigzag bridge and a pavilion. The central arch bridge is 24 meters long and 2.4 meters wide with 24 steps on both sides; the number of the white marble railings and railing panels are also 24.
Ten Thousand Followers Garden – As the name implies, beautiful and luxuriant followers are the themes in this garden; there are a large number of categories and varieties of followers and fruit trees here, including some rare breeds such as Feizixiao (a kind of litchi), Chinese camellia in 18-scholar variety, azalea from Belgium, tulip from Holland, and so on. Follower cultures are also exhibited here, like follower folklores, follower meanings, and the relationships between follower and countries, cities, celebrities and poems.
Travel Tips
1. Painted Pleasure Boat (Chinese: 画舫), one of the features in Slender West Lake, is the best choice for sightseeing on Slender West Lake. It will spend about 4 hours for sightseeing.
2. The best time for visiting Slender West Lake is from March to June, Slender West Lake represents its most beautiful sights in spring.
Quick Questions
Our team is waiting for your questions. Please feel free to ask us any questions you might have about our China package tours, Chinese culture, or the sites available. We will gladly help you with any special needs you might have and all questions, like our trip designing is completely free of charge.