Xi'an Museum

More Photos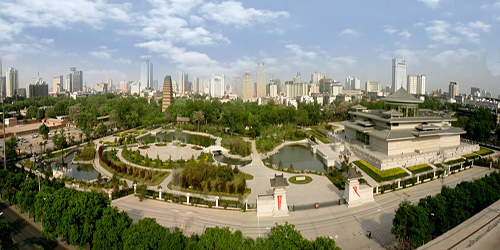 Originally built in 684 AD during Tang Dynasty, the Jianfu Temple was built as a royal temple but was destroyed by wars at the end of the dynasty. Small Wild Goose Pagoda, the original name of which was Pagoda of Jianfu Temple, is the only survivor of the original temple complex. The existing Jianfu Temple was re-built during Ming and Qing dynasties with a gate, bell and drum towers, Cishi Pavilion, Mahavira Hall, Sutra Mansion, White Robe Pavilion, etc. Today, together with the show of "Ancient Music of Chang'an" (Chang'an is the past name of Xi'an), Tang-style music fountain and varieties of fork arts and other Xi'an city sights, the Jianfu Temple makes up a tasteful sightseeing district in Xi'an, in which visitors can have a in-depth look at Xi'an culture and traditional Chinese culture.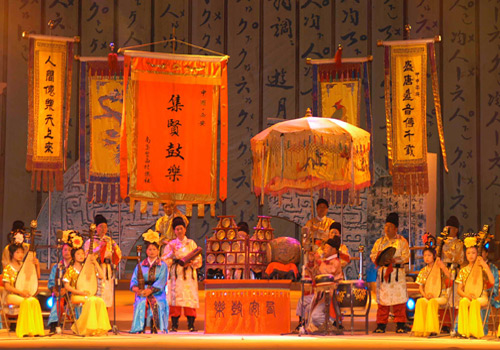 As the main part of Xi'an Museum, the exhibition area of cultural relic covers more than 16,000 square miters with over 130,000 cultural objects. Comprising three parts of "permanent exhibition hall", "exhibition hall of special themes" and "temporary exhibition hall", the museum centers on the theme of "the ancient capital of Xi'an" and represents Xi'an's thousand-year-old history of being the imperial city of 13 dynasties. In the museum, not only models of ancient cities, pottery figurines, gilding bronze bell, gold-back mirror, Buddha statues, paintings and calligraphies, jade articles, ancient signets... are displayed but also high-tech interaction show is on to help visitors intuitively learn about the ancient city of Chang'an (Xi'an) in Tang Dynasty. The 600-sauqare-meter temporary exhibition hall is ready for collectors to show their collection at any time.
"Matin Bell of Small Wild Goose Pagoda" is listed as one of the "Eight Sights of Central Shaanxi Province". The bell hanging in the Small Wild Goose Pagoda of the Jianfu Temple was cast in 1192 during Jin Dynasty, the monks of the temple toll the bell every day. At the first half of the 20th century, people often put their wishes on the bell by sticking wish papers on it and then tolling. From generation to generation, this tradition is passed on and celebration of tolling the bell on the Eve of Chinese Lunar New Year for praying is held every year nowadays.
Special Sightseeing in Xi'an Museum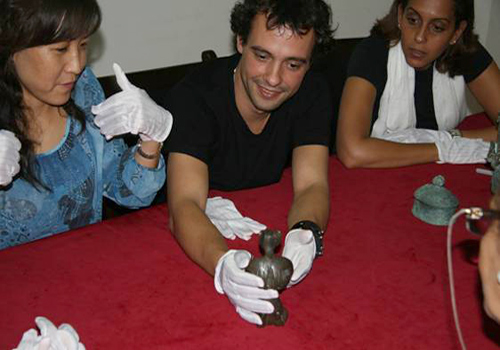 1. Place and Pattern of the Special Sightseeing: The site is built in the VIP visiting room of the underground cultural relic bank of the museum, with good environment, professional desk lamps, magnifiers and explanation by expert. To ensure the security of the objects, it is prescriptive that 15 visitors at most can visit the room each time. Matters need attention will be announced before every visit.
2. Relics appreciating: Visitors are allowed to touch 15 appointed genuine relics (including bronze wares, jade articles, gold and silver wares, stone inscriptions, porcelains, tri-coloured glazed pottery of the Tang Dynasty, etc) by wearing appointed white gloves. The visit lasts for about 40 minutes. Visitors can do the visit on any opening day except Tuesday.
Opening time of Xi'an Museum
Summer time: 08:30 – 18:30
Winter time: 08:30 – 17:30

Buffet Party in Xi'an Museum
The Xi'an Museum is not only a place of interests but also a hall of purifying one's soul. Visitors can enjoy a Buffet Party in the imperial garden of the museum at the time of sightseeing. As below are the places for a Buffet Party: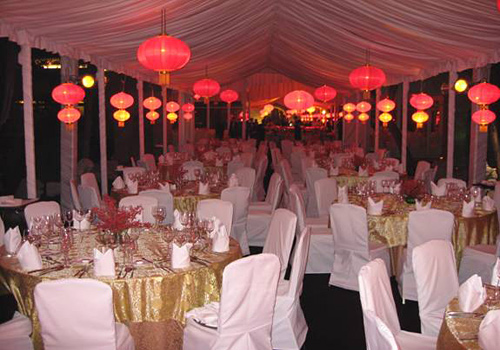 1. The square in front of the Mahavira Hall of Jianfu Temple and its main stems: this place can hold 200-300 people at a time and people can watch the Small Wild Goose Pagoda, listen the concinnous Tang-style "Ancient Music of Chang'an" while dining.
2. The square in front of the north gate of the museum: it is 60 square meters with a capacity of 20-30 people. People can enjoy the full view of Xi'an Museum, the ancient Jianfu Temple complex and typical Chinese garden with lake, trees, stone bridge, courtyard and pavilion while dining.
3. The megaron of the museum: this gorgeous hall is about 600 square meters with a capacity of 100-150 people. A buffet party of less than 10 people with Chinese classical music can lead people to experience the royal life of Tang Dynasty. Besides, large-sale press conference, academic activities, tea art interecommunions and shows can also be held in this megaron.
4. The square in front of the east gate of the museum: this square is the largest site for a buffet party among the four ones, with an area of 1200 square meters and a capacity of 500-1000 people. Full night scene of Xi'an Museum and the Jianfu Temple complex can be seen while people dine here.
Time of Buffet Party in Xi'an Museum
Summer time: 19:00 - 21:30
Winter time: 18:30 - 21:00
The special sightseeing in Xi'an Museum offers visitors a chance to appreciate the collected relics in a close distance.

Occupying an area of about 164,000 square kilometers, the Xi'an Museum was officially opened to the public on May 18th of 2007. Consisting of an exhibition hall and several thousand-year-old historic relics under national production such as the Small Wild Goose Pagoda and the Jianfu Temple complex, this garden-style museum presents the world an amazing overview of Xi'an history with a splendid sight of cultural and historic sites, modern architecture and elegant garden landscapes.
Quick Questions
Our team is waiting for your questions. Please feel free to ask us any questions you might have about our China package tours, Chinese culture, or the sites available. We will gladly help you with any special needs you might have and all questions, like our trip designing is completely free of charge.