Drum Tower

More Photos

Chinese name: 鼓楼 (Gulou)
Location: at the south end of the Beiyuanmen, West Street, downtown Xi'an City, Shaanxi Province.
Entrance fee: 35 Yuan

Brief Introduction to Xi'an Drum Tower
Built in 1380 (Ming Dynasty) and renovated twice in Qing Dynasty (1644-1911), the Drum Tower of Xi'an is the biggest among its congeners in China. It faces its "twin" tower – the Bell Tower – at a distance of about 200 meters only in downtown Xi'an.
In ancient times, the big bell on the Bell Tower was beaten to give time every morning, while the big drum in the Drum Tower signaled time in the evening and night. Every day time ticks from the towers traveled throughout the 8.7 square kilometers old Xi'an city, taking the charge of reminding people of their daily schedules. To ensure that the beat could be heard at every corner of the city, the Drum Tower was designed to be as high as 34 meters.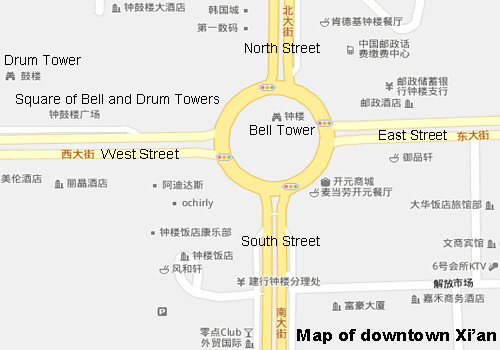 Nowadays the area between the two towers has been constructed to be the Square of Bell and Drum Towers, dotted with greenbelt and beautiful acousto-optic fountain.
Structure of Xi'an Drum Tower
Similar to the Bell Tower, the Drum Tower is a typically Chinese wood and brick building constructed on a large brick base. The base is 52.6 meters in length, 38 meters in width and 7.7 meters in height, through which there is a tunnel for pedestrians and vehicles. Outside the base there are stone ladders leading to the main body of the Drum Tower, a two-storey building with exquisite colored paints and a green glaze-tiled roof. Standing on the base outside the tower, visitors can enjoy the general view of Xi'an.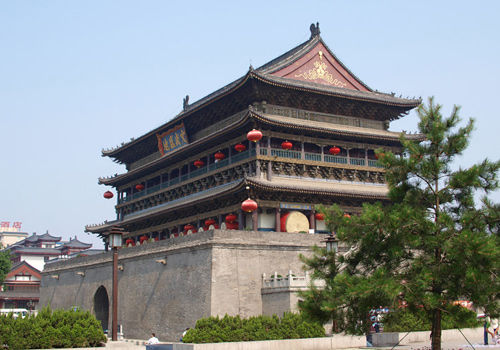 After the repair in 1580s, two wooden plaques with two Chinese phrases were hung above different sides of the second storey but were burnt out in 1970s. To present the original appearance of the whole Drum Tower, Xi'an Municipal Government made a great effort to recover the two plaques since 1982 and successfully remade them with modern materials by traditional technology in 2004, after a long time of consulting historical data and elder people.
The Big Drum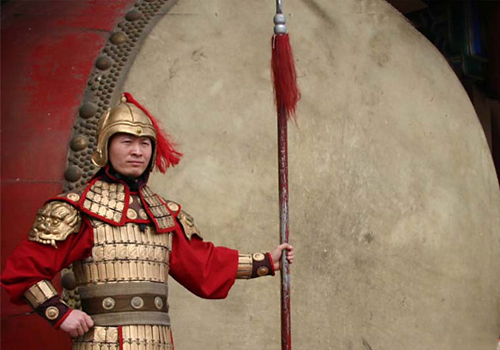 Aiming at maintaining the historical culture and boosting the tourism of the city, a large-scale repair project to the Drum Tower was undertaken in 1990s – a big drum (2.83 meters in diameter and 1.5 tons in weight) made of oxhide with 1996 nails and 4 copper rings was placed in the Drum Tower again and the ancient tradition of "morning bell and evening drum" revived.
Opening time: 08:30 – 21:30 (April 1 – October 25), 08:30 – 18:00 (October 26 – March 31)
Show time of drum beating: 09:00, 10:00, 11:00, 14:30, 15:30, 16:30.
How to get there: take buses No. 4, 7, 15, 32, 43, 45, 201, 205, 206, 215, 218, 221, 222, 251, 300, 604, 610 (aka tourist bus No.8), 611, 612 or K630 (air-conditioned), get off at the stop of Gulou (鼓楼, Drum Tower).
Quick Questions
Our team is waiting for your questions. Please feel free to ask us any questions you might have about our China package tours, Chinese culture, or the sites available. We will gladly help you with any special needs you might have and all questions, like our trip designing is completely free of charge.