Labrang Temple/Labrang Monastery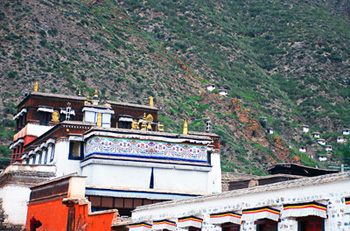 More Photos

Chinese name: 拉卜楞寺 (La Bu Leng Si)
Location: 1 km west of Xiahe County, Gannan Tibetan Autonomous Prefecture in northwest China's Gansu Province.
Opening time: 08:00-18:00
Ticket: CNY40 for main hall (free during Monlam)
How to get there:
Xiahe can only be reached by bus. Take a coach at Xining (07:15 at the long-distance bus station near train station), Lanzhou (many bus at west and south bus station of Lanzhou), Linxia, Hezuo or Tongren to get Xiahe County. Shared motor cycle or rickshaw for a short trip costs about CNY1. Some hotels rent bikes at the price of about CNY20 per day.
Tips:
-The best time to visit Labrang Monastery is from May to October when the weather is most delightful. It is also recommended that you plan your visit to coincide with the one of the monastery's annual festivals. The grandest event is Monlam (Great Prayer), which takes place approximately from February to early March (dates vary from year to year as they are based on the Tibetan lunar calendar).
-Tibetan dish is available at the dining hall of the monastery.

Brief introduction to Labrang Monastery


Located at the foot of Fengling Mountain by the side of Daxia River, in the western suburb of Xiahe County, Labrang Monastery is one of six major monasteries of Gelugpa (Yellow Hat Sect) of Tibetan Buddhism. Labrang Monastery has graced the Xiahe County for more than 300 years. Founded in 1710 by the first-generation Jamyang Zhaypa (living buddha), Ngawang Tsondru, Labrang Monastery is now the most important religious and cultural activity center for Tibetan outside Tibet Autonomous Region. It boasts the best Tibetan Buddhism system and is hailed as the world's institution of Tibetology. It is reported to have 108 smaller monasteries affiliated with Labrang Monastery in history (40 in surrounding mountains and many others across China). It experienced a fierce fire during the Cultural Revolution. In 1982, it was listed as a key relic under national protection.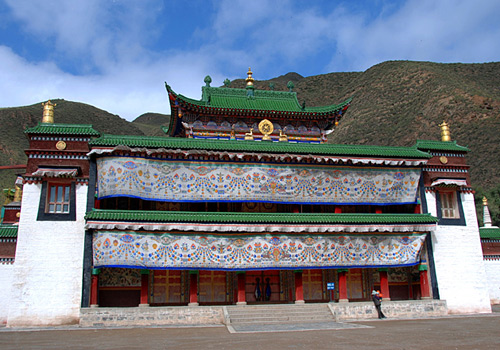 Detailed information about Labrang Monastery


Labrang Monastery is famed for its artistic architectures and splendid religious culture. It covers a floor space of 822,584 square meters. Encircled by long rows of prayer wheels, it contains many temple halls, Living Buddha's residences, monks' living quarter and six prominent Buddhist institutes of learning (the Institute of Esoteric Buddhism, the Higher & Lower Institute of Theology, the Institute of Medicine, the Institute of Astrology and the Institute of Law), being the world's largest Lamaism institute. Institute of Esoteric Buddhism is center of the monastery. It is composed of three parts. The front hall enshrines Songtsen Gampo, the founder of Tibetan (Tubo Kindom) in ancient China. The main hall is supported by 140 columns and can hold 4000 lamas. It is decorated by colorful prayer flags and numerous butter lanterns. Shouxi Temple is the largest one in Labrang Monastery. The statue of Sakyamuni in it stands 15 meters tall. At the southwest corner of the monastery stands the magnificent Gongtang Pagoda.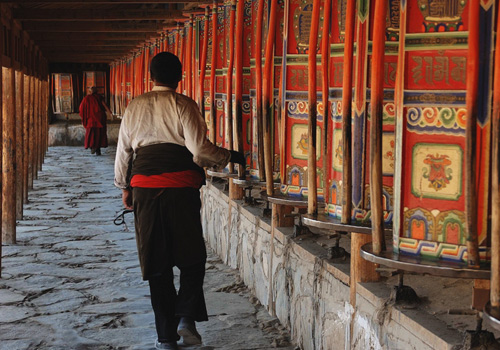 Labrang Monastery collects more than 60,000 volumes of scriptures including both Buddhist sutras and books covering other fields. Labrang Monastery has different styles and sizes of Buddhist pagodas made of gold foil, jade, ivory and precious timber, exquisitely carved, life-like Buddha statues ranging from over ten meters tall to two centimeters tall. In addition, there are many Thankas (a sacred scroll painting on cloth), barbolas and colored drawings. At its peak, it once housed more than 4000 monks. Due to a twelve-year closure starting from 1958, the number declines to 1200. Grandiose Shouxi Temple, splendid Grand Sutra Hall, magnificent Buddhist Pagoda, sparkling Grand Golden Tiled Temple, golden Gongtang Pagoda and more show the wisdom and superb craftsmanship of Tibetan and Han People. Tourist many find devout monks and local villagers lying on the ground for worshipping.


Festivals in Labrang Monastery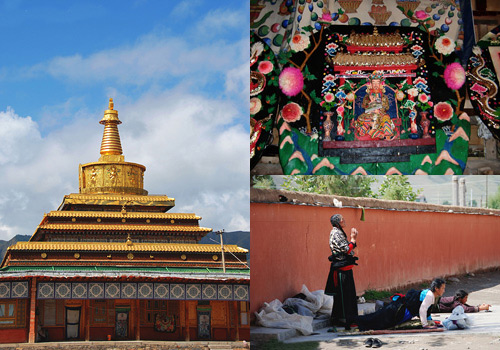 Labrang Monastery is shrouded in burning incense all the year round. It serves as an important gathering point for ceremonies and festivals of Tibetan Buddhism. Monlam (Great Prayer), the grandest festival of Gelugpa, starts three days after Tibetan New Year (approximately during the months of February and early March) and lasts for 15 days. During the 15 days, all monks of Labrang Monastery chant sutras sixth times every day in the main Prayer Hall. There are many other ceremonies held during the 13th, 14th, 15th, 16th day of the month, such as "free captive animals", "show Buddha", debate of Buddhist doctrines, fete dance, lighting of butter lantern, "parade of Maitreya Buddha", etc. Numerous pilgrims, local villagers, and monks flock to Labrang Monastery, to attend or view sutra chanting, praying, sutra debates, and colorful butter sculptures.
Quick Questions
Our team is waiting for your questions. Please feel free to ask us any questions you might have about our China package tours, Chinese culture, or the sites available. We will gladly help you with any special needs you might have and all questions, like our trip designing is completely free of charge.