12 Days Mongolian Grasslands and Silk Road Adventure by Train
Tour Code: SKGT05
Tour Duration: 12 Days
Destination: Beijing, Dunhuang, Hohhot, Jiayuguan, Turpan, Urumqi, Yinchuan, Zhongwei
Tour overview: Tour Dates: Aug 28–Sep 08, 2020; Price: USD3299; Single Room Supplement: USD1390 (available tour date with reversed itinerary: Sep 06-Sep 17, 2020); Minimum persons per booking: 2pax
Tour Summary
Day by Day Itinerary
Reviews
Tour Dates
Destinations
Services Provided
Meals Included
Day 1
Urumqi
Arrive in Urumqi, you will be greeted by our guide at the airport and transferred to hotel. Details...

| | | |
| --- | --- | --- |
| First Class | Deluxe Class | Tourist Class |
| Universal Hotel Urumqi | / | / |

/
Day 2
Urumqi
Visit the Heavenly Lake , Xinjiang International Grand Bazaar . Details...

| | | |
| --- | --- | --- |
| First Class | Deluxe Class | Tourist Class |
| Universal Hotel Urumqi | / | / |

(B,L,D)
Day 3
Urumqi/Turpan/Dunhuang
Take the train to Turpan. It's a day for Turpan sightseeing. Visit Karez Well System, Turpan , Flaming Mountain, Turpan , Ancient City of Jiaohe (Yarkhoto) . After dinner, take the train of China Orient Express to Dunhuang. Details...

| | | |
| --- | --- | --- |
| First Class | Deluxe Class | Tourist Class |
| Train of China Orient Express (soft sleeper for 2 guests) | / | / |

(B,L,D)
Day 4
Dunhuang
After arriving in Dunhuang, we will visit the beautiful Mingsha Shan & Yueya Quan (Singing Sand Mountains & Crescent Moon Spring) . After dinner move to Shazhou Night Market. Details...

| | | |
| --- | --- | --- |
| First Class | Deluxe Class | Tourist Class |
| / | Dunhuang Hotel | / |

(B,L,D)
Day 5
Dunhuang/Jiayuguan
This morning visit the world famous Mogao Grottoes . After lunch board the 'China Orient Express' train to Jiayuguan and arrive there at night. Details...

| | | |
| --- | --- | --- |
| First Class | Deluxe Class | Tourist Class |
| Holiday Plaza Hotel Jiayuguan | / | / |

(B,L,D)
Day 6
Jiayuguan/Zhongwei
Have a visit to Jiayuguan Fort , Overhanging Great Wall . At night take the China Orient Express train to Zhongwei. Details...

| | | |
| --- | --- | --- |
| First Class | Deluxe Class | Tourist Class |
| Train of China Orient Express (soft sleeper for 2 guests) | / | / |

(B,L,D)
Day 7
Zhongwei/Yinchuan
Visit Shapotou Scenic Spot . After the tour take coach to Yichuan. Details...

| | | |
| --- | --- | --- |
| First Class | Deluxe Class | Tourist Class |
| Holiday Inn Yinchuan International Trade Center | / | / |

(B,L,D)
Day 8
Yinchuan/Hohhot
Today visit the Helanshan Rock Carvings, Western Xia Mausoleums . After dinner board the train to Hohhot. Details...

| | | |
| --- | --- | --- |
| First Class | Deluxe Class | Tourist Class |
| Train of China Orient Express (soft sleeper for 2 guests) | / | / |

(B,L,D)
Day 9
Hohhot
Arrive in Hohhot in the morning. Then drive to visit Xilamuren Grassland . Details...

| | | |
| --- | --- | --- |
| First Class | Deluxe Class | Tourist Class |
| Grassland Mongolian Yurt or Sheraton Hotel | / | / |

(B,L,D)
Day 10
Hohhot/Beijing
Today visit Dazhao Temple , Zhaojun Tomb . After sightseeing take the train of China Orient Express for Beijing. Details...

| | | |
| --- | --- | --- |
| First Class | Deluxe Class | Tourist Class |
| Train of China Orient Express (soft sleeper for 2 guests) | / | / |

(B,L,D)
Day 11
Beijing
Arrive in Beijing in the morning. After breakfast proceed to the picturesque Summer Palace . Details...

| | | |
| --- | --- | --- |
| First Class | Deluxe Class | Tourist Class |
| Holiday Inn or Sheraton Hotel | / | / |

(B,L,D)
Day 12
Beijing
After breakfast free at leisure till the assemble time for the transferring to airport for the flight back to your hometown or next destination. Details...
(B)
Season
Tour Class
Group Size
Single Room
Supplement
2-5pax
6-9pax
Peak Season
5*(First Class)
$3299
$3299
$1390
1. Normally hotels allow a maximum of 3 adults per room with an extra bed, at extra charge. Some hotels will allow three adults and a small child.
2. Tour price is indicative only, please enquire for a detailed quotation.
3. More people more discounts. Please enquire for more details.
Price Inclusions and Exclusions
Price Include
1. Experienced Tour Managers
Our experienced tour managers and their assistants on train are selected for their travel knowledge and organizational abilities allowing you to relax and enjoy your tour of a lifetime.
2. Arrival and Departure Transfers
Arrival and departure transfers are included.
3. Hotel and Onboard Accommodation
Although you will spend much of your time sightseeing or relaxing in the train's public areas, you will find your hotel room or cabin a welcome retreat at the end of a rewarding day. Hotel and onboard accommodation as described in your individual tour itinerary are included in the tour price. All hotels are of 5 star standard or, in certain locations, the best available. Room upgrades are available on request and at extra cost.
4. Route Guide, Itinerary and Information Pack
When you board the train there will be a brochure in your cabin detailing more about your journey and the places en-route. Our Tour Manager will give brief introductions on the cities or places we visit and, each evening, will issue a program for the next day's touring schedule.
5. Breakfast, Lunch and Dinner Daily
All departures feature one or two uniquely designed restaurant cars where you can enjoy the excellent waiter-served food. Several times during the tour we will also sample authentic local cuisine off the train.
6. Drinks with Meals Onboard
A drink allowance is included with lunch and dinner.
7. On Board Service
Throughout your tour you can expect service which is attentive, friendly and unobtrusive. The high ratio of staff to passengers means there is always someone available should you need assistance.
8. On Board Doctor and Medical Facilities
To give you peace of mind our tours are accompanied by a doctor who travels with us for the entire journey; so you can rest assured that medical assistance is always available. On call 24 hours a day, the doctor is on hand to give primary care as required.
9. 24 Hour Service Attendant Onboard
Your car attendants provide 24-hour housekeeping and bedding turndown services, with one attendant always on duty to assist you and to ensure you are comfortable in your cabin. Complimentary tea, coffee and bottled drinking water are available in your cabin 24 hours a day.
Price Exclude
1. International Airfare or Train Tickets to enter or leave China
2. China Entry Visa Fees
3. Excess Baggage Charges
4. Personal Expenses such as visa costs, insurance, drinks from the bar car, laundry, spa treatments, hairdressing.
5. Single Room Supplement.
6. Tip: Full Service Staff Tip USD $150 p.p. (or USD $160 p.p. or USD $170 p.p.) --train staff, special train porter, the tour leader (tour manager), local driver and local guide.
Day 1 Arrive Urumqi
Transfer via: Flight on your own arrangement

Arrive in Urumqi, you will be greeted by our guide at the airport and transferred to hotel. Urumqi is the capital city of the Xinjiang Uighur Autonomous Region, the farthest city from ocean.
Day 2 Urumqi (B,L,D)
Transfer via: Coach/Van
Sightseeing: Heavenly Lake, Xinjiang International Bazaar

After breakfast, visit the Heavenly Lake on Tianshan Mountain (boat tour). The mountain lake stands 1,980 meters above sea level and features picturesque scenery of snowcapped peaks. It is a great experience to boat travel Heavenly Lake, with a layer of magical color covering the lake, and hearing many beautiful myths and legends. Then head for Urumqi, and visit Xinjiang International Bazaar.
Day 3 Urumqi/Turpan/Dunhuang (B,L,D)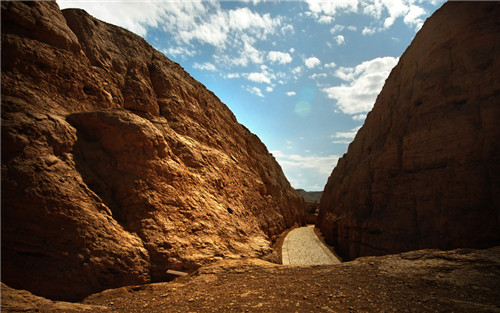 Transfer via: Coach/Van, Train of China Orient Express
Sightseeing: Karez Well System, Flaming Mountain, Jiaohe Ancient City

Take the train to Turpan. It's a day for Turpan sightseeing! Visit Karez Well System to witness the wisdom of Uygur people. The irrigation system is especially designed for desert. If connecting all these underground channels, the total length will reach more than 5,000 km, so it is regarded as one of the three engineering miracles of ancient China, along with the Great Wall and the Jinghang Grand Canal.

Go ahead to the Flaming Mountain, which is well known by Chinese people because of the legendary story 'Journey to the West'. It is regarded as the hottest place in China.

Then we drive to Jiaohe Ancient City, an island-shaped plateau situated at Yar Town. It is the largest and oldest earth-structured city in the world, with a history of 2,000-2,300 years.

After dinner, take the train of China Orient Express to Dunhuang at 20:30. Have a nice night on the train with wonderful evening and morning views of local countryside.
Day 4 Dunhuang (B,L,D)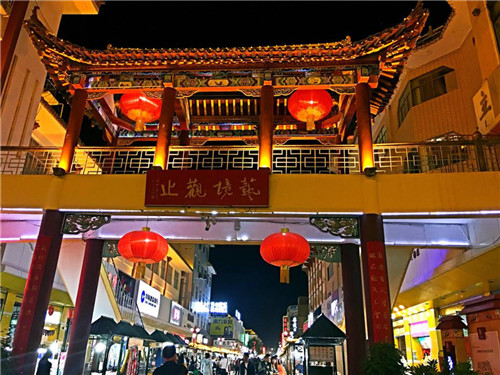 Transfer via: Coach/Van
Sightseeing: Crescent Lake & Singing Sand Mountains, Shazhou Night Market

After a pleasant breakfast, we specially arrange Dunhuang experts and professors who'll introduce this exotic city in detail to you. After arriving in Dunhuang, we will visit the beautiful Crescent Lake & Singing Sand Mountains. The Crescent Lake scenic spot is an oasis Gobi desert, surrounded by numerous sand dunes, reaching a relative height of 250 meters. The Singing Sand Mountains is so named for the sound of the wind whipping off the dunes.

After dinner, we move to Dunhuang night market -bustling Shazhou Night Market. Never miss its tasty snacks, local specialties, and crafts etc.
Day 5 Dunhuang/Jiayuguan (B,L,D)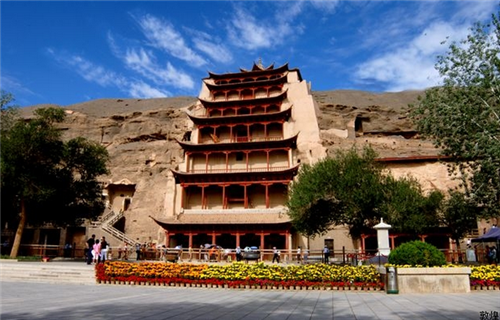 Transfer via: Coach/Van, Train of China Orient Express
Sightseeing: Mogao Grottoes

This morning let's visit the world famous Mogao Grottoes, which was designated as a world cultural heritage by UNESCO for its 1,600 years accumulated cultural, architectural, and art treasures. There remains 492 cave temple and 45,000 square meters of frescos. According to Tang Dynasty records, a monk had witnessed onsite a vision of thousand Buddha under showers of golden rays. Thus inspired, he started the caves construction work that spanned ten dynasties. Mogao Caves are commonly known as the Caves of a Thousand Buddha.

After lunch, we board the 'China Orient Express' train to Jiayuguan at 15:00 and arrive there at about 20:00.
Day 6 Jiayuguan/Zhongwei (B,L,D)
Transfer via: Coach/Van, Train of China Orient Express
Sightseeing: Jiayuguan Pass, Overhanging Great Wall

After breakfast, have a visit to the Jiayuguan (Jiayu Pass), the western end of the Great Wall built in Ming Dynasty. It is known as 'the First and Greatest Pass under Heaven', the best preserved and most magnificent military fort in China. Then we drive 7 miles away for the Overhanging Great Wall. It got the name for riding on a mountain ridge that is 45 degrees from vertical and resembling a huge dragon. At 20:30, we take the China Orient Express train to Zhongwei.
Day 7 Zhongwei/Yinchuan (B,L,D)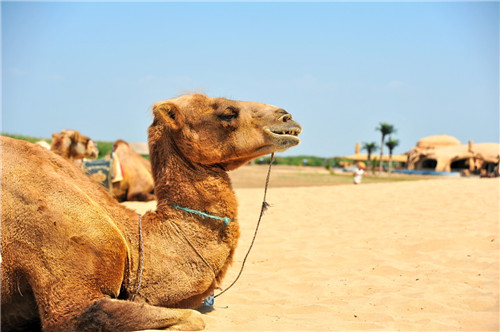 Transfer via: Coach/Van
Sightseeing: Shapotou Scenic Spots

Visit Shapotou Scenic Spots, which with the biggest natural sand slide field in China. It is also one of the China's Four Resonant Sand Fields. When the weather is great, you are able to slide down the sand hill and can hear the sound of sand underneath it, like tolling bells. The experience would be quite adventurous and breathtaking. Thereafter, we take coach to Yichuan.
Day 8 Yinchuan/Hohhot (B,L,D)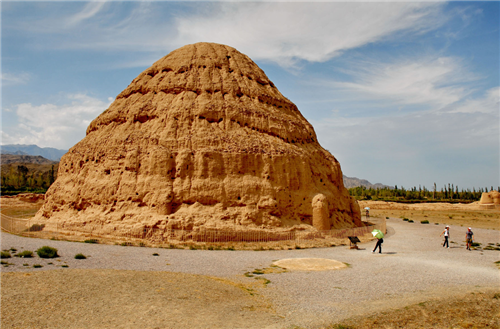 Transfer via: Coach/Van, Train of China Orient Express
Sightseeing: Helanshan Rock Carvings, Western Xia Imperial Tombs

In the morning let's visit the Helanshan Rock Carvings. Around the hillsides of the Helan Mountains, there are tens of thousands of rock carvings by ancient nomadic tribes, which are known as Helanshan Rock Carvings. The carvings were drawn in various styles with profound connotation and scattered only in certain areas.

We continue to visit the Western Xia Imperial Tombs, which is located on the eastern slopes of the Helan Mountains. It is unique among royal burials, and its layout is patterned after the celestial bodies. After dinner, board the train to the capital city of Inner Mongolia -Hohhot, which means "Green City" in Mongolian. Dates from 306 B.C., it has been an important cultural center of the region.
Day 9 Hohhot (B,L,D)
Transfer via: Coach/Van
Sightseeing: Sheila MuRen Grassland

In the morning, we arrive in Hohhot. Then we drive to Sheila MuRen Grassland. Spend the whole day on the vast plains and expansive grasslands, free walk and enjoy watching the traditional Mongolian style wrestling, horse-riding, camel riding, archery and etc.
Day 10 Hohhot/Beijing (B,L,D)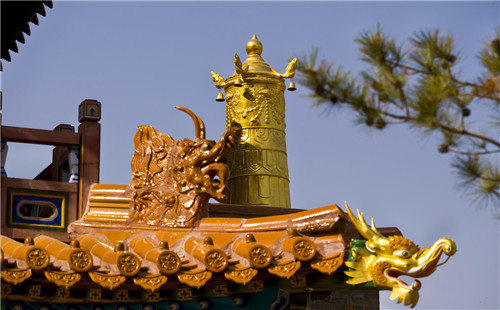 Transfer via: Coach/Van, Train of China Orient Express
Sightseeing: Dazhao Temple, Zhaojun Tomb

After breakfast, visit the 400 years old Dazhao Temple, the oldest building and the largest temple in Hohhot, Inner Mongolia. Locally, people usually refer to it as the Silver Buddha Temple for there is a rare silver statue of Sakyamuni measuring 2.5 meters high in the temple.

And visit the Zhaojun Tomb, which was built in memory of one of the four ancient belles. Spend some time at the regional museum with over 44,000 objects relating to ethnic history in its collections. Take the train of China Orient Express for Beijing.
Day 11 Beijing (B,L,D)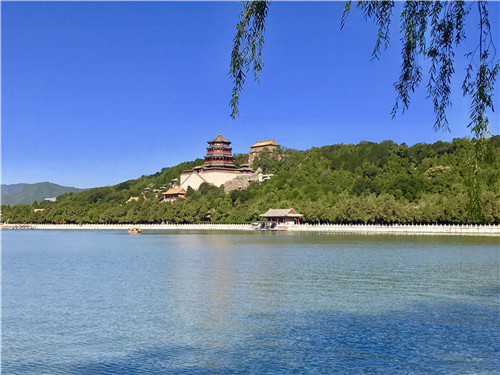 Transfer via: Coach/Van
Sightseeing: Summer Palace

We arrive in Beijing in the morning. After breakfast, we will proceed to the picturesque Summer Palace. Being the largest and most well-preserved royal park in China, it greatly influences Chinese horticulture and landscape with its famous natural views and cultural interests, which also has long been recognized as 'The Museum of Royal Gardens'. Summer Palace radiates fully the natural beauty and the grandeur of royal gardens. Composed mainly of Longevity Hill (Wanshou Shan) and Kunming Lake, it occupies an area of 300.59 hectares (742.8 acres). There are over 3,000 man-made ancient structures which count building space of more than 70,000 square meters, including pavilions, towers, bridges, corridors, etc.
Day 12 Depart Beijing (B)
Transfer via: Flight on your own arrangement

Today is the day of farewell to your memorable Silk Road trip. After a pleasant breakfast, free at your own leisure till the assemble time for the transferring to airport for the flight back to your hometown or next destination.
Custom Tailoring: Design your own tour with our help to meet your unique interests. You don't have to compromise. Do exactly what you want to do! Let us assist you to tailor-make your own China experience.
What Our Customers Say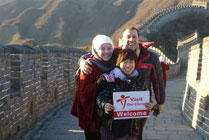 I hope this letter finds you well. We finally arrived home from our trip last Thursday the 17th. As promised I am writing to you about our experience in China and we thank you very much for your organizing. On the whole we had a wonderful time and were very well looked after...
Read more testimonials...